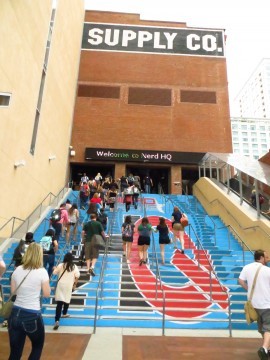 Nerd HQ, the now fourth annual micro-convention held during San Diego Comic-Con by Zachary Levi and his company The Nerd Machine, has a habit of majorly reinventing itself every year. That's mostly due to the fact that until this year, the event has changed venues every year, meaning that while attendees usually know what to expect as far as the Conversations for a Cause panels go, the rest of the event – layout, activations, if there's seating or food – is a bit up in the air until you physically step foot onto the grounds.
This year, though, by staying in Petco Park, Nerd HQ mostly managed to spend their time instead focusing on small details to improve upon last year's already stellar event, to create something truly incredible.
There was more to do than ever before at Nerd HQ, with more gaming activations (ranging from retro arcade games to play stations for Sonic Boom, Alien Isolation, and Catan Anytime – the new digital version of the board game Settlers of Catan, from Internet Explorer). Non-gamers could take a photo at the Instagram #totherescue photo booth, recreating a scene from the 1960's Batman series, or film their own Robot Chicken commercial.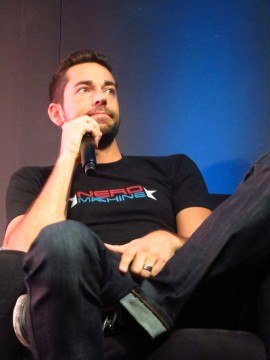 Attendees could also attend a fan party on Thursday night, which was open to the public as always, and gave fans a chance to party long into the night. Nerd HQ also honored their fans with a Wall of Honor in the entrance in Nerd HQ, which held the name of each person who had donated to the crowdfunding Indiegogo campaign earlier this year, which helped make the event possible.
Holding true to the "If you build it, they will come" mantra, Nerd HQ felt more crowded than in previous years. With all the cool offerings and Nerd HQ's growing popularity, it felt like more attendees walked through the gates at Petco than ever before. While last year we could hang out on the sofas strewn around the space for a brief moment of relaxation, this year crowds drove several attendees further out to find a quiet moment in the bleacher seats of the park instead (but still, seating! All events at Comic-Con should have seating).
The shining star of Nerd HQ though was, as always, the Conversations for a Cause panels. This year brought in bigger names and panels to the event than ever before, which managed to tweak their layout to include an extra 50 seats, bumping up the total number of attendees per panel to around 300 (with some panels also offering additional last-minute standing room only space for 50 more attendees). Tickets are notoriously difficult to come by because they sell out in seconds, but there's a reason for the fervor.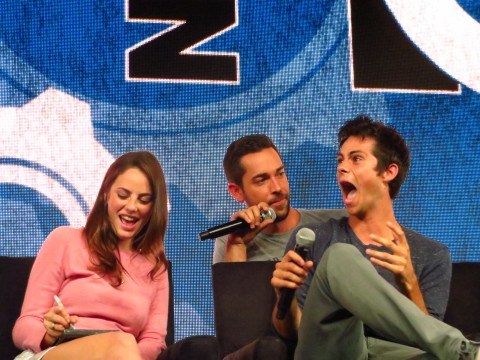 Celebrities like Jeff Bridges, Joss Whedon (via Skype), Nathan Fillion, Alan Tudyk, and Stephen Amell, as well as the casts of The Walking Dead, Supernatural, Orphan Black, and The Maze Runner were all in attendance, answering everything from "If you were a cat, what color would you be?" to "What's left on your bucket list?".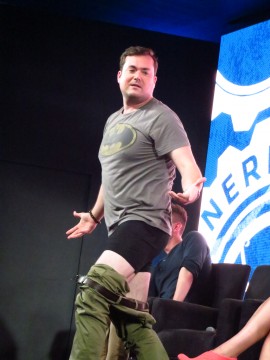 Typically, the panels are one of the few rare moments at Comic-Con that feel unscripted, and like anything can happen. And did, in some cases, such as when Orphan Black's Dylan Bruce asked Kristian Brunn what color underwear he was wearing, which led to Brunn taking his pants of on stage. Or when Levi auctioned off his entire Bacchus outfit for a mere $20 to one very lucky fan. Or when The Maze Runner actor Dylan O'Brien was shocked to find Levi directly behind him, kneeling on the ground. Or the cast of Sesame Street making sure all the kids in the audience got their questions answered.
The guests at Nerd HQ always seem more relaxed than across the street at the San Diego Convention Center, which is in large part due to co-owner, moderator, and host Levi's attitude of treating the event less like yet another press junket, and more like a real interaction between the fans and the celebrities. He sits through every panel, fetching everything from water to sharpies for the panelists because he genuinely just wants everything to go smoothly for all involved, when he could just as easily sit back and not care — and it's an attitude that's infectious.
This year, there also seemed to be more Smiles for Smiles than ever before — the photo booth sessions, where attendees can pay $20 to get a quick photo with a celebrity. Levi held a photo op session each day, but other participants included Sean Astin, Elijah Wood, Colin Ferguson, the cast of Sesame Street, Stephen Amell, Nathan Fillion, Alan Tudyk, and more. Attendees were more informed of these events than ever before, as The Nerd Machine and Nerd HQ not only kept social media up to date, but sent out push notifications on their new app (available for both iOS and Android).
The event raised upwards of $260,000 for Operation Smile this year, through proceeds from the panels, photo ops, and various donations. What Levi and the celebrities and studios he has convinced to join him on this crazy journey accomplish year after year is incredible, and it's a feeling that spreads throughout the entire event. The volunteers are never without a smile on their faces, even in this year's sweltering San Diego heat, and the attendees generally seem to be just happy to be there.
Although most of the event ran smoothly, there were a few small snafus – the charity auctions, particularly the one led by Levi, didn't take down names for winners or money in the panel, which led to some major confusion and frustration after the panel. There was occasionally miscommunication among the volunteers, which could take some time to sort out. The staff worked out every issue that we witnessed in the end, but there's still room for improvement in 2015.
As Fillion said during one of the panels, in just the four years it's been in existence, Nerd HQ has gone from a "hobo shanty town" to something so much bigger than they'd ever imagined. We can only hope that it continues to grow, and offer one of the best options for programming, gaming, and more at San Diego Comic-Con.
Here's a look at some of our favorite moments from Nerd HQ 2014: