The time has come, the walrus said, to talk of many things. Of shoes, and ships, and sealing wax — and Comic-Con exclusives.
Artist Patrick Ballesterosis all about celebrating your inner child – with kid-ified takes on everything from retro classics like Indiana Jones and 16 Candles, to more modern favorites like Game of Thrones and Guardians of the Galaxy — and it will feel like your Very Merry Unbirthday with his third San Diego Comic-Con exclusive.
"Better Late Than Never" is a tribute to all things Alice in Wonderland, and features all of your favorite characters, including Alice, the White Rabbit, the Cheshire Cat, and the Queen of Hearts herself. There's so many fun little details (note all the Comic-Con signs, like Hall H, S.D., Comic, Con, and even Ballesteros' own booth number, Artist Alley DD-08!), and we love this print.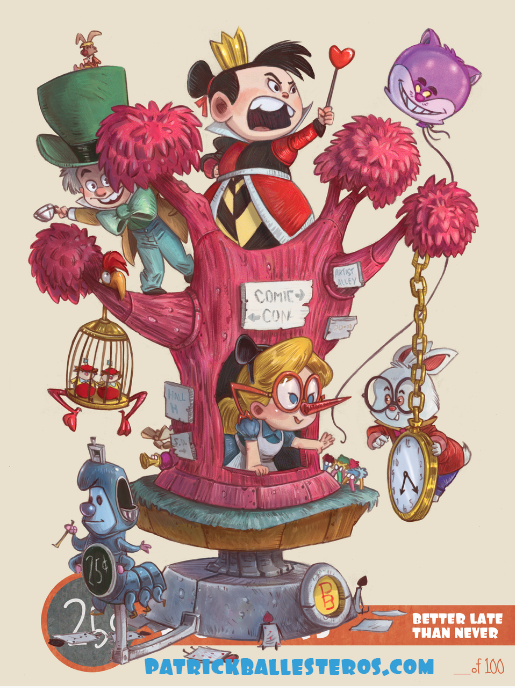 The 6″x8″ print on pearl linen fine art paper is limited to just 100 pieces for San Diego Comic-Con, and will be released on an unspecified day during the con (along with Coco's "Do You Remember" and Aladdin's "Princess Lea"). Ballesteros will have at least one different print exclusive per day — as well as one SDCC exclusive Can You Hear Me Now? set (including The Incredibles) — so be sure to stop by Artist Alley DD-08 to snap up this print for just $15. But don't be late for this very important date, as these are sure to go fast.