It's time for the charm bomb to explode, as we have your first look at Toddland's 2018 San Diego Comic-Con exclusives.
Just like last year, Toddland is teaming up with Bob's Burgers and Family Guy to bring you a mouth-watering array of exclusives available at Booth #4429 (right by the FOX Fanfare booth!), and they may just have a surprise or two hidden under their aprons. Exclusives will be available for pre-order on Toddland's site for pick-up at the convention — if you're ordering for a friend to pick them up for you, make sure you notate their name in the order.
Toddland is one of our favorite booths every year — and one of yours as well, considering they won Best Booth in our own Shruggie Awards for 2017. They're hoping to be even better this year, with a whole new Bob's Burgers booth design (but you'll have to wait until the show to see it!), offering a youth sized shirt this year for the first time ever, and also testing out a "carry-out" option for pre-ordering. Details are still being finalized, but the hope is for you to stop by the booth to drop off your pre-order confirmation, and then swing back by later in the day to grab it.
Pre-sales for Bob's Burgers launched Thursday, June 28 at 10:30AM PT on the Toddland site and pre-orders for Family Guywill launch Friday, June 29 at 10:30AM PT. Until 10:30AM PT, some 2017 inventory will be shown. These items are for pick-up at the booth ONLY. Pre-orders are strongly recommended, as Toddland tends to sell out of most, if not all, of their exclusives during the show, and pre-ordering ensures you get what you want. Plus, they're offering extended sizes in XS-4X through pre-order only, while they will only have S-XL on-site at the booth.
[UPDATE] And oh — what's this? MORE Toddland FOX goodness? Yes, that's right – our friends at Toddland have (at least) one more surprise for you, with the announcement that this year, they're also bringing American Dad! exclusives to San Diego Comic-Con. Pre-orders for in-booth pick-up will go up sometime around 10:30AM PT on Toddland's site. You can find the list of exclusives below. Things are getting too spicy for the pepper!
Without further ado, let's take a look at this year's exclusives from Toddland (and all prices include tax):
AMERICAN DAD SAN DIEGO COMIC-CON EXCLUSIVES
Hardcore BF Weekend T-Shirt – $28
This is the exact shirt as worn in the series.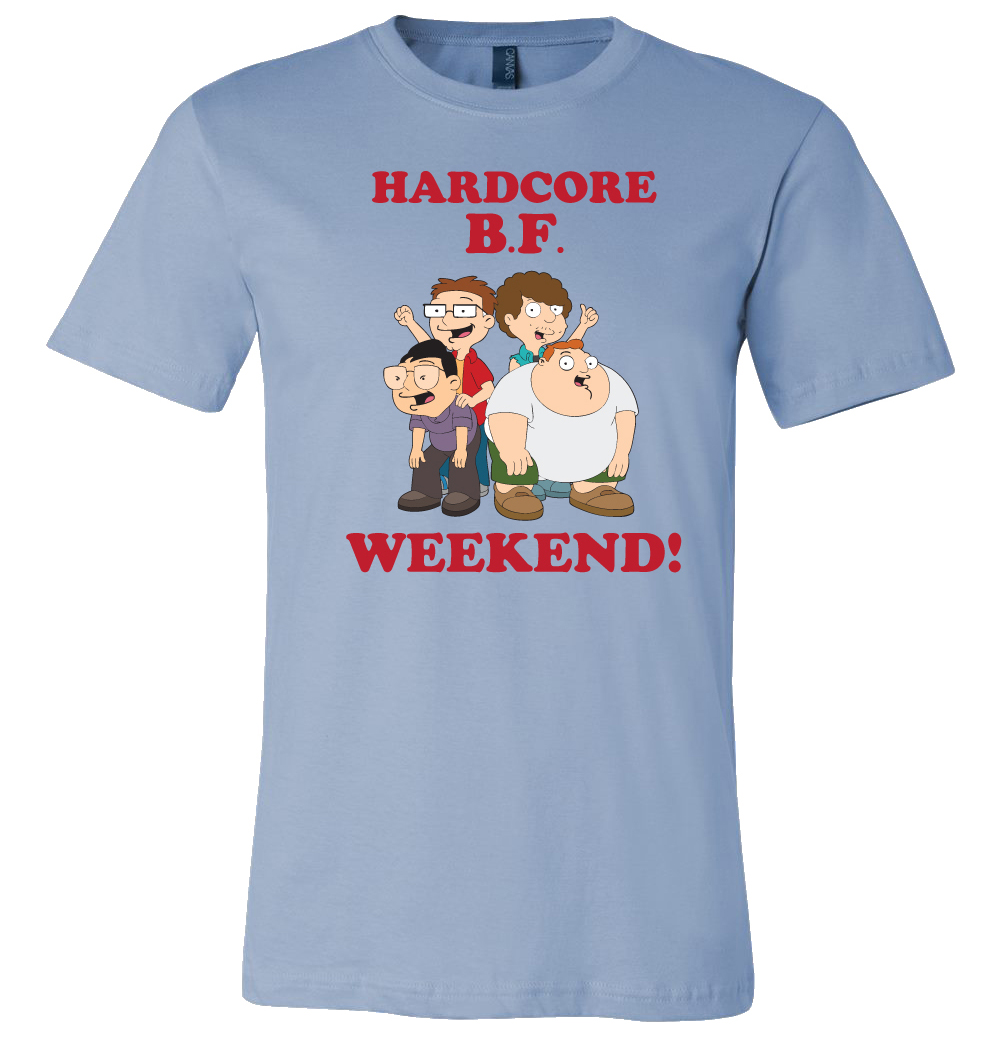 "Alien" T-Shirt – $28
It's… well, it's Roger being Roger.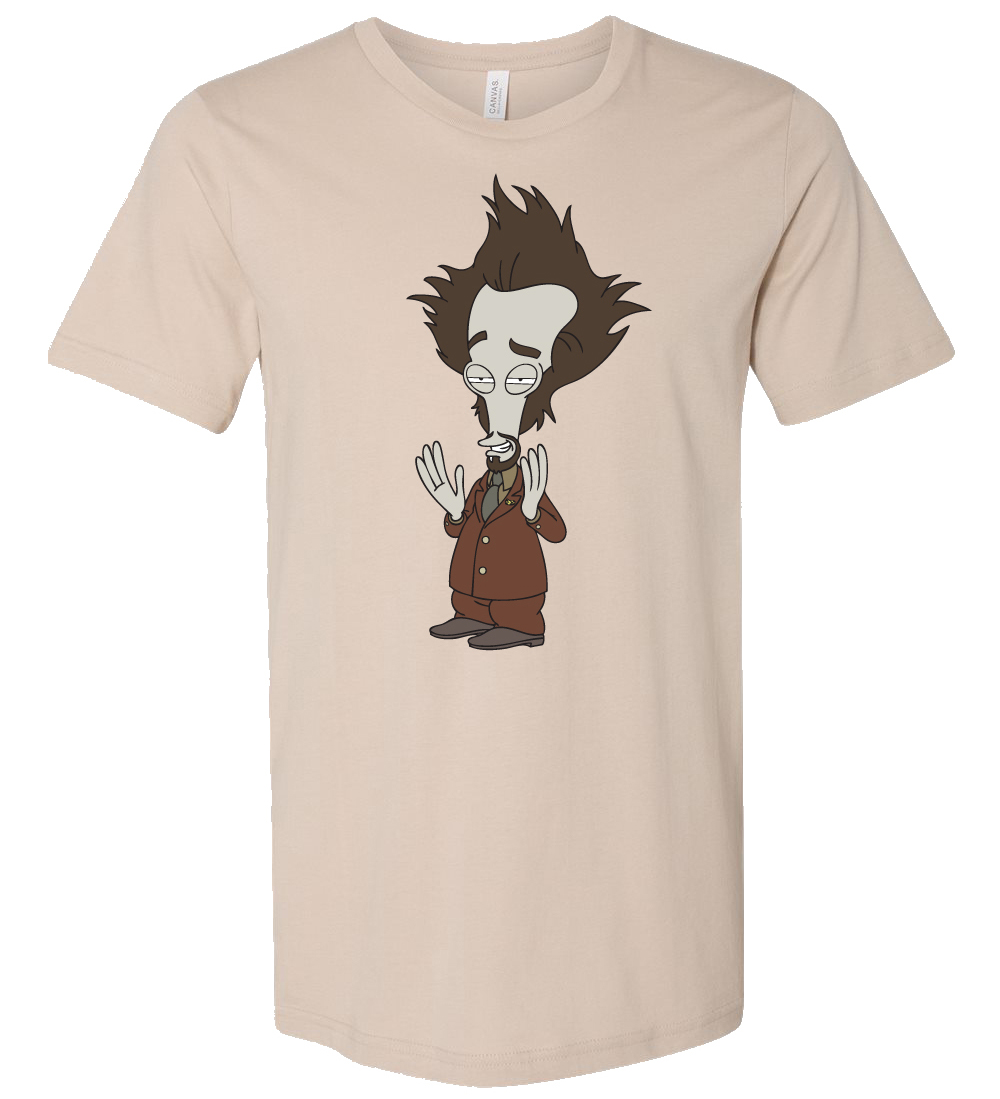 American Dad! Notebooks – $5 each
These 5×7 spiral bound, college bound notebooks come in two options: Roger in several different outfits, or Roger being the sexy pinup that he is. Either way, it's all Roger, all the time.
American Dad! Pins
These pins are limited to 100 pieces each, and include Stan in a flag, Jeannie Gold, Klaus in his fishbowl, and the golden turd in metallic gold.
FAMILY GUY SAN DIEGO COMIC-CON EXCLUSIVES
SDCC Exclusive Super Rupert – $35 LE#300
This year Stewie is bringing his buddy back and with his own mask and cape. Strict limit of 1 per person, and they will cancel your order if you order multiple.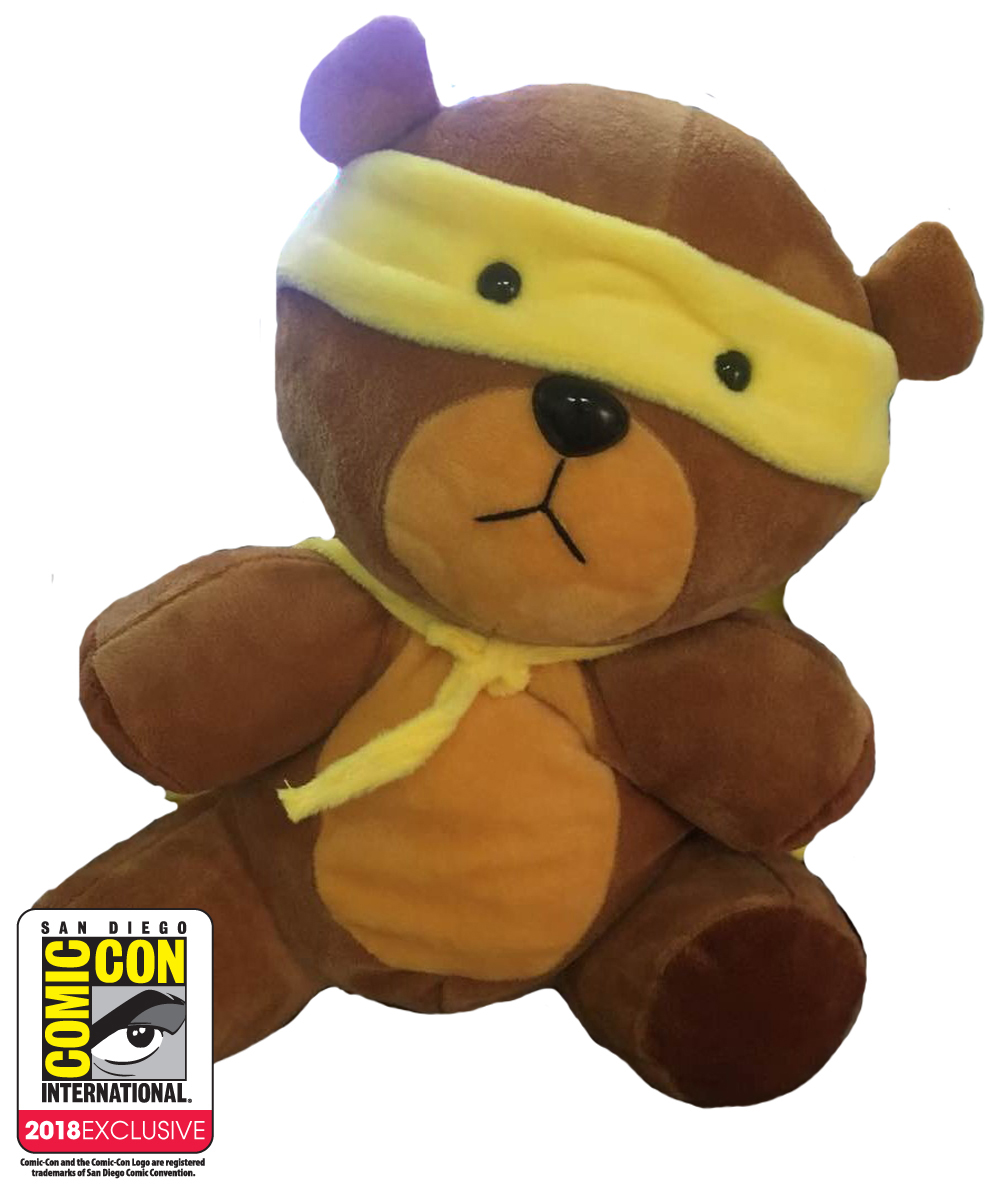 SDCC Exclusive 300th Episode Item – ????
We're not sure what they're up to with this, but it's super limited and they aren't saying anything about it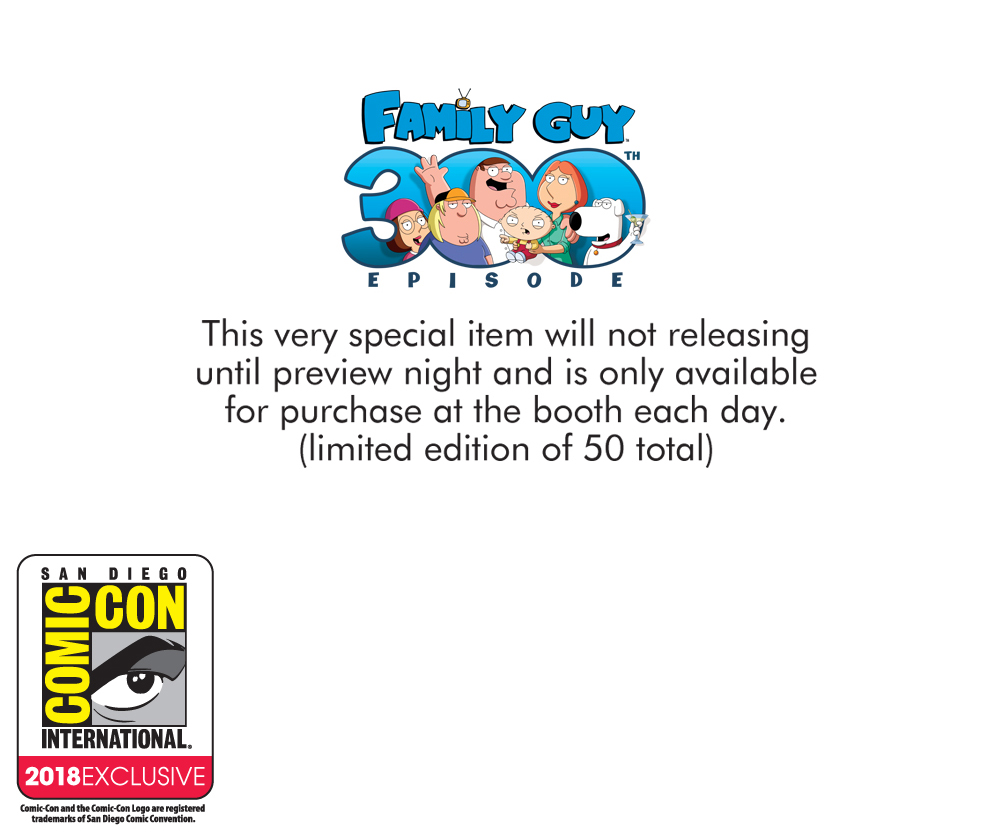 SDCC Exclusive toddland x eekeez Hula Peter – $20 LE#360
First time ever eekeez x family guy design! Debut/exclusive and a strict limit of 4 per person.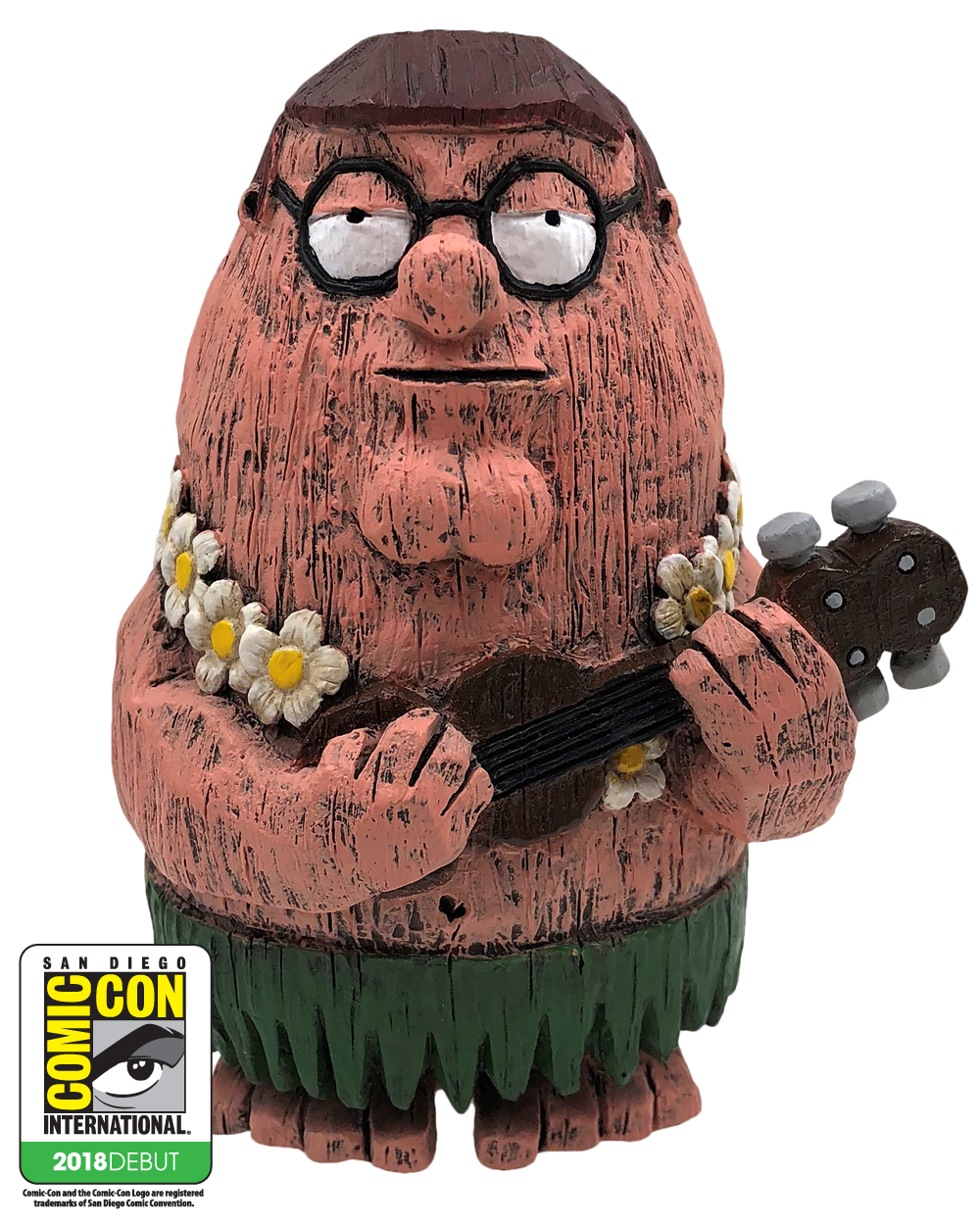 SDCC Exclusive CON-suela T-Shirt – $28
You didn't think not having a badge was going to keep her out of comic con after the fun she had last year, did you?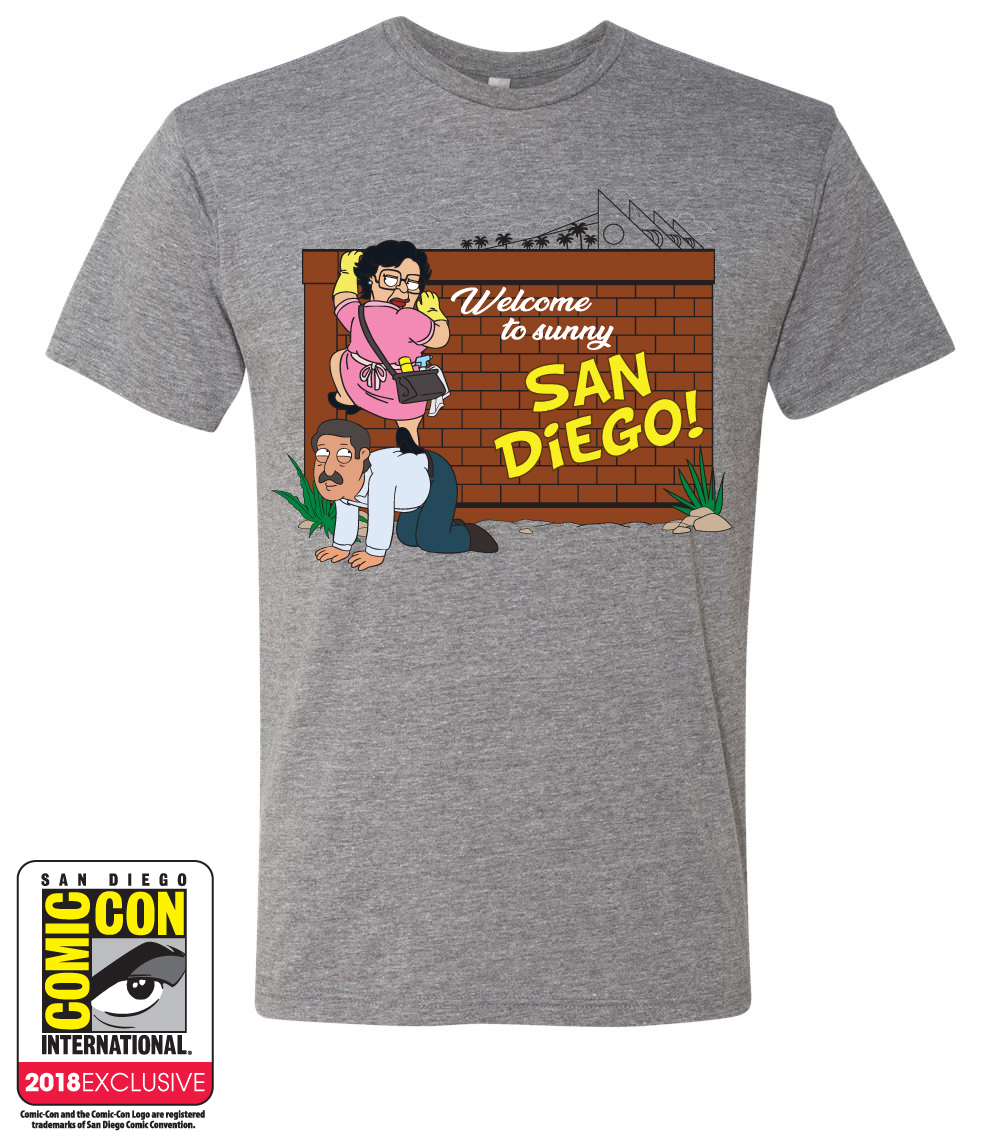 SDCC Exclusive Bruce T-Shirt – $28
Yes bruce, we all feel the same way.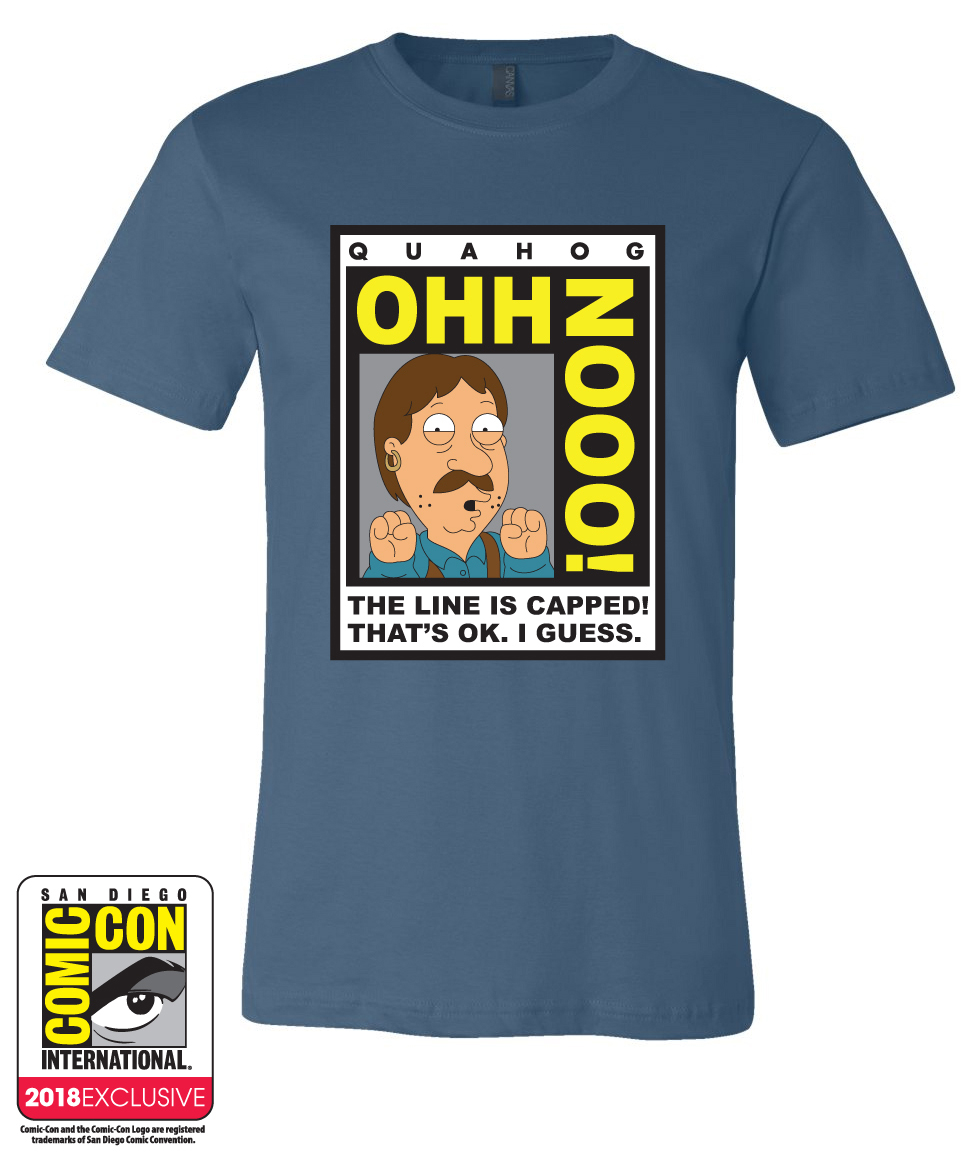 SDCC Exclusive Road to San Diego T-Shirt – $28
Stewie and Brian and Rupert are headed back again this year!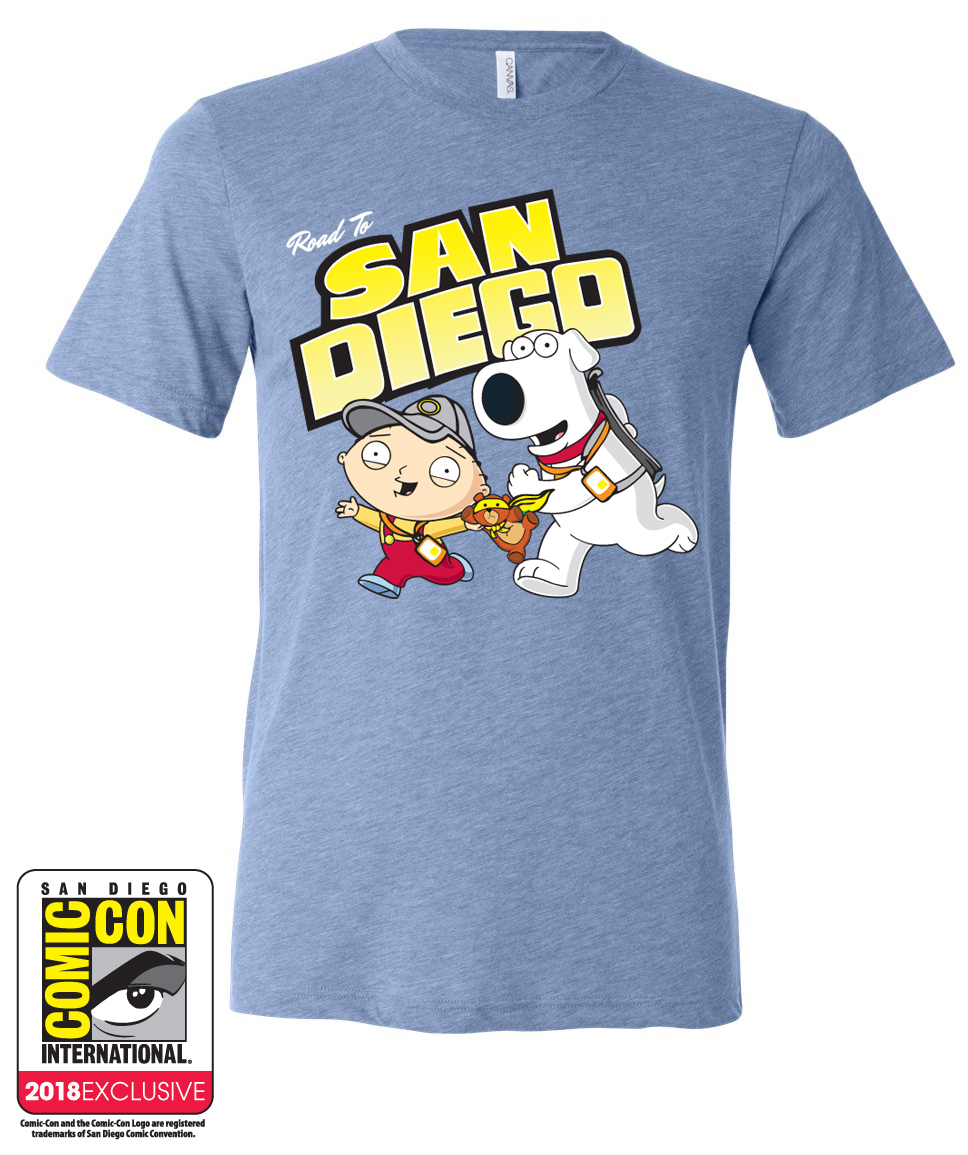 Dingo and the Baby Radio Station T-Shirt – $28
Dingo and the baby are way better than Weenie and the Butt.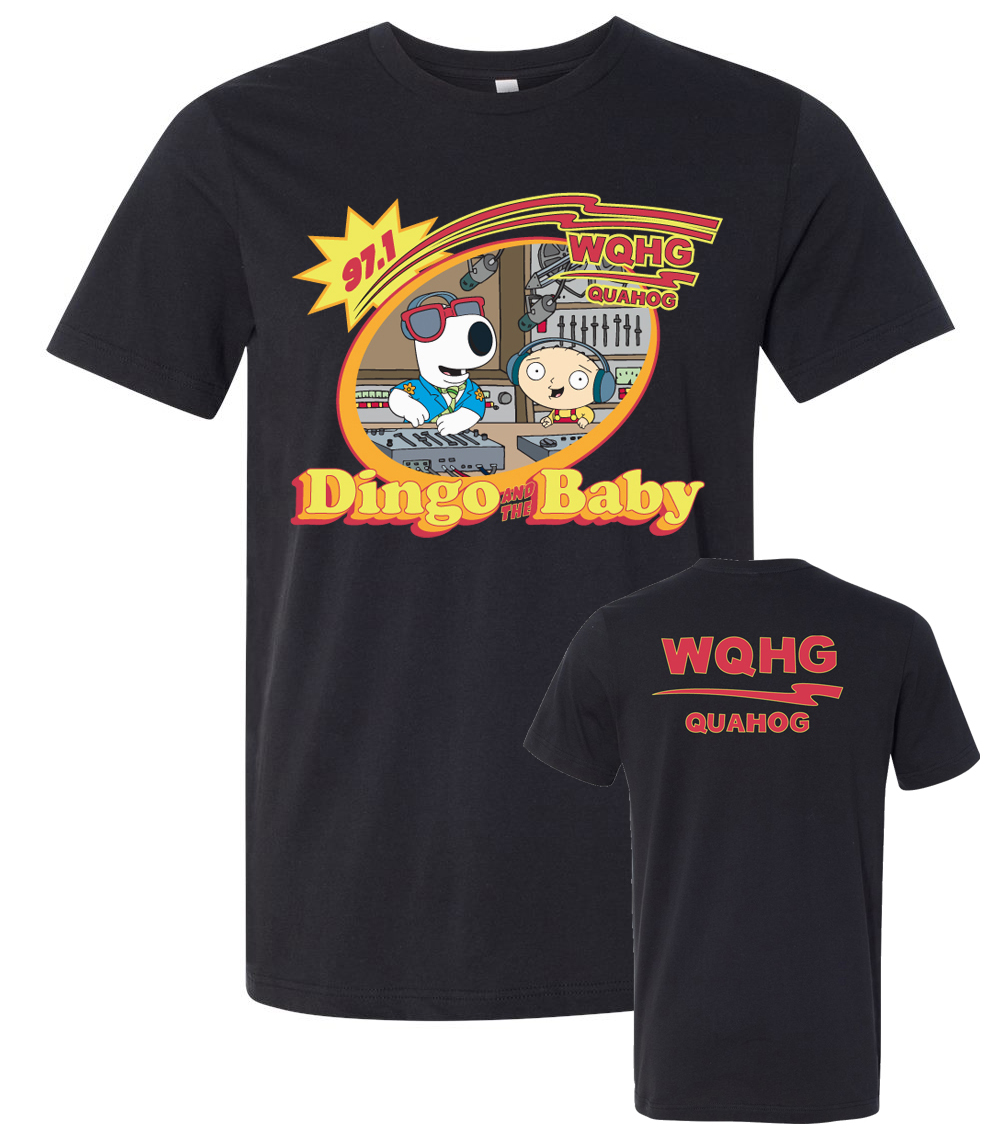 Birded Peter – $28
Peter is giving Todd a run for his money in terms of number of creatures living in a beard.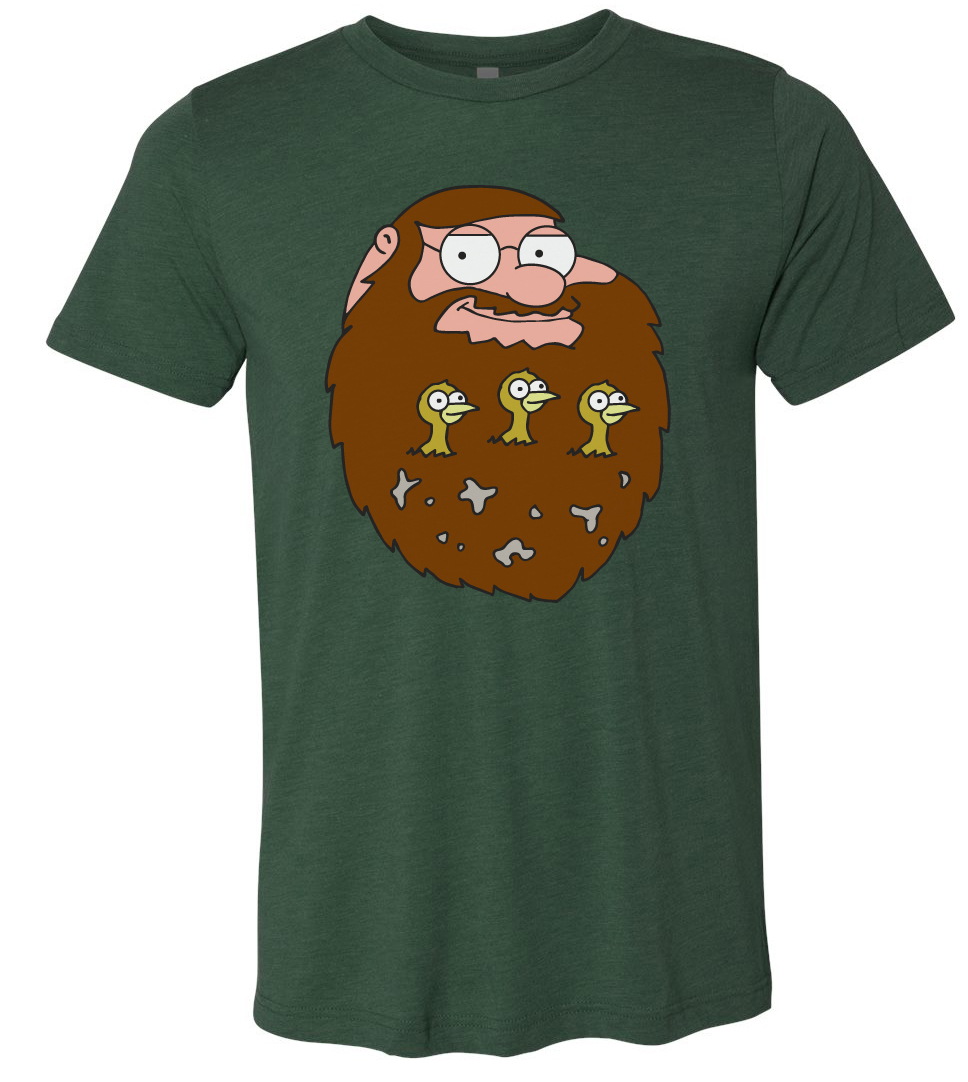 Pins! – $8/$15
All limited to between 125-650 pieces. Bruce, CON-suela, Adam West, and Road to San Diego will sell out quickly.
Totes – $15
Three to pick from this year! That's three more than last year!
Socks – $15
Three designs!
BOB'S BURGERS SAN DIEGO COMIC-CON EXCLUSIVES
SDCC Exlusive Toddland x Kidrobot Kuchi Kopi – $65 LE#200
Exclusive Kuchi Kopi colorway, custom mini sized louise bunny ears hat, and custom mini comic con badge and lanyard. STRICT LIMIT OF 1 PER PERSON. We will be releasing a small quantity each day at the booth as well.
SDCC Exclusive Trolley T-Shirt – $28 – LE (TBD based on pre-orders)
Two colorways available in heather yellow gold triblend and blue tri-blend. XS-3X for pre-order, S-XL at the show
Burger of the Day Exclusive T-Shirt – $28 – LE (TBD based on pre-orders)
Two colorways available in solid maroon triblend and asphalt gray. XS-4X for pre-order, S-XL at the show
One Eyed Snakes T-Shirt – $28
Make horny Dave proud! It's what he would have wanted!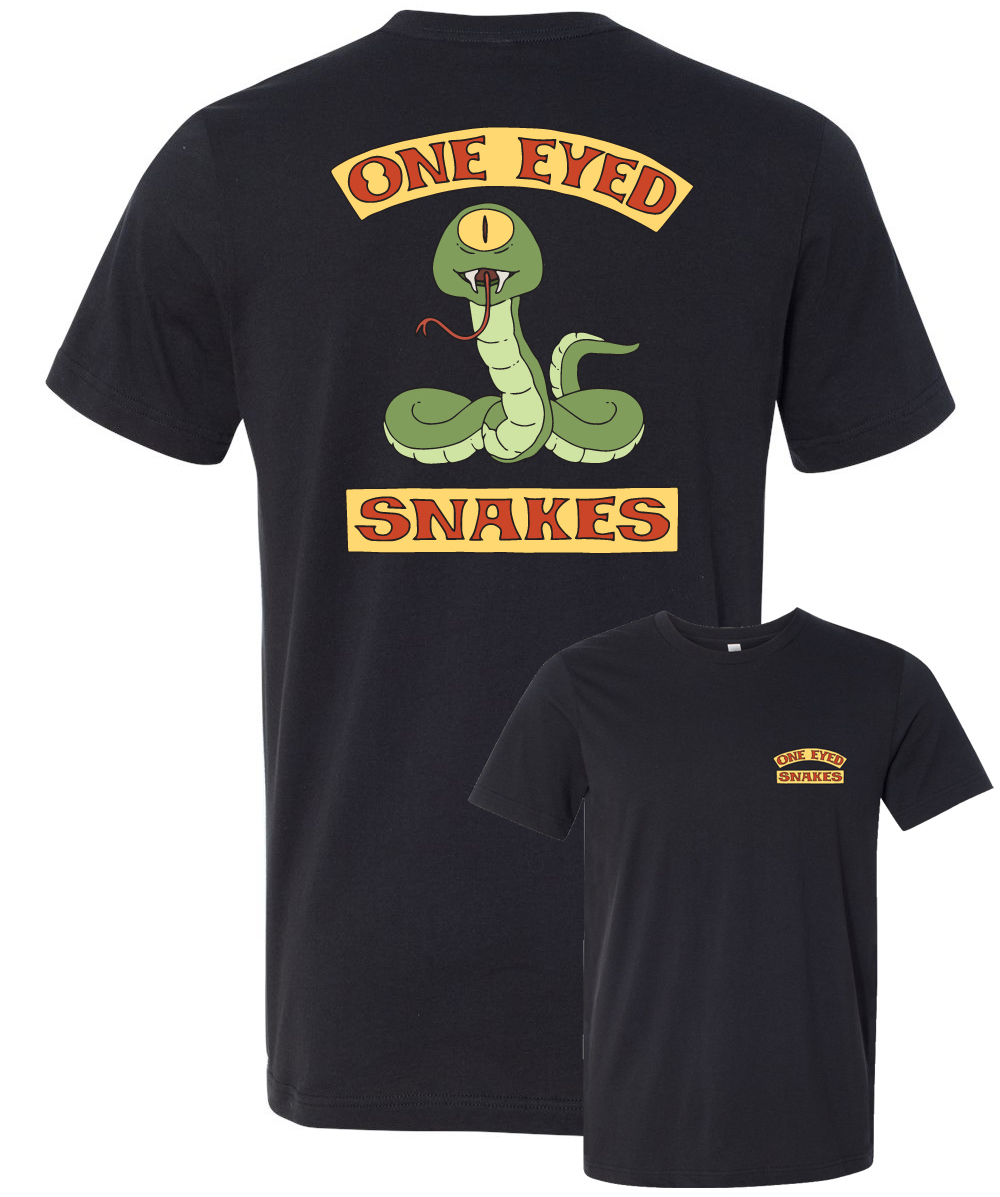 Pride Ringer T-Shirt – $28
Simon Chong (@chongster62 on Twitter), who made this fan video, got the attention of show creater Loren Bouchard, and it was so good, he hired him! Now, he moved to the US, works for Bob's, and made this amazing shirt to wear to pride. So we all decided it would be pretty great to share it with everyone else! Plus toddland met him at WonderCon. He's a super swell chap. We approve.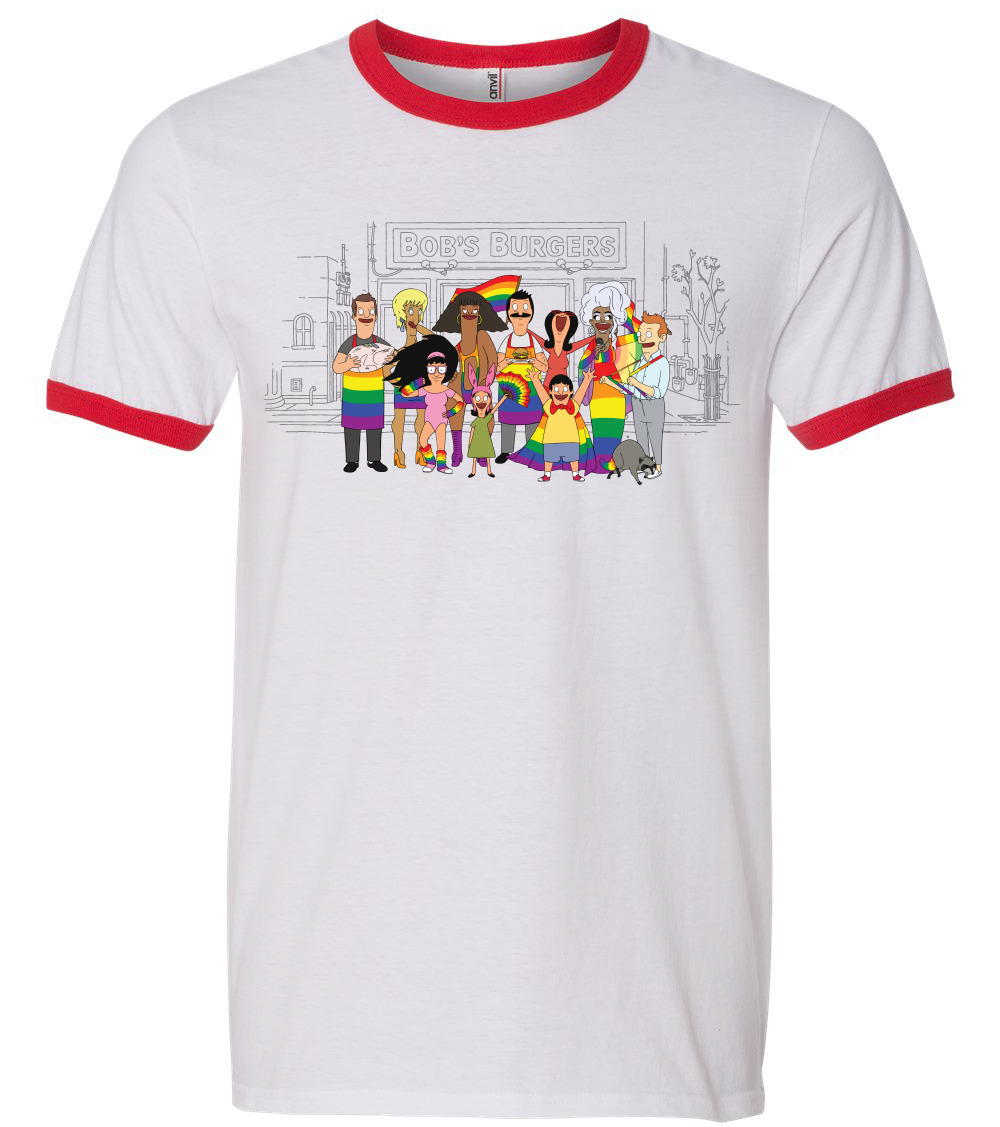 Youth Trifecta – $22
Our first test of offering youth sizing! This come in XS(4/5), S(6/7), M(8), L(10/12), XL(14/16)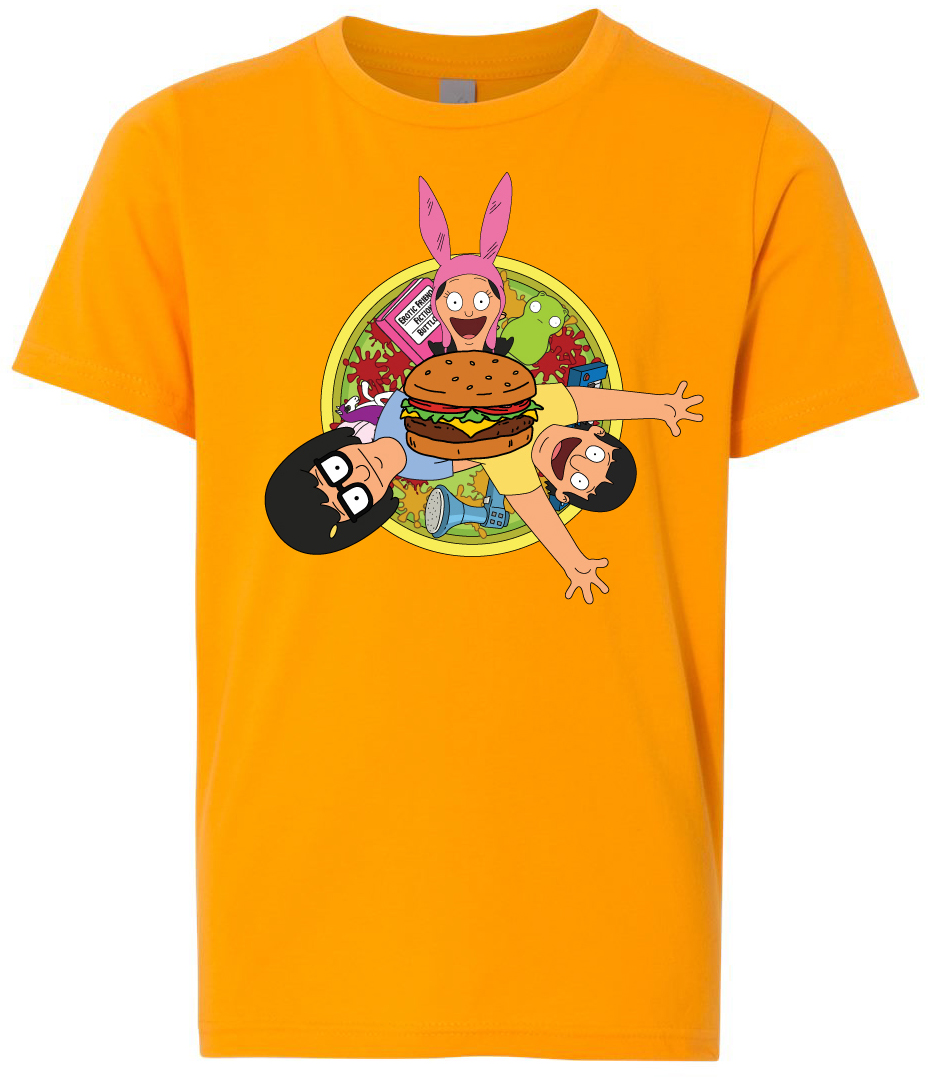 Pins! – $8
All limited to between 300-500 pieces. We've sold out of every pin we've ever made, and we made extra of the WonderCon ones so we'd have leftovers to offer at SDCC.
One Eyed Snakes Patches – $35
Full size, embroidered official One Eyed Snakes patches: 3 separate pieces, sized to sew on a jacket or vest.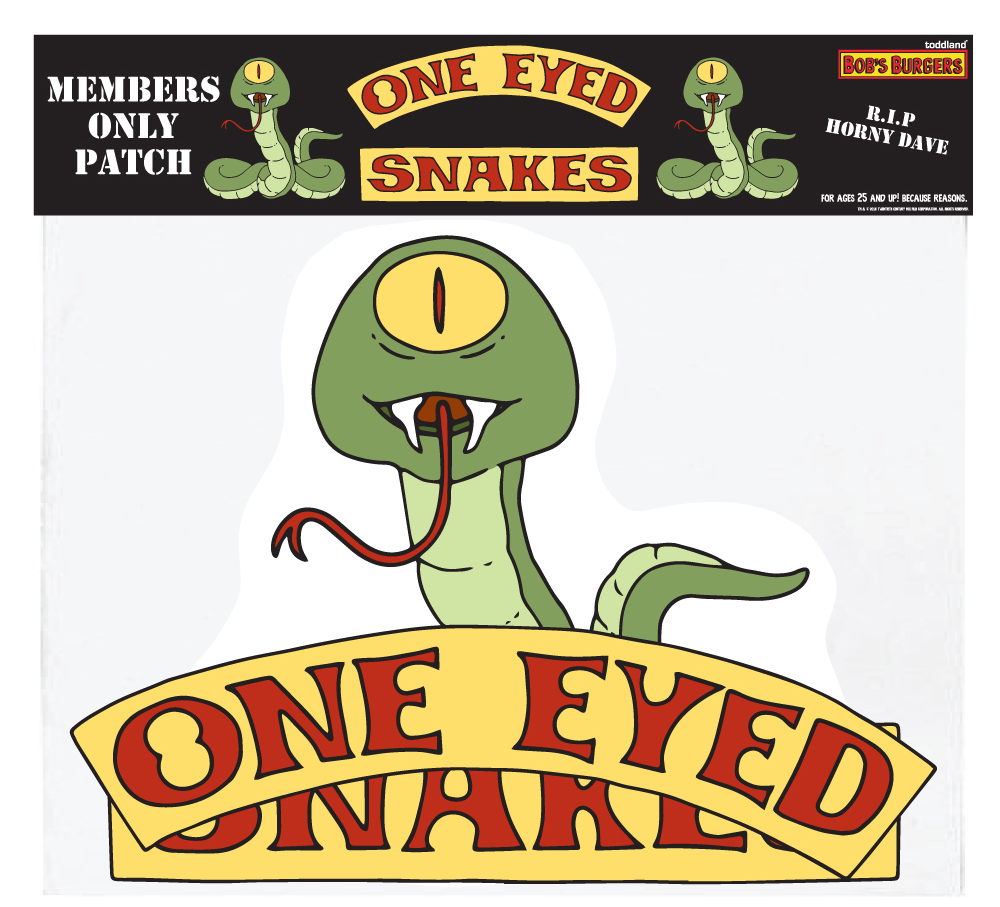 Totes – $15
Three to pick from this year, including the Trolley design, a Two Butted Goat Tote(!), and a Gayle.
The Bring Me Back Something From Con Notepads – $5
We made extras of the WonderCon one and are adding a Marshmallow option this year!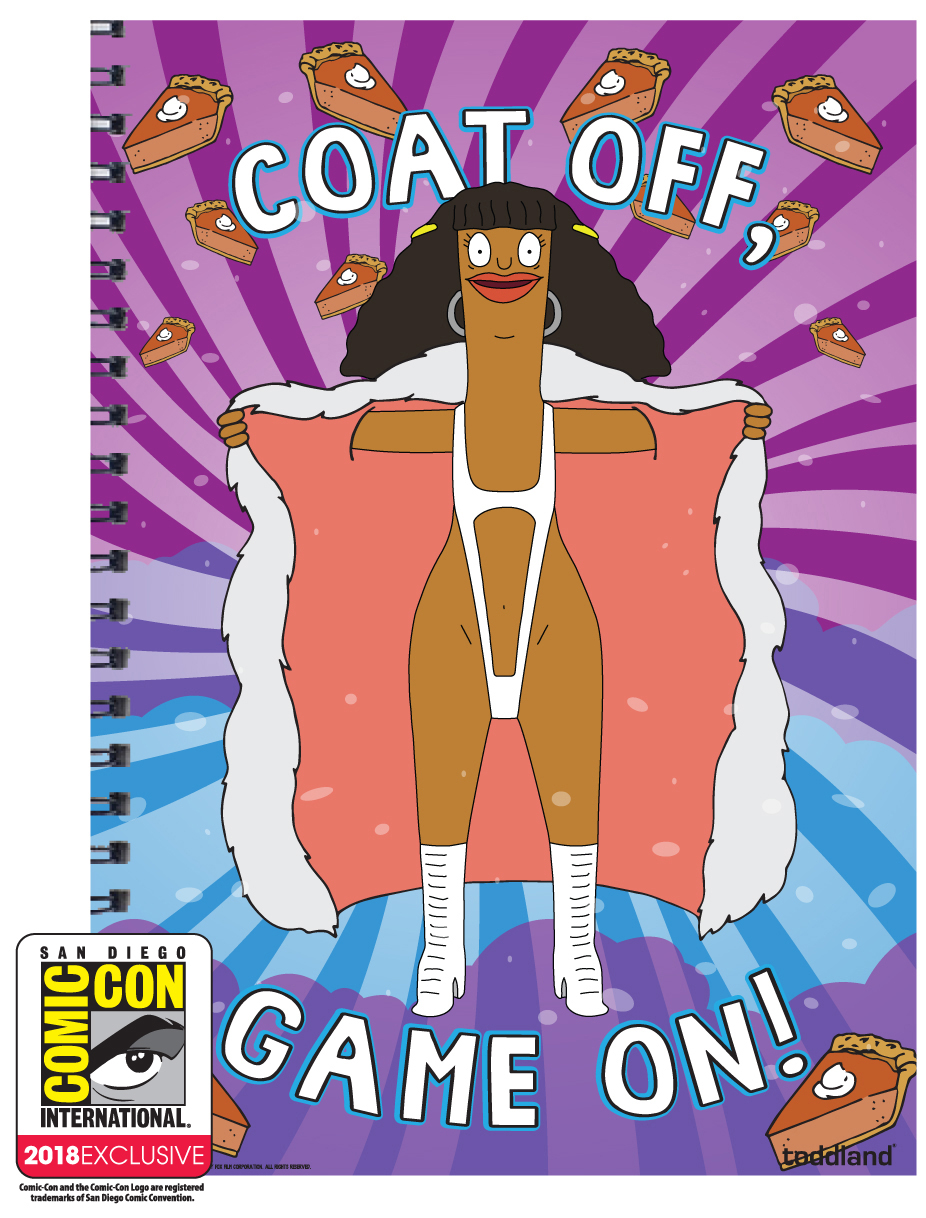 Boob Police Hat – $15
It was so popular at WonderCon, that we're glad we didn't make it an exclusive!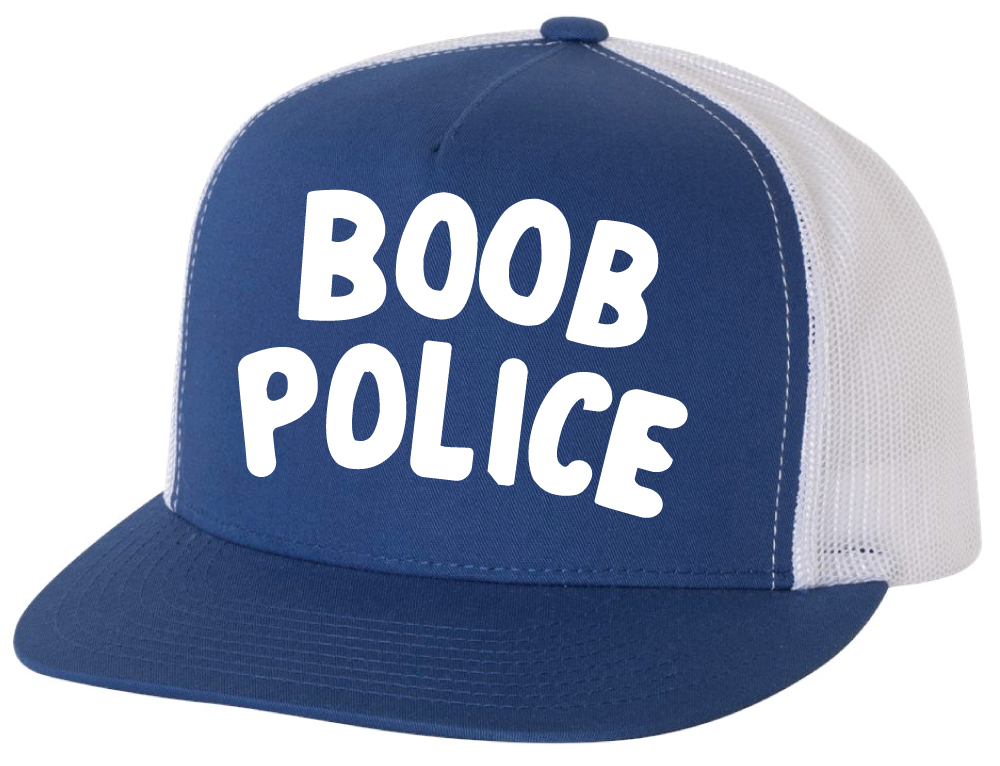 Kuchi Kopi Coin Purse – $20
– It's totes adorbs. So KAWAII!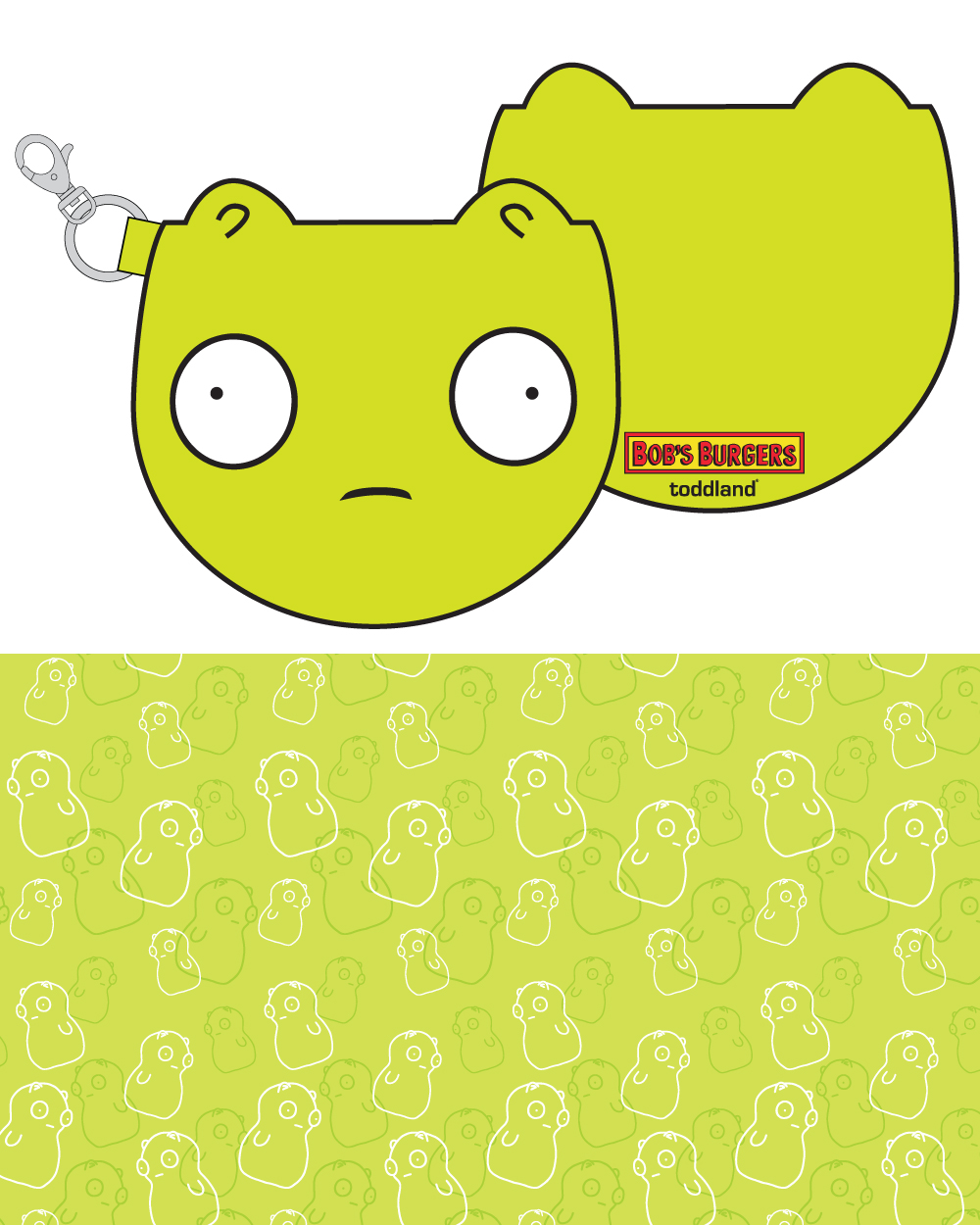 Linda Ladies Wallet – $28 – le#125
We've made all the other family members, it's time the momma bear got her own!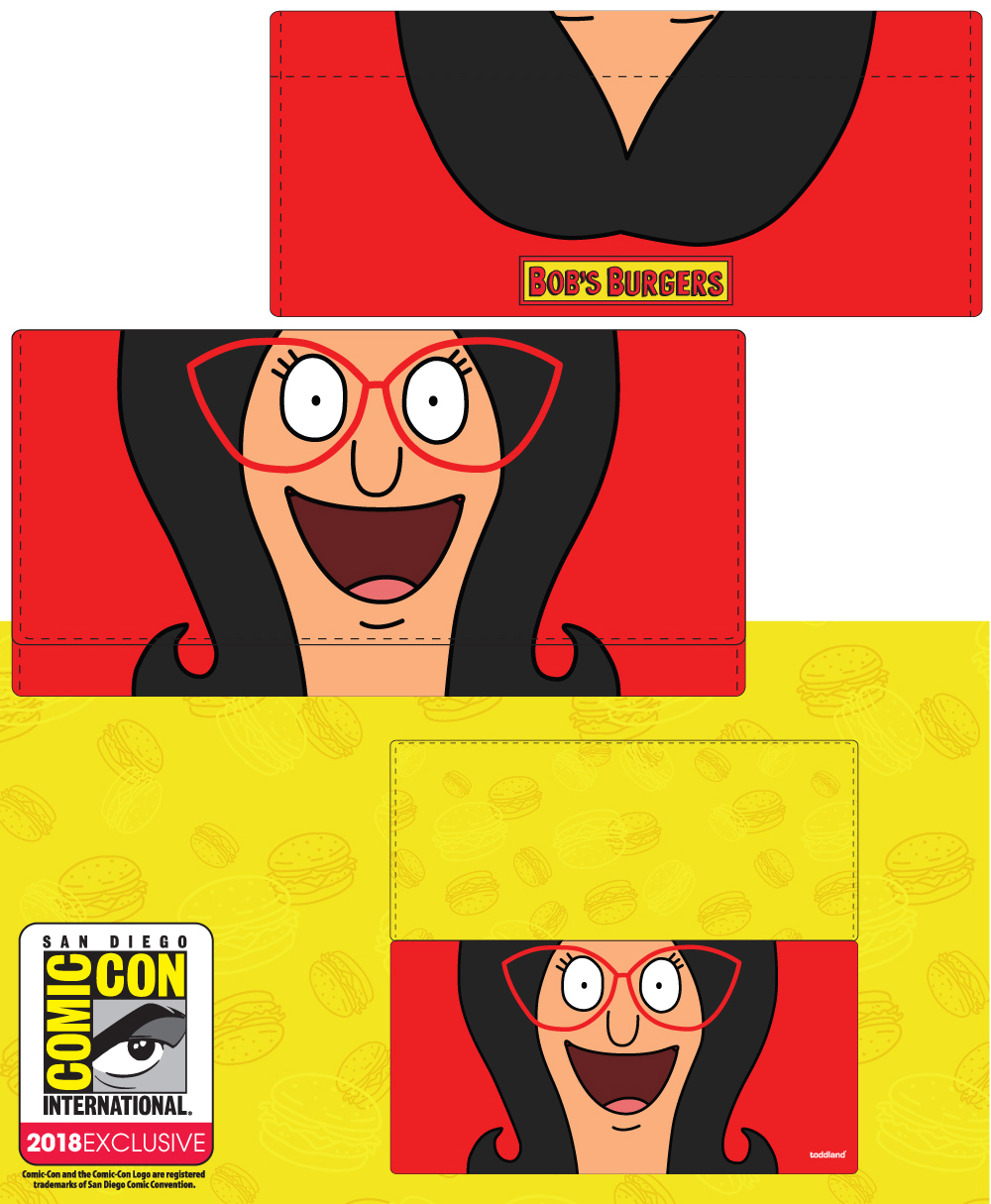 Mystery Item – $15
Last year it was a limited edition box of Chef Cat cat food, limited to 200 pieces total, that sold out. Who knows what it will be this year. Available only at the booth, not for pre-order.