Artist Patrick Ballesteros has long been one of our favorite artists, and a mainstay for several years now at both San Diego Comic-Con and WonderCon in Artists Alley. He's best known for turning your favorite pop culture characters into kid-ified versions of themselves, offering a fresh take filled with plenty of childhood wonder in series like his popular 25 Cent Wonders or his "Can You Hear Me Now" series (where you can mix and match characters speaking long-distance to each other the old fashioned way: through a tin can!).
If you think Ballesteros has been killing it lately — prepare to be amazed at just how far he's gone to top himself. He's celebrating 50 years of pop culture, with an amazing new 12″x12″ print. It features a myriad of characters (color coordinated!) from Marvel, DC, Disney, Star Wars, Harry Potter, Game of Thrones, Power Rangers, Ghostbusters, He-Man, and a whole lot more — all spelling out "50" in honor of  the big anniversary.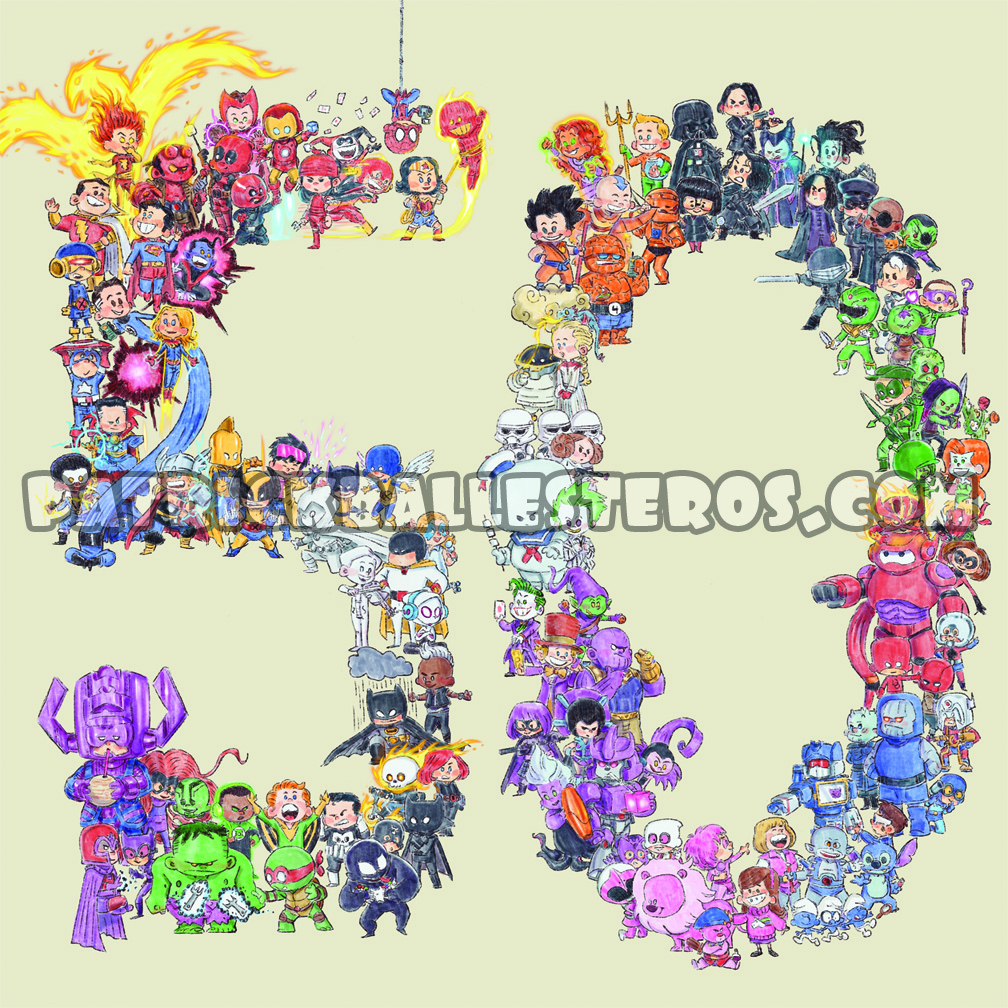 While not an official print from Comic-Con International, this piece by Ballesteros is limited to 250 pieces and will be available at Artists Alley DD-08 all days of the convention, while supplies last. It will retail for somewhere between $25-$30.
In addition, Ballesteros is bringing 100 mini-originals to the convention, as well as his regular exclusives (like the already-announced Game of Thrones mash-up "Dany & Dragons", Mulan "Lil Firecrackers", the women of the Avengers "The A+ Team", and the Keanu Reeves tribute "He Knows Kung-Fu"), regular prints, and "Can You Hear Me Now?" tin can series. And for those wanting one of his other awesome Game of Thrones season eight prints — don't worry. He's said he'll be bringing lots of inventory.
You can catch Ballesteros at San Diego Comic-Con 2019 at Artists Alley DD-08.