We know that for many of you it's WonderCon news you're looking for, and we don't blame you at all. However, there has also been a steady trickle of San Diego Comic-Con news and announcements that we just can't ignore. After all, Preview Night is less than 140 days away. So, let's take a moment to shift gears to San Diego, just for a moment, and check out the book debuts, the exclusive art teases, the special guest promises, and the creators who are hoping to be there.
Let's check out what you might have missed:
Eisner and Ringo nominated illustrator Sara Richard has said she will be attending San Diego Comic-Con. Sara is the illustrator of the upcoming book, Women of Myth, due out in August. We hope that Simon & Schuster chooses SDCC as the perfect place for a debut.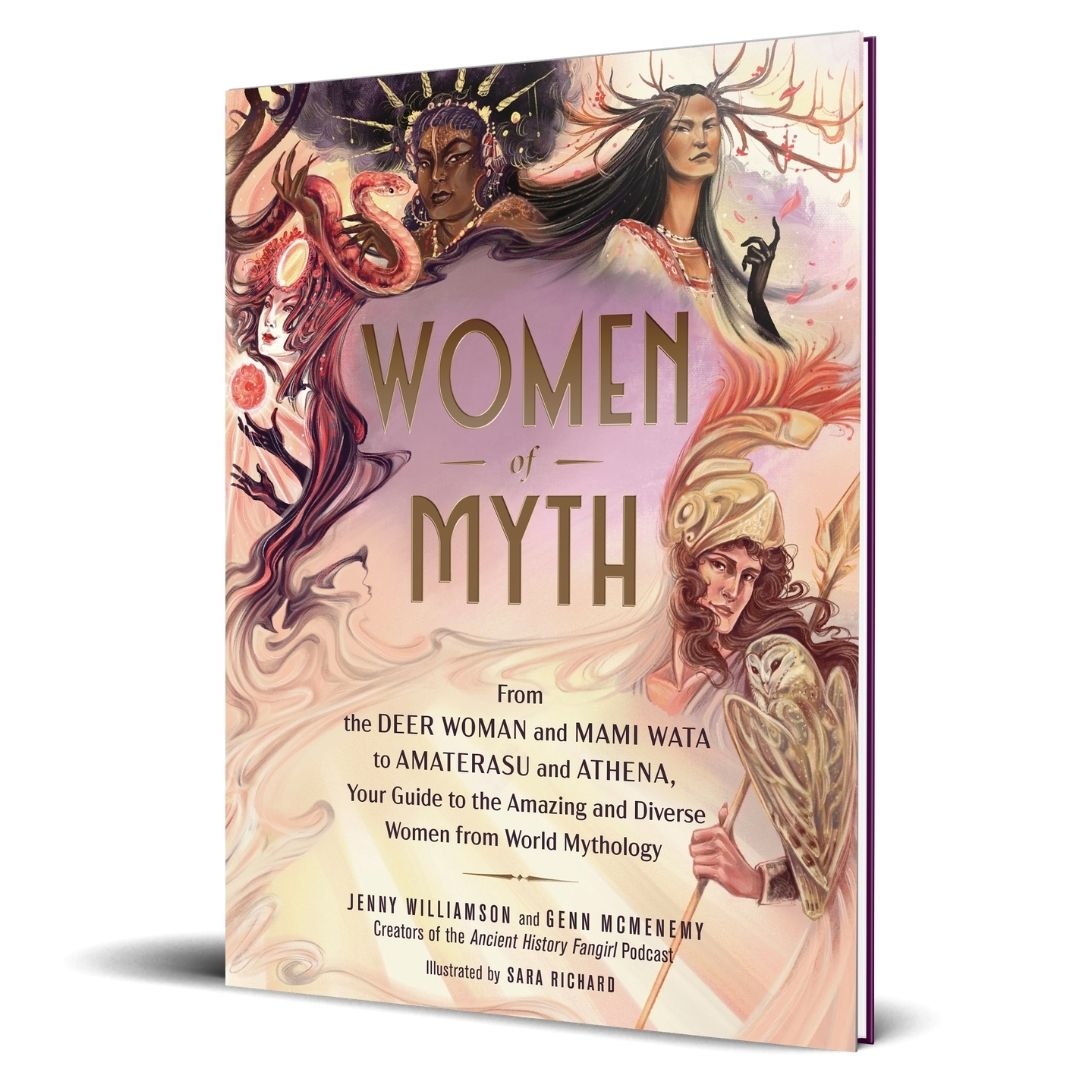 I'll definitely be there! Let's do this!

— 🌻Lady Sara Richard🇺🇦🌻 (@SaraRichard) February 16, 2022
Patrick Ballesteros might be knees deep in WonderCon prep at the moment, but that is not stopping him from working on some treats and treasures for San Diego Comic-Con, which he showed off on Twitter.
What's under the dome? A little sneak peek at an exclusive coming to SDCC this summer. I know it's early but heck…why not. That's all, back to my cave ☺️. pic.twitter.com/7KaTw6WSuq

— Patrick Ballesteros (@PatrickBallest) February 8, 2022
But that wasn't even Patrick's only tease…your Spidey senses *were* tingling weren't they? We are confident that M.J. will find her way home…safe in the arms of her beau, in this tease of a print Patrick is working on for July.
Wondercon prep is underway and I will reveal new stuff soon. In the meantime here's a little BTS of a piece I'm doing for #SDCC. I know, it's crazy to be thinking about it already but we want to welcome you all back with a 💥!

Happy Friday everyone!#TGIF #NoWayHome pic.twitter.com/NDIZ8GvVWG

— Patrick Ballesteros (@PatrickBallest) February 11, 2022
In addition to attending WonderCon next month, Grumpy Unicorn creator, and all around good human, Joey Spiotto will be found at San Diego Comic-Con. This announcement brought "Hoorays!" from his fans on Twitter. We are sorry to tell you Joey but you do, indeed, have to wait (but not for much longer, it'll be here before you know it!)
I'll be there and I can't wait!

— Joebot (@JoeySpiotto) February 8, 2022
Another creator who will be pulling double convention duty is Jin Yung Kim, also known as JYK All Day. JYK heard about their SDCC placement before they heard about WonderCon, which is just about the most totally 2022 thing we have heard. After their fantastic Squid Game prints last fall we are anxious to see what they will dream up for Comic-Con exclusives this year.
Haven't heard about WonderCon just yet, but I'll be at SDCC!

— JYK All Day (@JYK_AllDay) February 8, 2022
If you miss your chance at getting a Henry Liao commission at WonderCon, you just might have a second chance because, like the others before him, he will be attending San Diego Comic-Con in July. Fun fact about Henry: He does the comic book related artwork for CBS' Big Brother show. Fun fact about me: I have watched all the seasons of CBS' Big Brother.
You know me. Got SDCC confirmed, and WonderCon an hour ago.

— Henry @ B-22 WonderCon 2022 (@hank117) February 8, 2022
Ever the nebulous one, artist Alex Ross appears to be hinting at a special San Diego Comic-Con version of his upcoming book, Fantastic Four: Full Circle. This book will be Ross' first long form work revisiting a classic Stan Lee–Jack Kirby story from the 1960s. With a release date of early August, and its distinguished comic pedigree, we think SDCC is the ideal time and place for… let's say… perhaps… an early exclusive cover version? We'll have to wait for the official word from Ross.
This summer the #Fantastic4 is coming #sdcc pic.twitter.com/kFKSBO0qrO

— Alex Ross (@thealexrossart) February 15, 2022
Creator of the graphic novel series Zoo Patrol Squad, Brett Bean, recently told his Twitter followers that he's working on a personal "Art Of" book for SDCC. We'll keep watching for any sneak peeks Brett might decide to share.
I am putting together a small print run "art of" book for SDCC this year! It's been awhile…

— Brett Bean Artist and Author (@2dbean) February 11, 2022
Writer and creator Johnny Parker II was doing the "happy dance" when he announced that SDCC is now on his official schedule.
Confirmations came in for both! I'll see y'all at Comic-con 2022 in San Diego and Wondercon 2022 in Anaheim! pic.twitter.com/B2i00gXsUw

— Johnny Parker II (@johnnyp313) February 11, 2022
It's almost "New Book Day" for Adam Christopher, a UK-based New Zealand writer. STAR WARS: Shadow of the Sith will be released on June 22nd. Great timing as he will also be attending SDCC a month later, making the possibility of getting your copy signed just a tad bit higher.
I sure will be!

— Adam Christopher (@ghostfinder) February 9, 2022
If you're hoping to get yourself a realistic mask for Halloween this year, you'll be happy to know that Composite Effects, one of the worlds best, will be there for you. Their masks really are the stuff of nightmares, in the BEST way possible.
We'll be at #SDCC2022! Can't wait to be back slinging the silicone masks to the masses! #TravelingImp

— Composite Effects (@CFXunmasked) February 8, 2022
This next little tidbit is neither a confirmation or a refutation, but instead, a big ole ¯\_(ツ)_/¯. The Game of Thrones Wiki co-founder, @ADragonDemands, posted that HBO has not yet decided if the trailer for the upcoming spin-off, House of the Dragon, will be shown at San Diego Comic-Con. The ten episode tale of the Targaryen civil war is due out later in 2022. SDCC has always been welcoming to all things Game of Thrones, so we sincerely hope an appearance of some sort comes to fruition.
HBO head declines to give any info about when to expect a trailer:

"I don't know about SDCC; we haven't announced any of our plans yet. I don't even want to say "soon" but you'll start to see material … if I say "soon," I'll leave that vague. So maybe soon."#HouseOfTheDragon pic.twitter.com/AfsXwiaWM3

— The Dragon Demands (@ADragonDemands) February 16, 2022
View this post on Instagram
The lucky folks from Felix Comic Art already have their rooms booked for Comic-Con, no Hotelpocalypse nightmares for them! We are glad to see that they will be there selling original art for their roster of clients which include Bilquis Evely, Cliff Chiang, Nick Dragotta, Paul Pope, Ryan Ottley, and many more. We haven't heard which artists will be attending in person, but they do promise "special guests."
View this post on Instagram
Buried deep in the text of a press release for Hot Topic's new live shopping events was conformation of their intentions to exhibit at San Diego Comic-Con. They will be joined by sister companies BoxLunch and Her Universe.

And finally today, when video game designer Bryy Miller asked Critical Role Origins writer Sam Maggs about her plans for summer conventions, Sam responded that she is hoping to attend. Bryy's response speaks for all of us.
We all are.

— Bryy Miller (@Bryy_Miller) February 23, 2022
Anything we missed? Let us know in the comments, drop us a line, or tweet us at @SD_Comic_Con.