We've been biting our tongue since we visited Toy Fair in New York City this past February. Combing every booth in search of the exclusives you will be lining up for at San Diego Comic-Con this year, many companies were not able to release any information publicly, pending licensor approvals. However, several companies told us what to expect "off the record", including Factory Entertainment, which brought us the awesome Archer dolphin glove puppet last year.
Happily, we are now able to share some of that information with all of our readers.
Factory will once again be back at SDCC this year, and fans of Archer will be thrilled to know they will be adding to its highly-desirable prop replica range with another exclusive from the popular FX show.
The popular manufacturer's first replica will be a Comic-Con Exclusive 1:1 replica of Pam Poovey's Cocaine Infused Body Cast, in keeping with season 4's vice theme. Measuring an impressive 5.8 feet long and weighing over 80 pounds, the body cast replica will be crafted from a plaster/resin hybrid compound and has been painstakingly replicated from the original animation sequence. It will be cast to Pam's per-coke-binge-weight-loss anatomical dimensions.
For safety reasons the replica is not wearable. It will be presented on a handsome display stand with a numbered plaque and prop story booklet. The edition size will be set at an extremely limited 12 pieces and the retail will be $14,999 each – which, by our calculations, represents stunning value at less than $50 per ounce.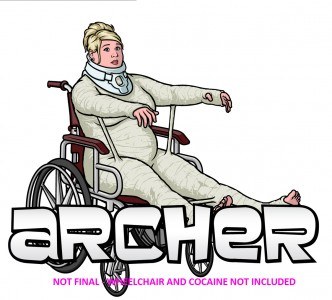 Factory Entertainment will begin taking pre-orders on their website Factoryent.com sometime in June when they unveil the official images of the first prototype . The replica will be boxed in a sturdy shipping crate, but the replicas will only be available for local pick-up in the marina parking lot after-hours during SDCC. Look for a large yacht with a helipad and Colombian registration. Transportation of this item over state lines or international borders will be at your own risk.
Ready to "blow" a few mortgage payments on this SDCC exclusive? Let us know in the comments.