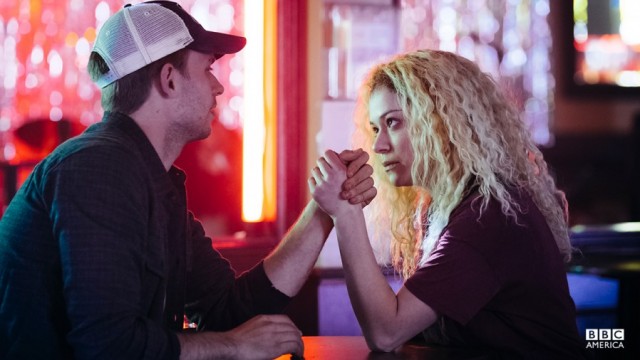 Television series comprise a huge chunk of the schedule for San Diego Comic-Con — and every year it seems like they become a larger and larger piece of the pie. The lines for Ballroom 20 are starting to rival even those of Hall H, and they won't be getting any shorter any time soon.
As the anticipation builds for the official announcements from networks and CCI as to which television shows will be on the panel schedule, we like to take time out earlier in the year to speculate which shows have the best chances of appearing at SDCC. We'll be breaking this into three segments, starting with the Broadcast Networks which we did yesterday, and followed by the Family Networks soon. But today, we're focusing on the Cable Networks — and there's a lot of them.
So what do we think you'll be seeing at Comic-Con this summer? Let's take a look:
A&E
A&E burst onto the San Diego Comic-Con scene with its scripted programming in 2012 (as in prior years, it had mostly brought reality shows like The Hasslehoffs and Paranormal State), and since then, it's proven that it values the convention by hosting offsite parties and star-filled panels. The network is holding a contest to send a Bates Motel fan to SDCC, and a source at the network told us earlier this year that in addition to another Bates Motel party, they're hopeful about bringing the series back for another panel. There's nothing else on the A&E schedule that really makes since for Comic-Con, but expect the network to go all out for Bates.
Adult Swim
Adult Swim is known for bringing a lot of its show to San Diego Comic-Con every summer, and 2014 should be no different. Plan on panels for fan favorites Robot Chicken, The Venture Bros., Aqua Teen Hunger Force, Children's Hospital, The Eric Andrew Show, The Heart, She Holler, China, IL, Rick and Morty, and Superjail.
The one potential holdout from 2013 is NTSF:SD:SUV, which currently hasn't been renewed for a fourth season, meaning it could skip the convention this year. There are also several new shows that will be premiering on Adult Swim this year, which Adult Swim typically brings to SDCC with either an episode screening or at least an extended look. This year's upcoming shows include the live-action comedy series Black Jesus and Tim and Eric's Bedtime Stories, as well as the the animated shows Mr. Pickles and Mike Tyson Mysteries. Since Adult Swim has a tendency to combine panels for some of their animated shows, we wouldn't be surprised if Adult Swim brought everything we've just listed.
AMC
With Breaking Bad over, will AMC only be bringing one show back to Comic-Con this year? The Walking Dead is sure to return, presumably in Hall H again, and as the series has already begun production on season five, fans can also expect to see some footage or a preview during a panel Q&A.
There are two shows on AMC's roster that could potentially replace Breaking Bad. The first, Halt and Catch Fire, stars Lee Pace (The Hobbit films, Pushing Daisies) and follows a fictionalized insider's view of the personal computer revolution in the 1980's. The last episode airs on Sunday of Comic-Con, meaning there's still time for a Q&A with some sneak-peak footage of the last episode earlier in the week, and it's got geek cred because of Lee and the subject matter.
The other possibility, assuming AMC even brings a second show, is Better Call Saul. What better show to replace Breaking Bad than its highly-buzzed-about prequel? The series begins production this month, and officially debuts on AMC in November, meaning the timing could be right to unveil some footage (or even potentially show the entire pilot) and bring the cast out for a Q&A. However, AMC might also decide that it's just too early for Better Call Saul.
BBC America
We fully expect to get to meet the new Doctor in person at a Doctor Who panel this July, and we'll be very surprised if the series gives Comic-Con a miss. The new season premieres sometime in August, so fans should also expect some sneak-peak footage during a panel Q&A. Because PBS owns the US rights to Sherlock, BBC America isn't responsible for bringing it to the convention — and you can read about what we think the odds of it returning in 2014 are over in the Broadcast Networks post.
Last year, BBC America's only other program at SDCC was Orphan Black. Whether or not that show returns hinges on one major detail: if it's renewed. The show will have wrapped its second season in late June, well before Comic-Con, and although its ratings have improved over last year, it's not a ratings-juggernaut by anyone's standards, so its fate remains up in the air. If the show is renewed, we fully expect it to return to SDCC, as although its fanbase is small it is also very passionate and BBC made a big push for the show in 2013. However, if it is canceled, the Clone Club can mourn its loss in next year's Television Graveyard.
Cinemax
Last year, HBO's sister-channel Cinemax brought both Strike Back and Banshee to Comic-Con, and we expect both back again in 2014. The fifth and final season of Strike Back will begin airing later this fall, so plan for it to be the show's last visit the convention.
FX
FX series Wilfred should get a final farewell panel as well as an episode screening, along with Sons of Anarchy. The last several years, Sons has closed out Sunday in Hall H, and we'd be surprised if the series' last panel at Comic-Con didn't get a similar treatment. Archer actor Lucky Yates has already indicated that he'll be attending SDCC this summer and serving on a panel, and we also know that co-star Aisha Tyler will be in the area for HopCon 2.0, meaning conditions are prime for another Archer panel.
It's Always Sunny in Philadelphia skipped SDCC in 2012, but it returned last year for a Hall H panel. Will it be there again in 2014? Season 10 of the show won't be airing until January 2015, and production hasn't started on the latest season, so there may not be anything new to show attendees before Comic-Con. We're considering Sunny a toss-up, along with American Horror Story. Although creator Ryan Murphy indicated in 2013 that he'd love to bring the show to SDCC, and a screening of the pilot was rumored to be happening in 2011, the show hasn't made its way to Comic-Con yet. We hope this is finally American Horror Story's debut, if only so we can bring Kathy Bates to a Ballroom 20 stage near you.
HBO
It's the final season for True Blood, so expect HBO to once again bring the vampire series to San Diego Comic-Con along with most of the cast. For its farewell panel, could it see an upgrade to Hall H, similar to the treatment that Showtime's Dexter and its final panel got last year? One thing you can definitely expect to be in Hall H: Game of Thrones. It's HBO's flagship program, and the network knows how much their fanbase loves SDCC.
Since Game of Thrones made its Comic-Con debut in 2011, those have been the only two programs that HBO has brought to the convention, but 2014 may finally be the year that changes. The new Damon Lindelof series The Leftovers premieres on HBO on June 29, 2014, and will be in the middle of its season during Comic-Con. The series, which is based on the Tom Perrotta novel of the same name, is about the people left after an event that some deem the "Rapture" causes many of their loved ones to vanish. With Lindelof at the helm and the supernatural themes, it's already a good fit for the SDCC crowd. And with fan-favorite True Blood going off the air, HBO may want to introduce Comic-Con attendees to their next obsession.
https://www.youtube.com/watch?v=Shn1mPejr_4
History
It may sound strange, but the History Channel is a big fan of San Diego Comic-Con. Although 2013 was the first time the network had ever brought a program to the convention, in 2012, even before it had anything to show at the convention, it hosted a backyard BBQ for attendees. Last year, the History Channel brought along Vikings and a cool offsite event dedicated to the show, and quite frankly, we'd be shocked if Vikings didn't make a return in 2014 — likely with another awesome offsite.
MTV
Plan on Teen Wolf being at the convention, as MTV always brings out the entire cast of the werewolf teenage drama to Comic-Con. Last year, the series closed out Thursday in Ballroom 20 to a packed house, and fans can expect a similar treatment in 2014.  There's nothing else on the network that really makes sense for the convention, though — so anyone hoping for the likes of Snooki & JWoww to make it to Comic-Con is, uh, going to be a little disappointed.
Showtime
Showtime has slowly been scaling back its San Diego Comic-Con panel presence, as in 2013, the network only brought along Dexter for its Comic-Con swan song. With Dexter over, the network could bring back Shameless, as it had in 2011 and 2012. The show is on its hottest streak yet, with season four having just scored the series its highest ratings yet, and the network seems to be making big marketing pushes for it lately so it could make sense for the show to return to SDCC. Showtime has also brought along Californication and Nurse Jackie in years past, but neither show has attended since 2010, so we don't think Showtime is that interested in promoting them at Comic-Con crowd with a panel.
New series Penny Dreadful probably stands the best chance of attending out of all of Showtime's new series. The show follows several classical literature creatures including Frankenstein's monster, Dorian Gray, and Dracula throughout Victorian England, making it a good fit for the Comic-Con crowd. Although the first season will have finished its television run before July, we already know that there will be some merchandise for the show available at this year's convention. The only possible hold-up in Showtime's decision to bring the series? It hasn't been renewed for a second season yet. [UPDATE] Showtime has renewed Penny Dreadful, and Showtime believes the series has "Comic-Con appeal". Consider the chances of this one attending high.
Starz
While we don't doubt that Starz will be at Comic-Con in some regard, there's some question as to exactly what that will mean. The network's last panel inside the convention center was in 2012, with Spartacus getting a send-off before its final season. However, last year, the network brought upcoming series Black Sails for an offsite screening of its pilot, rather than a traditional panel inside the convention center. The series was already renewed for a second season, so it could return to Comic-Con, this time with a more traditional panel, or it could hold its own offsite again.
There's also the question of what the network might do with upcoming Ronald D. Moore (Battlestar Galactica) series Outlander. It focuses on a time-traveling nurse and her adventures and romance, and debuts in October. Back at New York Comic-Con last fall, the show got a full panel, so it could get a similar treatment at SDCC — or it could get the offsite treatment as well.
Syfy
Syfy is always a big supporter of Comic-Con, and likes to bring out most, if not all, of its scripted programming shows. We'd be surprised if we didn't see panels again for Haven, Defiance, Helix, and Lost Girl.
Bitten, which centers on a female werewolf who is torn between a normal life with her human boyfriend and her "family" obligations as a werewolf, will also probably be making a stop by SDCC. The series was recently renewed for a second season, and although it's technically owned by Canadian channel Space, fellow Canadian series Lost Girl was brought last year. We also wouldn't be surprised by a marketing push for Dominion, a new series based on the 2010 film Legion which follows an army of lower angels waging a war against each other and against humanity. It begins airing on June 19, making this year the perfect timing for its Comic-Con debut. We also think we'll see some of Z Nation, the upcoming zombie series that begins airing in the fall.
TNT
Plan on another panel for Falling Skies, as the series has come to Comic-Con every year since its debut. The network brought two of its new and upcoming series to sister-show WonderCon back in April — The Last Ship and Legends — and we wouldn't be surprised to see either make an appearance at Comic-Con this year. The former actually unveiled the first trailer for the show at last year's SDCC, and it will be in the middle of its run during Comic-Con, making it the perfect time for some more teaser footage of upcoming episodes and a panel Q&A. Legends, which stars fan favorite Sean Bean, is set to premiere in August, and should also have plenty ready to show fans.
http://www.youtube.com/watch?v=ivAbsRvTAso
USA Network
We actually wouldn't be surprised if USA Network skipped San Diego Comic-Con altogether in 2014, as Psych wrapped its final season already, and Burn Notice also ended its run. Which is a real shame for attendees, because USA is one of the few cable networks that really gets the crowd at Comic-Con, and has given out some of the best swag and planned exciting offsite events like last year's Psych: The Musical screenings.
When asked about the possibility of another show attending the convention, SVP of Research Ted Linhart indicated that while he wasn't aware of any plans, other shows have gone in the past. While Linhart is right, the last time a new series attended SDCC was in 2011, with Covert Affairs, following a 2010 appearance by White Collar. Many expect the upcoming season of White Collar to be its final one, so it's possible USA could bring it back for a final sendoff. It could also bring along Suits, which will be in the middle of its fourth season run during Comic-Con, and recently got the honor of replacing Psych on USA's College Tour around the US. We're rooting for the latter, but any appearance USA makes will be a bit of a surprise.
Other
Although they don't really fit with anything above, there's a few other things we can guess about this year's Comic-Con TV offerings, like that as Comedy Central will bring Workaholics back, TV Guide will once again hold its Fan Favorites panel (and our guess for one of the panelists this year goes to Orphan Black's Tatiana Maslany, if she attends), and that there will be at least one thing no one could have predicted, like last year's Comedy Legends of TV Land panel with Roseanne Barr, William Shatner, Donald Faison, and Wayne Knight. We just can't make that stuff up.
There's also the matter of the streaming networks, Netflix and Hulu. Last year Hulu attended the convention for the first time with The Awesomes which has been renewed for a second season, and could return. Netflix thus far has avoided San Diego Comic-Con, though it did bring Hemlock Grove to sister-show WonderCon Anaheim in 2013. Could this be the year that Netflix tackles SDCC? We think it's too early for any of the Marvel shows to make a debut, and Hemlock Grove's entire second season will bow on July 11 before the convention, but almost anything else on the site is fair game. Something like the final season of House of Cards could easily pack Ballroom 20, it's just a matter of whether or not Netflix thinks it has anything to gain from marketing to San Diego Comic-Con attendees.
Reunions
Comic-Con 2013 was a huge year for reunion panels. We saw not only reunion and anniversary panels for The X-Files, but also Pinky and the Brain, Doctor Who, the cast of Veronica Mars (although that was technically for the upcoming film), and more.
There are all sorts of anniversaries and  coming up in 2014, including 5 years since the finale of Battlestar Galactica, the tenth year anniversary of LOST (technically a broadcast show, we know), and even the upcoming release of Twin Peaks on Blu-Ray for the first time on July 29th. What could we see at SDCC 2014?
Television Graveyard
We'd also like to take a moment to reflect back upon our dearly departed shows that won't be gracing the stages at San Diego Comic-Con this summer, either because they were canceled, or simply ended their run. Here are the cable network shows that you won't be seeing at SDCC again, at least until that ten year reunion:
Being Human (Syfy)
Breaking Bad (AMC)
Burn Notice (USA)
Dexter (Showtime)
Psych (USA)
Warehouse 13 (Syfy)
Which shows are you excited about, or what shows do you think will be at the convention that we may have left off? Let us know in the comments.