Monogram International will again be returning to SDCC with several exclusives from some exciting licenses, including The Nightmare Before Christmas and several other Disney properties. What will the company bring in 2014? We can't wait to find out.
Here's a look at the company's 2014 exclusives:
[UPDATE July 18] Monogram International will be bringing back one of 2013's Comic-Con exclusives for this year – the Thor Hammer 2 Resin Paperweights set. There are only 80 pieces remaining, and attendees can pick them up for $40: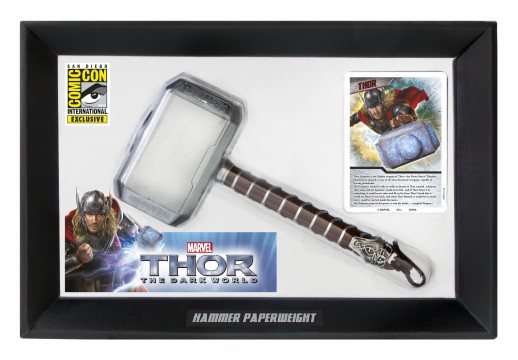 [UPDATE July 16] Monogram sent us the newest addition to its SDCC exclusive lineup, the Thor Mask and Loki Mask 2 Piece Set ($25):
Here's the product's official description from Monogram:
THOR MASK AND LOKI MASK 2 PIECE SET

Monogram International is presenting the initial launch of their Limited Edition Thor Mask and Loki Mask 2 Piece Set at 2014 Comic-Con! Be the first to view and purchase this beautifully-crafted set of zinc alloy key rings. The Thor Helmet comes in a Special Edition Pearl Silver color and the Loki comes in a Special Edition Gold color. You can use these key rings as accessories by attaching them to your bag or backpack. They can also be used to organize your keys or keep them packaged as a sharp-looking display.

Comes in beautiful black display case.
Features detailed Thor and Loki helmets.
Made of Zinc Aloy.
Features information cards about both Thor and Loki.
[UPDATE July 10] Another exclusive which was outed on CCI's 2014 Exclusives List a while back, today we received some new images and info on the The Joker and Harley Quinn Resin Bank Set:
Made of resin and vividly colored with a detailed sculpt, this set comes in black packaging and are limited to a production run of 300. They will sell for $50 at Monogram's booth, #3645.
[UPDATE July 3] Yesterday we spotted the Thanos Resin Bank on CCI's 2014 Exclusives List, but today Monogram sent us more details and pictures of the bank to share with our readers.
THANOS RESIN BANK

Thanos is a well-known super villain who possesses superhuman strength, stamina, durability and intelligence. Born on Saturn's moon, Titan, Thanos carries a Deviant's gene. Through bionic implementation and long hours of meditation, Thanos augmented his powers so that they surpassed all of those on his planet.

Detailed sculpt and made of resin.
Vividly colored.
Slot in back for coins.
Shows Thanos' glove.
Retail Price $25.00
[UPDATE 2 – June 26] Oh, but we're not done with Monogram International's reveals for today. The company will also be bringing a DC Resin Paperweight 4 Piece Set, featuring Superman, Wonder Woman, Batman, and The Joker. It will be priced at $100.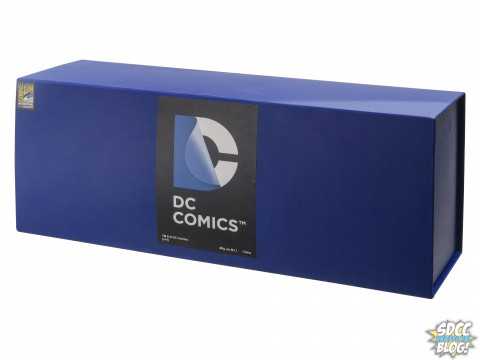 [UPDATE 1 – June 26] Remember the Reverse Flash and Flashpoint Batman Bust Paperweight set we told you about earlier this year? Turns out it's a collaboration between Monogram International and Action Figures Xpress, and we've got some additional information.
The resin set, which is hand painted, will be limited to 1000 pieces, and just like AFX implied earlier this year, will be sold for $50 at the Action Figures Xpress Booth #3345.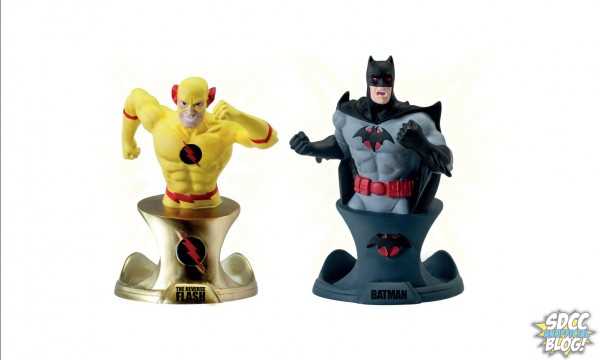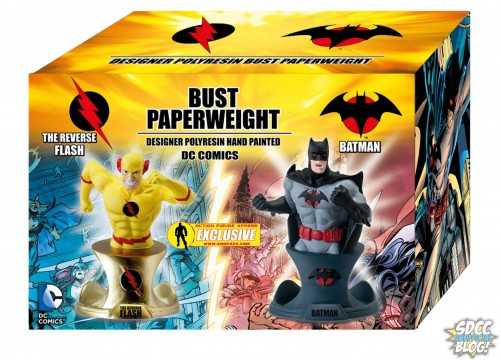 [UPDATE June 20] Another Monogram update from figures.com, and it makes us want to SMASH: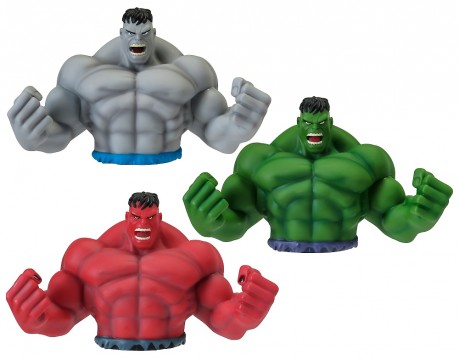 Here's the description from the post:
Marvel's massive Incredible Hulk is featured here in all three of his colored forms: Grey Hulk, Green Hulk and the fan-favorite "Rulk" – Red Hulk!

Monogram's SDCC '14 exclusive Three Piece HULK Vinyl Bust Bank Set will be sold July 23-27 at Monogram's booth #3645, strictly limited to only 200 pieces. Pricing to be announced.
We'll update as soon as we have some pricing information or other details.
[UPDATE June 13] Another Nightmare Before Christmas set from Monogram, this one is the lapel pin set [via figures.com]: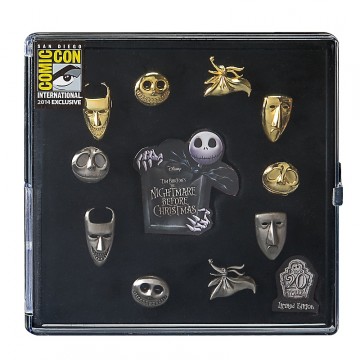 According to the post, this will be limited to 400 pieces and will sell for $30.
[UPDATE June 6] As we speculated, the Nightmare Before Christmas Eraser Set isn't the only Comic-Con exclusive that giftware company Monogram International is bringing to San Diego Comic-Con. Role-playing game Kingdom Hearts, a collaboration between Square Enix and Disney Interactive Studios, is getting the SDCC exclusive treatment, with a 2-piece box set. The set includes zinc-alloy created replicas of the Gold Riku Sword and Sora's Key Blade, both seen in the game, and able to be displayed in a black display case that's included in the set.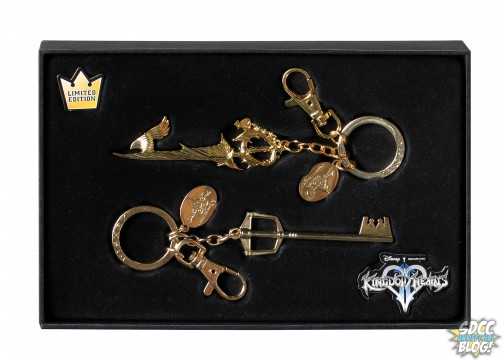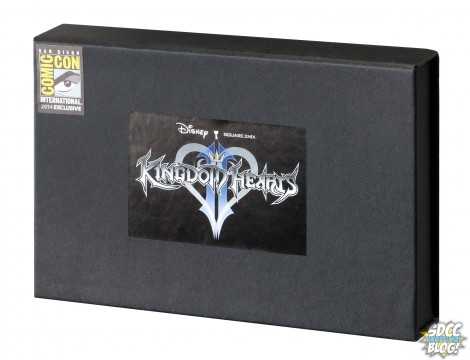 The items are "highly detailed" with the Kingdom Hearts Logo. Only 500 pieces will be made, and will be available for $20 at Booth 3645.
[PREVIOUS] Monogram International will be spreading some Nightmare Before Christmas cheer at this year's San Diego Comic-Con. Thanks to Action Figure Fury, we know that the giftware company Monogram International will be bringing an exclusive Nightmare Before Christmas eraser set to the convention.
The exclusive Comic-Con set of 12 erasers includes Jack Skellington and all of attendees' favorite characters from the film, and also comes with three "special edition" erasers: a Gold Jack eraser, a silver Sally, and a bronze Zero. The erasers are fully functional, or can simply be kept on display. The set is limited to 300 pieces, and attendees can pick up the set at Monogram International's booth for $25.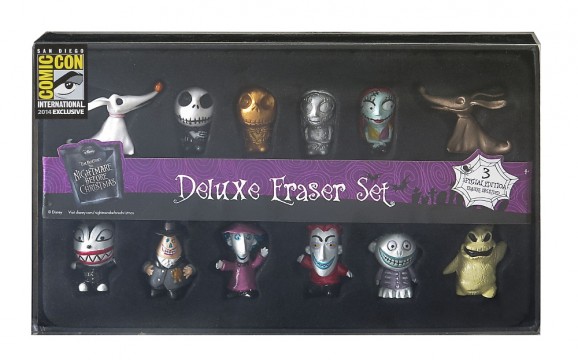 Last year, Monogram's Comic-Con exclusives included Incredible Hulk and Batman resin banks, as well as other items, so we don't think this will be the last exclusive we'll see this year from Mongram.
Will you be grabbing this set? Let us know in the comments.