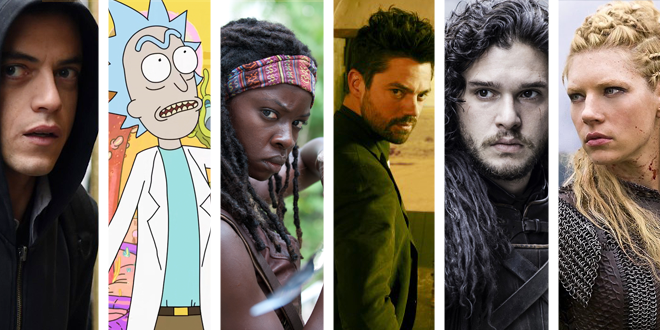 Television series comprise a huge chunk of the schedule for San Diego Comic-Con — and every year it seems like they become a larger and larger piece of the pie. The lines for Ballroom 20 are starting to rival even those of Hall H, and they won't be getting any shorter any time soon.
As the anticipation builds for the official announcements from networks and CCI as to which television shows will be on the panel schedule, we like to take time out earlier in the year to speculate which shows have the best chances of appearing at SDCC. We'll be breaking this into three segments, starting with the Broadcast Networks which we did on Monday, and followed by the Family Networks soon. But today, we're focusing on the Cable Networks — and there's a lot of them.
So what do we think you'll be seeing at Comic-Con this summer? Let's take a look:
A&E
A&E is big on Comic-Con – the last few years have featured parties, very cool booth installations, panels, street teams, and more. So expect Bates Motel back at the con again, especially as producer Kerry Ehrin even basically already confirmed that they'll return after skipping last year.
With Damien canceled, there will be no mock protest street teams out in force this year. They don't have much upcoming on their slate, with Let the Right One In still very early in the development stage. That just leaves more room for them to focus on Bates, right?
Adult Swim
Adult Swim has cut way, way down on the amount of programming that they bring to the convention over the last two years — focusing instead mostly on flagship series like Rick & Morty, Robot Chicken, and Mike Tyson Mysteries. With Children's Hospital and Aqua Teen Hunger Force both over, we could potentially see a huge reduction in their presence this year.
Or maybe they'll just return to the days of bringing back everything. Predicting Adult Swim's schedule is always a tricky thing to cover, because they have so damn much programming, and they also typically utilize not only the convention center, but also outside the convention center. The last several years, Adult Swim has held nightly screenings and panels in addition to the festivities taking place inside the San Diego Convention Center, which potentially gives them double the amount of coverage.
They may choose to bring Your Pretty Face is Going to Hell back again this year, or they may focus on new shows like Decker: Unclassified, Dream Corp LLC, Brad Neely's Harg Nallin' Sclopio Peppio and the new season of Samurai Jack airing on Adult Swim.
Again, Adult Swim has an insane amount of programing, so it's also entirely possible that there are shows they could bring that we haven't mentioned here.
https://www.youtube.com/watch?v=m0xTsBTVxRM&index=1&list=PLQl8zBB7bPvKuX5n16WojeEFbetCgIrhU
Amazon
Amazon burst onto the Comic-Con scene last year with panels for both The Man in the High Castle and Hand of God. Both series have been renewed, and High Tower is a critical darling and well liked among fans — so if one series has an edge over the other, it's that one.
AMC
The Walking Dead will be in Hall H. In other news, water is wet.
The series is an unstoppable force and has been for years, and there's no reason to change a winning formula – which also includes a Comic-Con presence. We think there's a good chance AMC will double down on the series again this year, and pair it with a joint and/or back-to-back panel with the spinoff Fear the Walking Dead. Let's move on, because, really — this is about as sure of a lock as it gets.
Expect Into the Badlands to return as well, as that got a second season order — though we're curious to see if it gets a room upgrade from 5AB.
And then there's Preacher, which debuted earlier this week, is based on the popular Vertigo comic series, and stars (most) everyone's favorite Howard Stark in actor Dominic Cooper. Will it be there? Again, we ask: Is water wet? (Yes. The answer basically has to be yes). And more than that, we wouldn't be surprised at all to see Preacher get some offsite love this year from AMC, the way they've done for The Walking Dead the last several years.
https://www.youtube.com/watch?v=CExabLxu0dc
BBC America
With only a few exceptions, BBC America typically only brings Doctor Who and Orphan Black to the convention. With this being showrunner Steven Moffat's final series of Who, we expect BBC America to make a big production out of this year's appearance and panel (which will presumably be set in Hall H again). Expect Peter Capaldi and the new companion, played by Pearl Mackie, to be in attendance as well.
Then for Orphan Black, although it hasn't yet been picked up for a fifth season and it will have wrapped its fourth season on TV (meaning we won't be seeing any new footage at the con), we'd be shocked if BBC America didn't bring it out. The series has been a steady performer for the network, and it plays huge to San Diego Comic-Con crowds. The biggest question is just, will this finally be the year that Orphan Black gets a major upgrade to Ballroom 20? So far, it's played in smaller rooms, that see waits of up to several hours to get in, so it could certainly fill at least most of, if not all, of Ballroom 20. Please hear our cries, BBC (as there's no way the decision not to move to a bigger room is coming from CCI in this case).
Cinemax
Last year, Cinemax's sole outing at the convention was Robert Kirkman's Outcast, and with the series having received a second season order, it's a lock for the con. Kirkman should already be in attendance for The Walking Dead as well as all his usual Skybound stuff, making it even easier to pull together a panel.
The most obvious thing on their upcoming slate that would make sense for San Diego Comic-Con is The Boys, based on the comic by Garth Ennis about a superpowered CIA squad charged with monitoring the superhero community — but it's just too early in the development cycle for a full panel. There's also Quarry, which is set to air later this year, about a Marine who returns home from Vietnam in 1972 and is drawn into a network of killing and corruption. I mean, look. It makes about as much sense for the con as Banshee ever did — and that showed up for years. It all basically just depends on how much Cinemax wants to bring a second show to SDCC.
https://www.youtube.com/watch?v=8_8lRZCrO4s&feature=youtu.be
Crackle
The free, online streaming service Crackle broke onto the San Diego Comic-Con scene last year with SuperMansion, which features the voice of Bryan Cranston as Titanium Rex, who leads a "seen-better-days" group of super heroes. The series was renewed for a second season, so we could see it head back in 2016 if Crackle considers their first year at the con a success.
Freeform (formerly ABC Family)
Freeform hasn't been to San Diego Comic-Con in several years — ABC Family's Nine Lives of Chloe in 2011 is the last panel that we can recall — but they go to New York Comic Con every year, and earlier this year, they made the trek to WonderCon with Shadowhunters and Stitchers. They've got more Comic-Con friendly programming than they've had in years, so this could be the year we see Freeform head back to the con. Of the two, Shadowhunters stands a better chance, as it's been renewed for a second season which hasn't aired yet — whereas Stitchers hasn't been picked up yet for another season.
Plus, there's Dead of Summer from the creators of Once Upon a Time (meaning the showrunners would likely be in attendance anyway), about seven camp counselors who find an ancient, evil mythology has awakened at Camp Stillwater. The series premieres in late June, so there would be footage to show at the con (always a plus!). There's also Beyond, about a man who awakens from a coma to find he's gained supernatural powers. While it has no air date yet, it's a contender (albeit a less likely one). We'd circle the entire network as tentative, but well above a 50% chance.
https://www.youtube.com/watch?v=I5tMJZNeT3g
FX
Last year, American Horror Story headed to Hall H beside the cast of Scream Queens. As both series hail from creator Ryan Murphy, the mash-up made sense — but will we see the two series split up in 2016, or will they share the stage again? Either way, we think that's a pretty safe bet to return, so long as FX can gather up enough of their busy stars.
Otherwise, consider Archer and The Strain both locks set to return, with Sex&Drugs&Rock&Roll a possibility, though we're not sure that made much sense for the convention in the first place. Which is strange, because we've long maintained that most of FX's other programming would be a great fit for the con — from Fargo to The Americans — but they've never gotten more than an offsite installation in the case of the former.
Instead of Sex, we think FX will focus on one of their upcoming series like Legion, based on the Marvel character. The series is from Fargo's Noah Hawley, and follows David Haller, a schizophrenic who has struggled with mental illness since he was a teenager, but is confronted with the sudden possibility that his delusions might be real. And look, if you're bringing Hawley anyway, why not just bring Fargo (please)?
It's Always Sunny in Philadelphia attends some years and skips others, though it hasn't been in several years now — and we don't expect it back.

HBO
While almost no one's fate is safe on Game on Thrones, one thing you can bet on is that the series will live to see another day in the hallowed halls of Hall H this year. It's a linchpin in the schedule, and we'd be shocked if it was going anywhere anytime soon.
HBO hasn't brought The Leftovers for a panel yet (though they did get an installation over at the Petco Interactive Zone two years ago), and with one season to go, we don't think we'll see it there this year. Westworld seems like a lock on paper, but it's been plagued by production problems, and with as rocky as HBO has been recently (President of Programming Michael Lombardo stepped down just days ago), we're not sure HBO is willing to spend money to bring a series which hasn't debuted yet. SXSW got a sneek peak at the series, and we could see getting a clip in the middle of the Game of Thrones panel, but we think Westworld will sit this year out.
History
Earlier this year, actress Katheryn Winnick told fans that Vikings goes to San Diego Comic-Con every year, and implied this year would be no different — and we have no reason to doubt her. The last three years, History has gone all out with some of the best offsites and swag (drinking horns, anyone?). Quite frankly, we'd be shocked if Vikings didn't make a return in 2016 — likely with another awesome offsite. Break out those drinking horns!
MTV
So far this year, MTV has not yet announced the return of their popular Fandom Awards and Party in the Park at Petco — which is very curious. However, even if they don't hold that mega-event, we don't anticipate that it will impact their Comic-Con panel schedule at all. Even though it's been losing cast members left and right, Teen Wolf is an SDCC staple in its own right and likely headed back to Ballroom 20.
Both The Shannara Chronicles and Scream made their SDCC debuts last summer, and we also expect to see both of those return in 2016. There's really not much else on their slate they could bring.
Netflix
Netflix has technically never been to San Diego Comic-Con. Yes, there was a panel titled Sense8 last year, but co-creator J. Michael Straczynski made it very clear through social media that Netflix hadn't condoned the panel and were not officially part of it. But could this be the year that finally changes?
Marvel's Jessica Jones star Krysten Ritter told a reporter earlier this year that she would be heading to San Diego Comic-Con for the first time this summer — but it's possible she was confused, and meant New York Comic Con (which Netflix does do). If Jones is really in appearance, we think we could potentially be looking at some sort of pre-The Defenders mega panel, which would pair Marvel's Daredevil, Marvel's Iron Fist, and Marvel's Luke Cage together on stage for the first time. After all, it doesn't totally make sense to bring just Jessica Jones, when Luke Cage is airing later this year, and Iron Fist is currently filming. And if you've waited this long, better to do it big, right? Right.
Then if you're bringing Marvel, why couldn't we have a Netflix-approved Sense8 panel? Even if Netflix does skip, though, Straczynski is already confirmed for the convention as a Special Guest, and we'd expect to see both a panel dedicated to talking about that series again, as well as a good portion of his Spotlight dedicated to talking about it. And we highly recommend checking out his Spotlight — even if, or perhaps especially because, last year he was late because he tackled a mugger.
Plus, we've long insisted that Netflix's entire roster is incredibly Comic-Con friendly. If they brought House of Cards, Unbreakable Kimmy Schmidt, BoJack Horseman, or Orange Is The New Black – we're very certain attendees would pack the rooms. This one is really all a matter of what Netflix wants to do, which this year we just hope is something.
Showtime
Last year, although some stars of Penny Dreadful attended the convention and there was lots of merchandise, there wasn't a Showtime panel in sight at the con (unless you count the Eisner Awards, which they helped sponsor). So will they be back this year? That's hard to say. Penny Dreadful will have finished airing its third season before the convention, and it hasn't yet been picked up for a fourth season — so it's possible that fans will just have to get by without that series again.
The biggest question of the year, though, is Twin Peaks. It wrapped filming earlier this year, but it's not set to premiere until 2017. The full cast has been revealed at this point (and it's got everyone from Jim Bellushi to Naomi Watts to most of the original cast returning), and presumably they'd have something to show at the con.. if they wanted to. If it comes, it will undoubtedly be one the biggest stories coming out of the entire convention, and a panel that you'll be fighting tooth and nail to make it into it. But does Showtime want to bring it? Like most things relating to Twin Peaks, don't expect an answer too soon.
Starz
Last week, it was revealed that Outlander won't be at the convention this year, primarily due to timing, as the current season will have finished airing ahead of the convention. But that doesn't mean that Starz is down for the count. We suspect we'll see Ash vs Evil Dead back again this year with fan favorite Bruce Campbell (especially as he has now confirmed that he'll be at the convention). Black Sails hasn't been back at the convention for a panel since it received a premiere screening on the high seas in 2013, though some of the actors from the series were present last year for autograph signings. If they return in 2016, we suspect it will be in something close to that capacity rather than a full panel.
Instead, we'd put money on Starz putting most of their focus on American Gods, based on the novel by Neil Gaiman and executive produced by Bryan Fuller. The series follows Shadow, a man released from prison who finds himself involved in the workings of Old Gods and "New Gods". If all of that doesn't sound like it's tailor-made for San Diego Comic-Con, we don't know what does. It's also got a lot of star power behind it, with the cast including Ricky Whittle, Ian McShane, Emily Browning, Crispin Glover, and more.
Syfy
With the announcement that Syfy will be bringing a live show to San Diego Comic-Con this year, expect the network to pull out all the stops for 2016 — which is exciting, because they always bring their A-game anyway with tons of panels, the yearly transformation of the maryjane's at the Hard Rock Hotel, and dancing sharks in the street. Literally.
IDW President David Ozer announced earlier this week that Wynonna Earp will be headed to the convention with cast members Melanie Scrofano, Tim Rozon, Dominique Provost-Chalkley, and Shamier Anderson — so that's definitely happening.
We also expect panels again this year for Z Nation, 12 Monkeys, Dark Matter, and of course The Expanse, along with likely new additions for The Magicians, Hunters, and/or Killjoys.
Syfy also always uses the convention as a launching pad for their upcoming slate, which means we could potentially see panels for some combination of Incorporated (about a young man who infiltrates a highly dangerous corporate firm in order to save the woman he loves), Van Helsing (about the daughter of a vampire hunter being resurrected to lead the surviving humans in their struggle against vampires), and Aftermath (about a family trying to survive after the end of civilization).
Plus, there's Sharknado 4: The 4th Awakens, which debuts on July 31, making it the perfect time for some off-the-wall promo at SDCC. We're rooting for shark parades again.
https://www.youtube.com/watch?v=AXj08jqquwQ
TNT
With Falling Skies off the air now, The Last Ship is the only sure bet from TNT for San Diego Comic-Con this year. The series will be in the middle of its third season, meaning there will be plenty of clips and teasers to show off to fans, which always makes for a more exciting panel.
It's possible that they could decide to bring The Librarians, which was renewed for a third season. It's never made the trek to San Diego, but it has appeared at New York Comic Con, so clearly TNT thinks it's the right fit for at least some conventions.
USA Network
We used to always say that USA Network really got the Comic-Con crowd, but after not holding a panel for Mr. Robot last year (especially considering that both series stars Rami Malek and Christian Slater made it into town for a Nerd HQ panel across the street), we rescind that opinion — unless they fix that major misstep in 2016. Preferably with that Coney Island installation they brought to SXSW.
Having gotten that off our chests, at the very least, expect Colony back at the convention this year. It got a major push last year, and we'd be shocked to see it skip this year. We also suspect that we'll get a panel for Falling Water, which hails from The Walking Dead's Gale Anne Hurd, and is about three strangers who realize they're dreaming parts of the same dream.
https://www.youtube.com/watch?v=m4InXOM3PmA
Other
Although they don't really fit with anything above, there's a few other things we can guess about this year's Comic-Con TV offerings, like that you can still expect American Dad to still be in attendance, even though it's moved from airing on FOX to TBS. It will likely continue to air in the usual Ballroom 20 Animation Domination block, along with The Simpsons, Family Guy, and more. TVLand always brings something, and we could see Teachers back again this year.
TV Guide will hold their annual Fan Favorites panel, as well as Women Who Kick Ass, and also the Bravest Warriors mens-edition of that panel. TV Guide always hosts some kind of panel about TV milestones (whether it's a reunion like X-Files or last year's goodbye tribute to Phineas and Ferb), and there's no bigger milestone in the television landscape this year than the 50th anniversary of Star Trek. If we were TV Guide, we'd be working to put together a massive reunion of Star Trek actors through the decades — presuming, of course, that CBS isn't already planning something similar.

Television Graveyard
We'd also like to take a moment to reflect back upon our dearly departed shows that won't be gracing the stages at San Diego Comic-Con this summer, either because they were canceled, or simply ended their run. Here are the cable shows that you won't be seeing at SDCC again, at least until that ten year reunion (or until Hulu, Netflix, or some streaming service that hasn't been invented yet inevitably picks it up):
Aqua Teen Hunger Force (Adult Swim)
The Awesomes (Hulu)
Banshee (Cinemax)
The Bastard Executioner (FX)
Children's Hospital (Adult Swim)
Continuum (Syfy)
Damien (A&E)
Falling Skies (TNT)
Haven (Syfy)
Key & Peele (Comedy Central)
Legends (TNT)
Lost Girl (Syfy)
Moonbeam City (Comedy Central)
Strike Back (Cinemax)