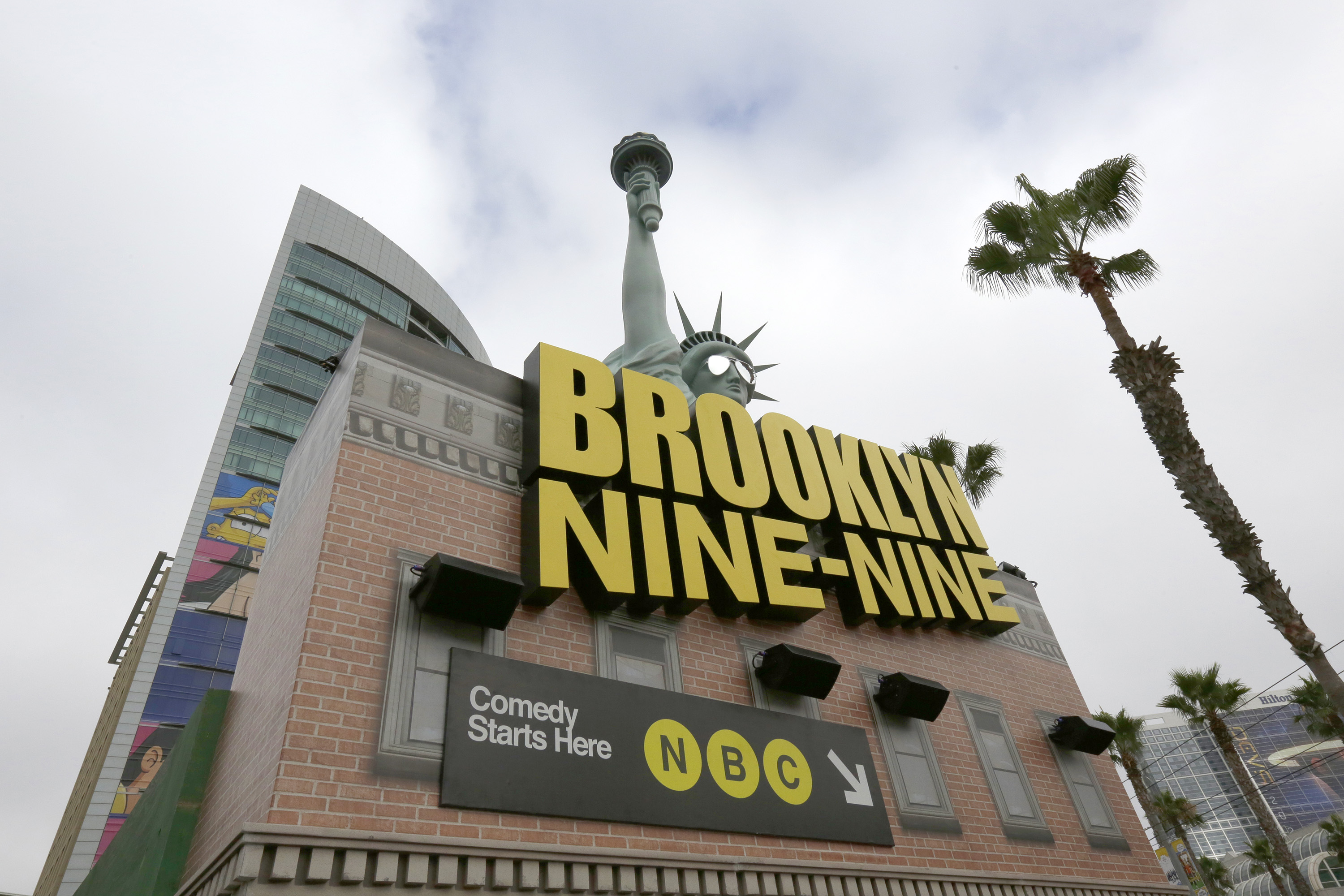 The blog was asked recently by a reader what we thought might be appearing as an offsite at this year's San Diego Comic-Con, and while it's too early to say for sure (unless you're Conan, which is confirmed for 2020!) — I've been thinking a lot about what one network in particular might do. Or rather, what I wish one particular network might do.
Let me preface this by saying I have no inside information, but NBC potentially finds itself in a very interesting scenario at San Diego Comic-Con in 2020.
For many years now, NBC has taken over the Tin Fish restaurant across the street from the convention center to promote their shows. For a time, it was all about whatever their latest genre series was — which included overlays and activations for shows like Blindspot, The Blacklist, Midnight, Texas, and Timeless — often to mixed results. Then in 2018, in a move that I still think I wished into existence, NBC stopped pushing their new, we-might-care-but-we-mostly-don't new shows so hard, and instead focused on what attendees really wanted. Or at least what I really wanted, which seems to align with a lot of our readers.
Suddenly, out of left field, NBC put their beloved comedy series front and center. The Good Place and Brooklyn Nine-Nine have been the main focal point of NBC at the con for the last two years, with The Good Place getting the coveted Tin Fish activation and overlay in 2018, and Brooklyn scoring the same in 2019. And fans LOVED it. Lines for the activations at the Tin Fish have never been longer or buzzier — and I've rarely seen more people leave an activation with smiles and excitement the way they have NBC's offerings for the last two years.
So what happens now in 2020? The Good Place is gone (keep it sleazy, chili babies), though Brooklyn lives on. I think it might be a tiny bit lazy to rehash the Nine-Nine precinct for a second year in a row, even if it was one of our favorite things at the con in 2019. Does Superstore, which was pushed off to the Hard Rock last year (though the activation was fun!) get the starring role in 2020? It might — though its fanbase seems smaller, and might not draw the same crowds or level of enthusiasm.
But if I were NBC, I'd actually be looking at Peacock for inspiration. The NBCUniversal streaming service officially launches on July 15 (though Xfinity customers will get early access starting in April), just before the convention. The streaming service will be home to several new, big shows and movies — including a new Battlestar Galactica and Brave New World, and even the upcoming Psych 2: Lassie Come Home and a rebooted Saved By the Bell series — but none of those officially have a release date.
In addition to all of that, though, Peacock will be the streaming home for nearly all of your favorite comedy series from the last 30 or so years (give or take a Friends, which will live on HBO Max). Yes, Peacock will be the new streaming home for everything from Parks and Rec, The Office, Frasier, 30 Rock, Cheers, Psych, Will & Grace, Saturday Night Live, and more. Not to mention series like Friday Night Lights, Law & Order, and even Downton Abbey.  Not all of those will be available straight at launch (The Office, for instance, moves in 2021) — but it's a pretty big feather in their cap.
If I were NBC, I would play hard into that. Comic-Con attendees have already proved they love when the network brings their great comedies, and now they have a new streaming service that is filled with some of the most beloved fan-favorite shows of all time? Give us Pawnee as a Comic-Con activation. Give us the Cheers bar, take us to Dunder Mifflin, or onto the set of 30 Rock, or better yet, all of the above. Does NBC even understand how long the lines would be?
Or imagine a Saved By the Bell offsite. The Saved By the Bell pop-up restaurant in LA already proved incredibly popular, and Comic-Con attendees would go nuts. Retro practically is genre in this day and age, and con attendees don't need vampires or wizards to get excited.
Every year, networks and companies try to crack the code on what makes a good offsite at San Diego Comic-Con. Really, we as attendees are not that hard to please — we like a few things, and we like them a lot. Namely, good TV, immersive experiences (that preferably don't come with a 12 hour line), and some swag. That's it. I've cracked the code! And NBC and Peacock are about to have that first one (namely, good TV) in spades and an actual product to promote as well, very shortly after its launch.
All of this is moot at the moment, especially considering NBC won't pick up their 2020 pilots for several more weeks — meaning they could pick up the best genre show we've ever seen and go all out on that at the con, and maybe whatever activation they dream up will be amazing. Also, who even knows if NBC and Peacock share the same event marketing budget. NBC may have the Tin Fish firmly on lockdown, and want to (or have to) use it for their current series alone.
But hey, a girl can dream.