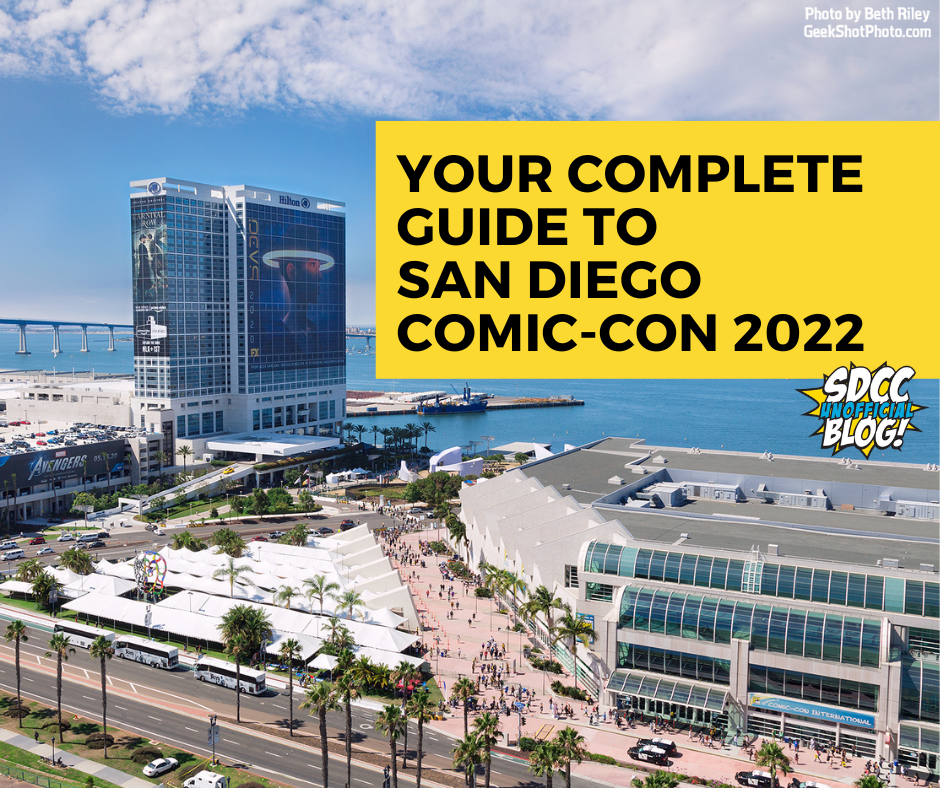 For those ready to ascend into the craziness that is San Diego Comic-Con, we have you covered. Everything you need to prepare yourselves can be found in the bullet points below.
Download the Comic-Con International Quick Guide for pages of maps, exhibitors, restaurants and more information, all in one tidy PDF!
We'll be tweeting line queues and panel news throughout the convention as we always do, but we've also partnered up with some amazing companies to bring you all sorts of goodies through our Adventures Of Prize Mule as well. Follow @SD_Comic_Con and #AdventuresOfPrizeMule on Twitter and don't miss a tweet!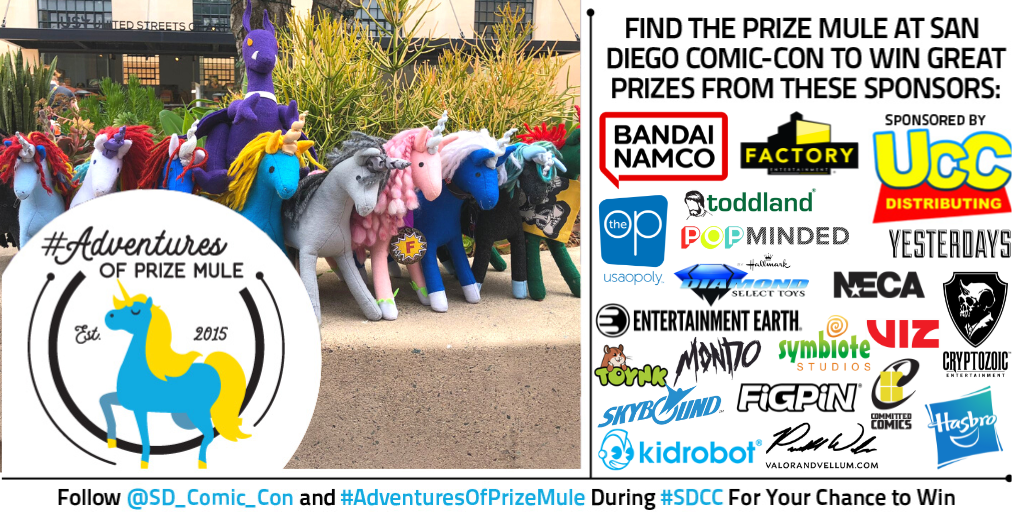 Use the following hashtags when tweeting us with line statuses (here's a sample, but we'll be sure to remind you which to use):

#SDCC
#Ballroom20 or #B20
#HallH
#6BCF
#Indigo
#6A
#Hasbro
#WBSDCC
#Garylympics
Don't forget to check out our posts on who to follow during Comic-Con for the latest info and announcements.
Have you finished packing yet? If not, here's our helpful Packing List with our recommendations and a checklist for what to bring.
Do you know where to pick up your badges, if you're an international attendee or if you didn't receive your badges for any reason? Check out the Badge Pick-Up Guide and look at the handy table below to see where you need to be and when (as for the where, it's in Sails at the San Diego Convention Center).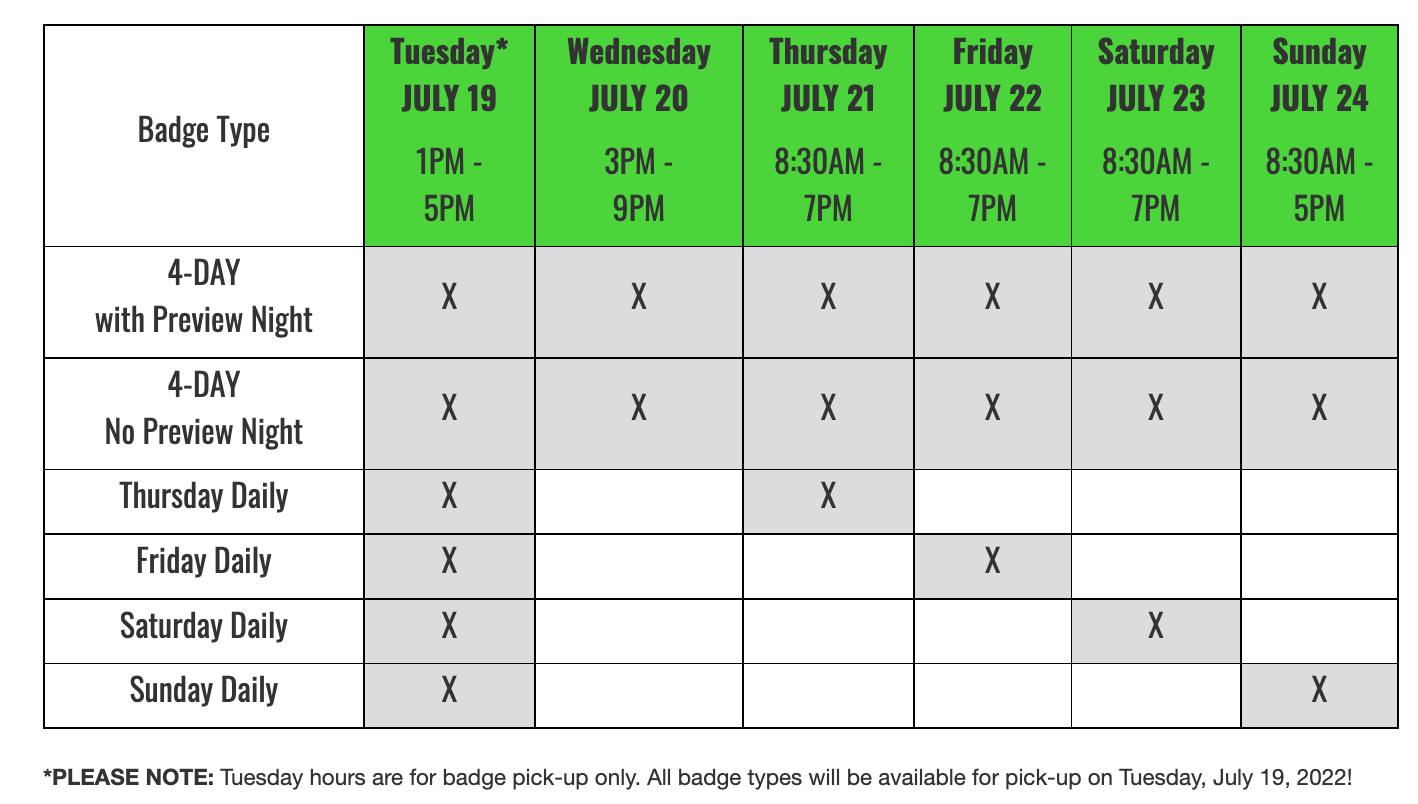 When you head to the convention center, make sure you're familiar with this year's Harbor Drive Road Closures. There are rules relating to traffic and attendee access/security, including who is allowed onto the sidewalks immediately surrounding the convention center. If you don't have your badge yet, make sure you have your paperwork on hand.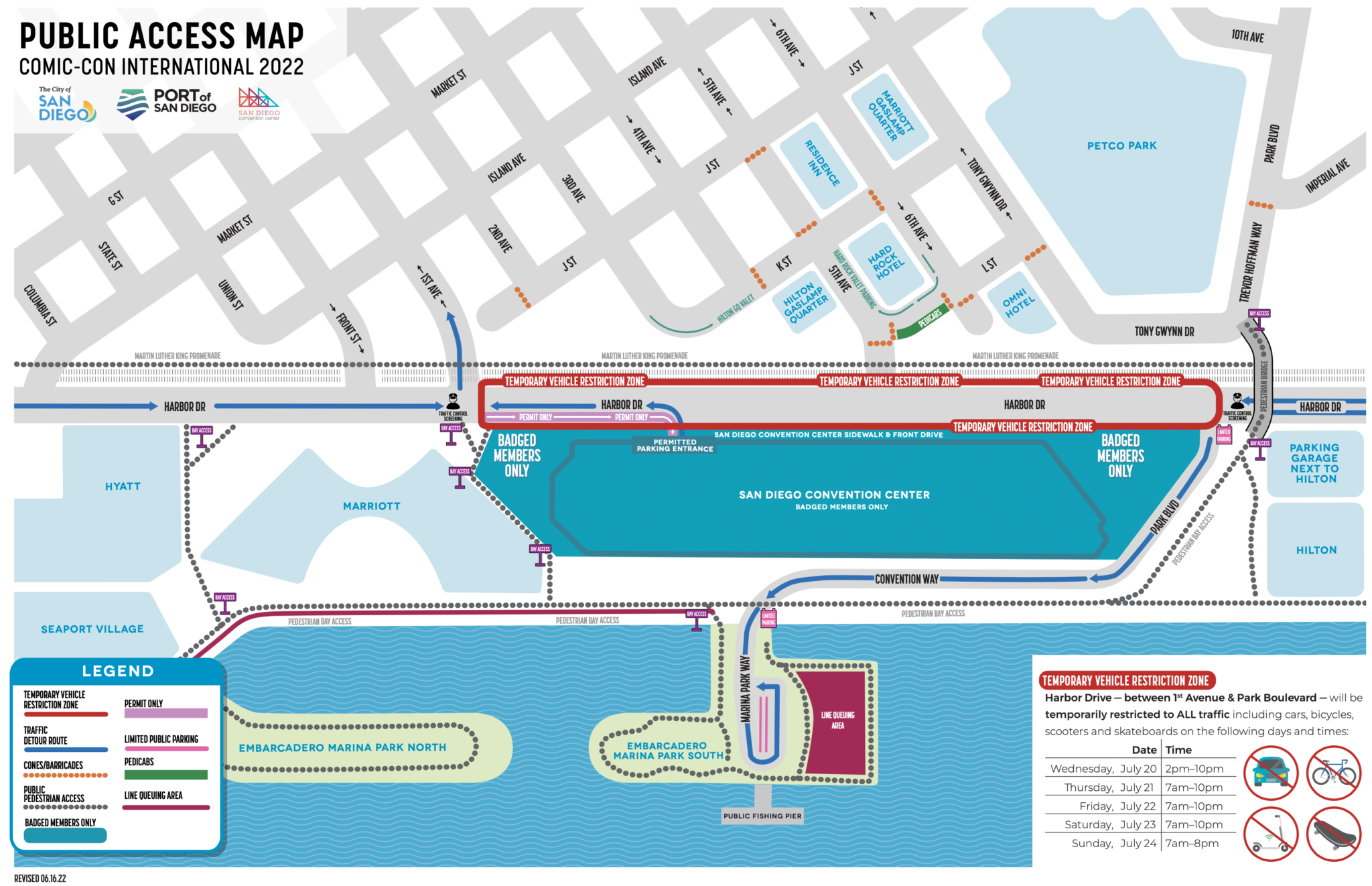 If you pay attention to one thing on this guide, let it be this — Parks and Cons' annual On-Site Visual Guide. Shawn Marshall take you into downtown San Diego with tips, tricks, and a great overview.
Want to make it into Hall H? Toucan Trackers Hall H wristbands are back for those camping out in line. Read about the wristband policy and how it might affect you, including what time wristband distribution starts.
And then make sure you know where to line up for panels and the exhibit floor, with our Guide to Lines.

Whether it's your first time or your tenth, hopefully you'll find some helpful information in our Guide page. 30+ guides from over the years – blog posts, tips and more.
Planned your evenings outside of the convention center? If you have some time to fill, look no further than our 2022 Offsite Events list.
Need to know how to get around the Gaslamp and some of the areas just outside the San Diego Convention Center? Shawn Marshall of Parks and Cons walks you through in this year's Outside SDCC Tips Visual Guide. Looking for more fun things to do in the Gaslamp? You can also check out our Guide to Shops & Restaurants.