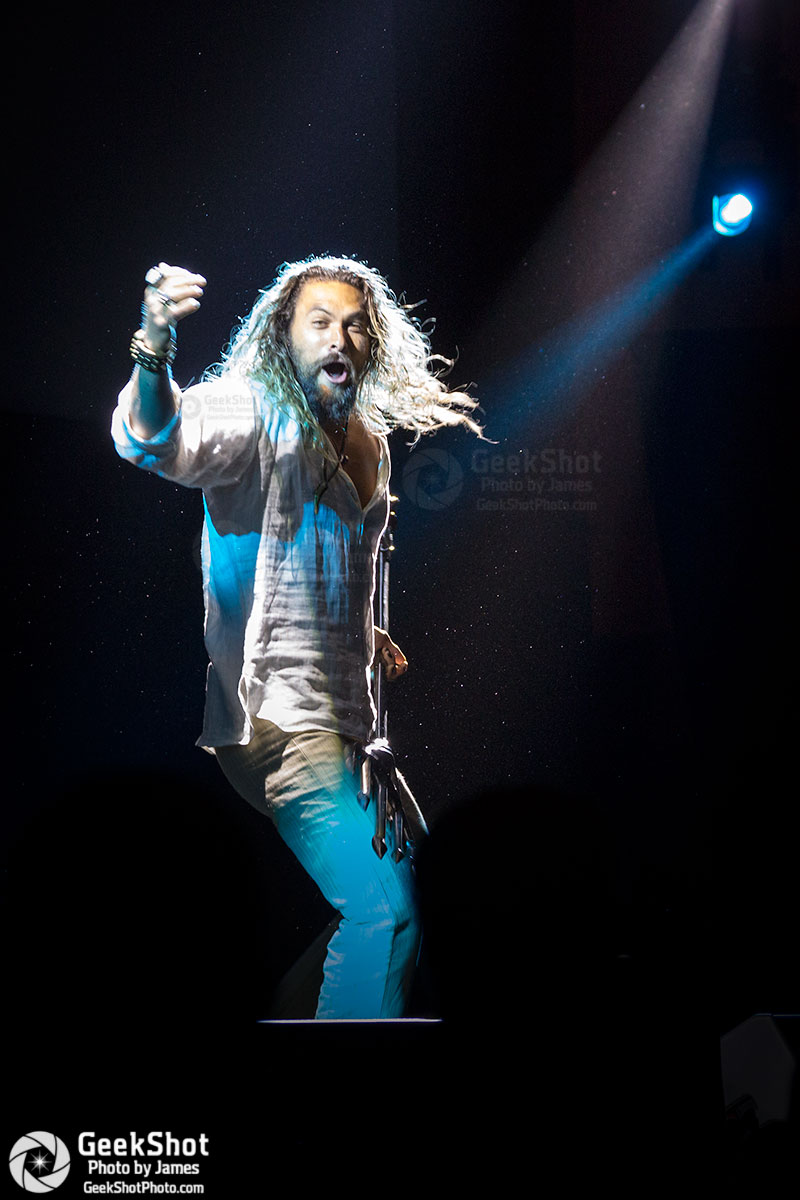 The official San Diego Comic-Con schedule is normally released exactly two weeks before the convention (which would put this year's release dates on July 5-8), but many properties reveal long before then that they'll be attending the convention. This is where you can find all of our compiled announcements in one handy master post.
We'll be updating this post all the way until the schedules are officially announced — and it's important to note that the schedule is never finalized until Comic-Con International or the various studios/entities reveal it. All schedules are subject to change.
1. Friday – Movies, Television, Comics, or Other Panels
2. Saturday – Movies, Television, Comics, or Other Panels
3. Sunday – Movies, Television, Comics, or Other Panels
4. No Date Announced Yet – Movies, Television, Comics, or Other Panels
Find the Wednesday – Friday schedule here.
RZA: Movies, Music & Martial Arts (2:45PM-3:45PM, Hall H). The maestro, the myth, the master known as RZA (The Man with the Iron Fists) is coming from Wu-Tang Mountain for a once in a lifetime celebration of all great things … like his new movie, CUT THROAT CITY. Don't be surprised to see some of the all-star cast (Shameik Moore, Wesley Snipes, T.I., Terrence Howard, Demetrius Shipp Jr., Denzel Whitaker, Keean Johnson, Kat Graham), as well as exclusives and sneak peeks. It's RZA's amazing world, so bring your eyes, ears, heart and soul to come experience it! Expected to Appear: RZA, Shameik Moore, T.I., Wesley Snipes, Terrence Howard, Kat Graham, Demtrius Shipp Jr, Denzel Whitaker, Keean Johnson, Tyron Woodley
Super Troopers 2 (1:30PM, Horton Grand Theatre). The Broken Lizard Comedy Team will be bringing Super Troopers 2 to the Horton Grand Theatre on Saturday, July 21 at 1:30PM. Collider's Steve Weintraub will lead a panel consisting of Jay Chandrasekhar, Kevin Heffernan, Steve Lemme, Erik Stolhanske, and Paul Soter. Expect this to be a ticketed event up in Sails on Saturday morning.
Big Hero 6 the Series (12:30PM-1:30PM, Room 6A). Cast members Ryan Potter, Khary Payton, Brooks Wheelan, and Executive Producers Mark McCorkle, Bob Schooley, and Nick Filippi.
American Dad/Family Guy (1PM-2:15PM, Ballroom 20).
Arrow (4:15PM-5PM, Ballroom 20). There has been no shortage of close calls for Oliver Queen when it comes to protecting his Super Hero identity, but in the season six finale, he was finally backed into a corner and forced to reveal himself to the world as the Green Arrow. Now, Oliver will come face-to-face with many of the criminals he placed behind bars, as he makes a new home for himself at Slabside Maximum Security Prison. Oliver will find himself vulnerable in a way unlike ever before when a mysterious new enemy begins to unravel his work as Green Arrow, challenging him to redeem his name or risk losing everything. Join series stars Stephen Amell, David Ramsey, Emily Bett Rickards, Katie Cassidy, Echo Kellum, Juliana Harkavy, Rick Gonzalez and Colton Haynes and executive producer Beth Schwartz at their annual Comic-Con panel to be among the first to learn more about what this means for Oliver and the rest of his team.
Black Lightning (11AM-11:45AM, Ballroom 20). Jefferson Pierce (Cress Williams) made his choice: he hung up the suit and his secret identity years ago. But with crime and corruption spreading like wildfire, and those he cares about in the crosshairs of the menacing local gang The One Hundred, he must return as Black Lightning — to save not only his family, but also the soul of his community.  Join series stars Cress Williams, China Anne McClain, Nafessa Williams, Christine Adams, Marvin "Krondon" Jones III, Damon Gupton and James Remar and producer Salim Akil for an electrifying look at season two!  Based on the characters from DC, Black Lightning is from Berlanti Productions and Akil Productions, in association with Warner Bros. Television, with executive producers Greg Berlanti, Salim Akil & Mara Brock Akil, and Sarah Schechter.]
Cartoon Network Creators: Drawing on Inspiration (2PM-3PM, Room 25ABC). Meet the creators of Cartoon Network's most beloved and exciting new shows! This talented group of creative leaders will share why they were inspired to get into animation, highlights of their paths to becoming show runners and insights on what it takes to bring stories to life. They'll also reveal some exciting news about… well, you'll have to come to find out! Join Matt Burnett and Ben Levin from Craig of the Creek, Daniel Chong from We Bare Bears, Diego Molano from Victor & Valentino and Julia Pott from Summer Camp Island, moderated by Ian Jones-Quartey from OK K.O.! Let's Be Heroes.
[NEW] Critical Role (6:30PM, Room 6BCF). Q&A with Matthew Mercer, Marisha Ray, Liam O'Brien, Sam Riegel, and Taliesin Jaffe. Talks Machina's Brian W. Foster will moderate, so bring all of your burning questions for the cast.
DC's Legends of Tomorrow (5PM-5:45PM, Ballroom 20). After defeating Mallus by cuddling him to death with a giant stuffed animal named Beebo, the Legends were ready to ease off the gas. That was until Constantine arrived to inform them that, in solving one major problem, they have created another, much larger one. When the Legends let time crumble in order to release and defeat Mallus, the barrier between worlds softened. History is now infected with "Fugitives" – magical creatures from myths, fairytales, and legends. Having been expelled throughout time by people like Constantine, these Fugitives are now returning to our world in droves and making a real mess of things. So when all hell breaks loose, who ya gonna call? That's right, the Legends! Join the cast and creators of The CW's zaniest Super Hero series – stars Caity Lotz, Brandon Routh, Dominic Purcell, Nick Zano, Maisie Richardson-Sellers, Tala Ashe, Matt Ryan, Jes Macallan, Courtney Ford, showrunner Phil Klemmer and producer Keto Shimizu – at their annual Comic-Con panel for an in-person look at what makes this time-traveling crew tick.
Deadly Class (6PM-6:50PM, Indigo Ballroom). Be the first to get a sneak peek of SYFY's new series based on the graphic novel by Rick Remender and Wes Craig. Executive produced by Joe and Anthony Russo, Rick Remender, Miles Orion Feldsott, Mick Betancourt and Mike Larocca, DEADLY CLASS follows the story of Marcus, a teen living on the streets who is recruited into King's Dominion, an elite private academy where the world's top crime families send their next generations. Panelists include: Rick Remender, Miles Orion Feldsott, Mick Betancourt, Benjamin Wadsworth, Lana Condor, María Gabriela De Faría, Benedict Wong and Wes Craig. Moderator: Dominic Patten, Deadline.
The Flash (5:45PM-6:30PM, Ballroom 20).Matching wits with The Thinker, who by season's end had harnessed the powers of all twelve bus metas he created, stretched Team Flash to their limits, but with the help of some new allies, Barry Allen (aka The Flash) and company were able to put a stop to the Enlightenment and save Central City once again. However, with the arrival of Barry and Iris' speedster daughter, Nora, who arrived from the future admitting to having made a "big mistake," things are anything but status quo. Will parenthood be the challenge that finally slows The Flash down? For answers to this, and all your other Season five questions, please join the cast and creators of The CW's highest-rated series – stars Grant Gustin, Jesse L. Martin, Tom Cavanagh, Candice Patton, Danielle Panabaker, Carlos Valdes, Hartley Sawyer, Jessica Parker Kennedy, Danielle Nicolet and executive producer Todd Helbing – at their annual Comic-Con panel.
The Gifted (2:30PM-3:15PM, Ballroom 20). From 20th Century Fox Television in association with Marvel Television, season 2 of "The Gifted" picks up after the explosion of the Atlanta Station.  The Mutant Underground search for their friends and family who left with The Inner Circle. Having tracked them outside of Washington, D.C., they must contend with new groups with extreme ideologies, both human and mutant alike, to stave off a brewing conflict.  Join executive producers Matt Nix and Jeph Loeb and stars Stephen Moyer, Sean Teale, Jamie Chung, Emma Dumont, Blair Redford, Natalie Alyn Lind and Skyler Samuels for an exclusive first-look at the upcoming season; returning Tuesdays this Fall on FOX.
Krypton (12PM-12:50PM, Indigo Ballroom). After a mind-blowing season one finale that saw Krypton's history drastically rewritten, the future of Superman has never been in greater jeopardy. Join series stars and executive producers of SYFY's hit series as they discuss the many surprises of the first season and provide an inside look into what fans can expect in season two. From Warner Horizon Scripted Television and executive produced by David S. Goyer (Man of Steel, Batman v Superman: Dawn of Justice, The Dark Knight trilogy) through his Phantom Four banner, along with Cameron Welsh, Krypton is based on characters created by Jerry Siegel and Joe Shuster, published by DC.
Legacies (2PM-2:50PM, Indigo Ballroom). Continuing the tradition of The Vampire Diaries and The Originals, Legacies is the third installment of this supernatural series about witches, vampires and werewolves.  The story follows 17-year-old Hope Mikaelson, daughter of Klaus Mikaelson along with Alaric Saltzman and his twins at the Salvatore School for the Young and Gifted as they come of age in the most unconventional way.  Join executive producer Julie Plec and series stars Danielle Rose Russell and Matthew Davis for a special video presentation followed by a Q&A.
The Magicians (7PM-8PM, Indigo Ballroom). Magic is back…at Comic-Con! Last season, an epic finale totally changed our magicians (like for real) and left us begging for more. Now, join the cast and creators of this critically acclaimed series to get an exclusive look at the upcoming 4th season and answers to all of your burning questions (well, most of them)! Panelists include: John McNamara, Sera Gamble, Jason Ralph, Stella Maeve, Olivia Taylor Dudley, Hale Appleman, Arjun Gupta and Summer Bishil. Moderator: Felicia Day.
The Man in the High Castle (4:15PM-5:15PM, Room 6A). Attendees can join cast members Alexa Davalos, Rufus Sewell Jason O'Mara, and Stephen Root along with EPs Isa Dick Hackett and Dan Percival for a look into season three.
Manifest (1PM-2PM, Indigo Ballroom). When Montego Air Flight 828 landed safely in New York after a turbulent but routine flight, the crew and passengers were relieved. Yet in the span of those few hours, the world had aged five years and their friends, families and colleagues, after mourning their loss, had given up hope and moved on. Now, faced with the impossible, they're all given a second chance. But as their new realities become clear, a deeper mystery unfolds and some of the returned passengers soon realize they may be meant for something greater than they ever thought possible. Join executive producer Jeff Rake (The Mysteries of Laura, The Tomorrow People, Boston Legal, Miss Match, The Practice) and series stars Melissa Roxburgh (Valor, Diary of a Wimpy Kid movies), Josh Dallas (Once Upon a Time, Thor), for an emotionally rich, unexpected journey into a world grounded in hope, heart and destiny.
The Orville (4PM-4:50PM, Indigo Ballroom). From Emmy Award-winning executive producer and creator Seth MacFarlane, "The Orville" is back for Season 2!  Join the some of the crew members of the U.S.S. Orville: Seth MacFarlane, Adrianne Palicki, Penny Johnson Jerald, Scott Grimes along with Executive Producers David A. Goodman, Brannon Braga and Jon Cassar to get an exclusive look at some of the new and exciting missions in the upcoming second season!
Project Blue Book (6:45PM-7:45PM, Room 6A). History's new drama series makes its Comic-Con debut with creator/co-EP/writer David O'Leary, showrunner/EP/writer Sean Jablonski as well as stars Aidan Gillen, Michael Malarkey, Neal McDonough, and Laura Mennell. Project Blue Book is based on the true, top-secret investigations into UFOs and related phenomena conducted by the United States Air Force from 1952 to 1969.
The Simpsons (12PM-12:45PM, Ballroom 20). Join "The Simpsons" team as they look ahead to their 30th(!) season with Creator Matt Groening, Executive Producer Al Jean, Supervising Director Mike Anderson, Legendary Director David Silverman, Actress Tress MacNeille and Moderator Johnathan Fernandez.  Warning:  there will be prizes!
Stan Against Evil (1PM, Room 7AB). Expected to Appear: John C. McGinley, Janet Varney, and creator/actress Dana Gould.
Steven Universe (10AM-10:50AM, Indigo Ballroom). Did you hear that Cartoon Network is bringing Steven Universe back to Comic-Con? You'd better believe it! Estelle (Garnet), Michaela Dietz (Amethyst), Deedee Magno Hall (Pearl), Zach Callison (Steven), and the true Diamond Authority, series creator Rebecca Sugar will share insights about the show, epic announcements and we're pretty sure Rebecca is bringing her ukulele. Our future-vision tells us this is a panel you won't want to miss!
Supergirl (3:30PM-4:15PM, Ballroom 20). Season three saw Supergirl stop Reign and the other Worldkillers' threat to humanity and our planet, and in the process, Kara was shocked to find her mother Alura alive and living in a salvaged Argo City that survived the destruction of Krypton. Reconnecting with her past caused Kara to realize that her true home is now here on Earth, where big changes are taking place for her and all of her friends in National City – and also, it appears, for a doppelganger in Russia! Season four promises to be full of surprises, action, adventure and lots of big revelations for Supergirl, Alex, James, J'onn, Lena and Brainy.  Join the series' cast, Melissa Benoist, Chyler Leigh, Mehcad Brooks, David Harewood, Katie McGrath and Jesse Rath and executive producers Robert Rovner, Jessica Queller and Sarah Schechter for a special video presentation, followed by a Q&A where they'll discuss what's to come and more!
[NEW] TV Guide Magazine Fan Favorites (5PM, Indigo Ballroom). Expected to Appear: The 100's Eliza Taylor and Bob Morley, Krypton's Cameron Cuffe, Archer's Amber Nash, The Magicians' Summer Bishil, iZombie's Robert Buckley, Wynonna Earp's Melanie Scrofano, Gotham's David Mazouz, and Lucifer's Tom Ellis.
Twin Peaks (8PM-9PM, Indigo Ballroom). Expected to Appear: George Griffith, others.
Unikitty! (10AM-11AM, Room 6DE). Your favorite character from The LEGO® Movie, Unikitty, is bringing her joyous kingdom to Comic-Con!  Make sure to bring plenty of sparkle matter, positive vibes and all your questions as producers Lynn Wang and Ed Skudder, animation director Anna Hollingsworth and the voice cast, Tara Strong, Grey Griffin, Eric Bauza, H. Michael Croner, Roger Craig Smith will be there to share a brand-new episode and answer your questions.
Wynonna Earp (6:45PM-7:45PM, Room 6DE). Presented by IDW Entertainment, join the cast and creators of the breakout SYFY hit series WYNONNA EARP as they reveal behind-the-scenes antics, show off exclusive footage and answer your biggest questions about Season 3! Panelists include: Melanie Scrofano, Shamier Anderson, Tim Rozon, Domonique Provost-Chalkley, Katherine Barrell, Varun Saranga, Chantel Riley, Emily Andras and Beau Smith. Moderator: Kayti Burt, Den of Geek.
Adapting Folklore, History, and Myth in Comics (2PM, Shiley Special Events Suite at the San Diego Central Library).
BOOM! Studios: Discover Yours (12:30PM-1:30PM, Room 24ABC). Discover your new comic book obsession at Comic-Con—and we guarantee you're going to find it at this panel! Join Kat Leyh (Lumberjanes), Marguerite Bennett (Mighty Morphin Power Rangers) Ryan Parrott(Saban's Go Go Power Rangers), Delilah S. Dawson (Ladycastle), Tyler Jenkins (Black Badge), Phillip Kennedy Johnson (Low Road West), author CB Lee, and Matt Gagnon(Editor in Chief, BOOM! Studios) for a jam-packed, interactive panel featuring the most acclaimed creators in comics as they discuss the diverse imprints of BOOM! Studios, Archaia, BOOM! Box and KaBOOM! with surprises for everyone in the audience. Moderated by Filip Sablik (President of Publishing & Marketing, BOOM! Studios).
Comics for Impact and Social Good (4PM, Shiley Special Events Suite at the San Diego Central Library).
European Comics for Educators and Librarians (1PM, Shiley Special Events Suite at the San Diego Central Library).
Graphic Novels and Technology Inspiring Young Readers (12PM, Shiley Special Events Suite at the San Diego Central Library).
[NEW] MARVEL COMICS: Meet the Editor-in-Chief! (3PM-4PM, Room 6A). This is your chance to meet the new head of editorial at Marvel! In this exclusive one-on-one interview led by Skottie Young (Deadpool), freshly-minted Editor-in-Chief C.B. Cebulski will talk about anything and everything involved in what's next for Marvel. Want to know where to search for the Infinity Stones? Dying to find out what's next for Wolverine? What does Forbush Man really look like without his helmet? Ask C.B. these questions and more in the Q&A! PLUS – don't miss a surprise exclusive giveaway variant comic!
[NEW] MARVEL COMICS: Next Big Thing (1:45PM-2:45PM, Room 6A). Editor-in-Chief C.B. Cebulski and star Executive Editor Nick Lowe are joined by Donny Cates (Cosmic Ghost Rider, Death of Inhumans) and Margaret Stohl (Life of Captain Marvel) to discuss the startling stories and initiatives that are truly the NEXT BIG THINGS in the Marvel Universe! In Fantastic Four, the Richards family is heading back to Earth, but they still have one more cosmic obstacle to overcome. Meanwhile, the specter of death hangs around the Inhumans and the Ghost Rider of a dark future in Donny Cates' Death of Inhumans and Cosmic Ghost Rider. And as the Infinity Wars ignite, are any characters truly safe? All this, plus learn more about the definitive origin of Captain Marvel as Margaret Stohl opens up about Life of Captain Marvel! If you want to learn about the biggest Marvel stories of 2018, this is THE panel not to miss!
Teaching Fables and Myths with Graphic Novels (3PM, Shiley Special Events Suite at the San Diego Central Library).
Teaching Graphic Novels Across the Curriculum (5PM, Shiley Special Events Suite at the San Diego Central Library).
Young Adult and Middle Grade Comics in the Classroom and Beyond (11AM, Shiley Special Events Suite at the San Diego Central Library).
Using Graphic Novels to Cope with Bullying (10AM, Shiley Special Events Suite at the San Diego Central Library).
Animation Show of Shows (1PM-2:30PM, Hall H). Ron Diamond will host a Q&A.
Bronies in Uniform. Expected to Appear: Hunter Chrysalis.
A Song of Ice and Fire: Game of Thrones Fan Discussion (4PM, Neil Morgan Auditorium at the San Diego Central Library). Expected to Appear: Kyle Maddock, Tara Lynne, more.
Bubble: Monsters & A**-Kicking with Hollywood Stars (5PM, Neil Morgan Auditorium at the San Diego Central Library).
[NEW] It's Your Universe: You Have the Power to Make It Happen (11AM, Room 29AB). Expected to Appear: Ashley Eckstein.
Level Up: Be a Nerd Boss (3PM-4PM, Marriott Grand 1 & 2). Espionage Cosmetics' CEO and Glitter Jedi Jaimie Cordero, and her panel of successful nerdy business professionals, combine their forces, skills, and life hacks to share their wisdom with fellow nerds interested in starting and/or maintaining their business! Expected to Appear: Allison Cimino, Jordan Ellis, Jaimie Cordero. Moderator: Mandie Roman.
Lost Fans Unite with Jay and Jack (1PM, Neil Morgan Auditorium at the San Diego Central Library).
Nerd Boss. Expected to Appear: Allison Cimino of RockLove Jewelry.
Outlandish Confabulation: An Outlander Fan Panel (12PM, Neil Morgan Auditorium at the San Diego Central Library). Expected to Appear: Ginger Wiseman, Summer Reynolds, Mandy Tidwell, Sarah Ksiazek
The Sartorial Geek Podcast (11AM, Neil Morgan Auditorium at the San Diego Central Library).
A Song of Ice and Fire: Game of Thrones Fan Discussion (4PM, Neil Morgan Auditorium at the San Diego Central Library).
Star Wars Declassified – How A Galaxy Far Far Away Impacts The World (2PM-3PM, Neil Morgan Auditorium at the San Diego Central Library). Hosts R.A. Rayne and Kris Koller are joined by voice actor Eric Bauza (TMNT, LEGO Star Wars), Troy Manning (SoCal 501st Troop), Dan Madsen (Her Universe, Star Wars Insider) and J.C. Reifenberg (Scum & Villainy Cantina; Hughes The Force) to discuss how Star Wars and it's fandom have impacted their personal lives, their professional lives and society as a whole. What does Star Wars mean to your life? The panel will also participate in a Star Wars Trivia Contest against the audience with prizes to be won!
The TIMEY WHIMEY FUN Panel (11AM-12PM, Marriott Marquis Grand Rooms 1 & 2).
Buffy Musical: 'Once More with Feeling,' an Interactive Whedon Musical (3:45PM, Room 6BCF). Time to end this show with a bang! The powers that be behind Whedonopolis and Fandom Charities present an interactive screening of the Buffy the Vampire Slayer musical episode "Once More with Feeling" as Comic-Con's big closing event! Many say this is the finest, funniest, most ingenious episode ever to come out of the Buffyverse. But remember, the best part of the show is up to you! This episode was made for talkin'-back, and singing, and shouting, and dancing in the aisles, with or without your dry cleaning! Audience participation: It isn't just for Rocky Horror and mob riots anymore!
Legion (2:15PM-3:15PM, Hall H). "Legion" is the story of David Haller, a man who believed himself to be schizophrenic only to discover that he may actually be the most powerful mutant the world has ever seen. Along with a team of other extraordinarily gifted people, David learned to accept his true self and set out to defeat The Shadow King, who was on a path to attaining infinite and world-ending power. In season two, a series of mind-bending twists and turns called into question who is the hero, and who is the villain. Legion is based on the Marvel Comics by Chris Claremont and Bill Sienkiewicz. Join Executive Producers John Cameron and Marvel's Jeph Loeb, along with co-EP, Nathaniel Halpern, plus cast members for a conversation on what to look forward to from Season 3. Expected to Appear: Noah Hawley, Dan Stevens, Aubrey Plaza, others.
Marvel Animation Presents (1:30PM-2:30PM, Room 6A). Marvel Animation returns for the always action-packed, news-breaking panel where you'll get eyefuls of never-before-seen information and sneak peeks… plus…as always…some surprise guests that'll reveal waaay too much! GET THERE! You'll also have a chance to meet the stars of your favorite Marvel Animation series at signing events at the Marvel booth (#2329) throughout the weekend.
Mayans M.C. (1PM-2PM, Hall H). "Mayans M.C." is the next chapter in Kurt Sutter's award-winning "Sons of Anarchy" saga. Set in a post-Jax Teller world, Ezekiel "EZ" Reyes is fresh out of prison and a prospect in the Mayans M.C. charter on the Cali/Mexi border. Now, EZ must carve out his new identity in a town where he was once the golden boy with the American Dream in his grasp. Come for a not-to-be-missed conversation with Co-Creator/Executive Producer/Writer/Director Kurt Sutter, Co-Creator/Co-Executive Producer/Writer Elgin James, and Executive Producer/Director Norberto Barba, plus stars JD Pardo, Clayton Cardenas, Edward James Olmos, Sarah Bolger, Michael Irby, Carla Baratta, Antonio Jaramillo, Raoul Max Trujillo, Richard Cabral, Danny Pino, Emilio Rivera, Frankie Loyal, Joseph Lucero, and Vincent Rocco Vargas discussing what to look forward to from Season 1.
Riverdale (11:45AM-12:45PM, Hall H). Following yet another drama-filled season and shocking season two finale, don't miss Riverdale when it returns to San Diego for its third appearance at Comic-Con – this time in Hall H!  Join Archie and the gang as they continue to dive into the secrets that loom and keep emerging from the shadows in a town that once seemed like a quiet, ordinary place. The circumstances surrounding Archie's arrest kick off the drama of season three as the gang tries to #FreeArchie and Hiram Lodge continues to flesh out his plans to control not only Riverdale, but the ever growing SoDale.  Based on the characters from Archie Comics and produced by Berlanti Productions (The Flash, Supergirl, Blindspot, Arrow, DC's Legends of Tomorrow) in association with Warner Bros. Television, this one-hour drama is a bold, subversive take on the surreality of small-town life.  Join us for a special video presentation followed by a Q&A with series stars KJ Apa, Lili Reinhart, Camila Mendes, Cole Sprouse, Marisol Nichols, Madelaine Petsch, Ashleigh Murray, Mark Consuelos, Casey Cott, Skeet Ulrich, Mädchen Amick, Luke Perry and Vanessa Morgan and producers Roberto Aguirre-Sacasa, Sarah Schechter and Jon Goldwater.
Supernatural (10:30AM-11:30AM, Hall H). Join the series' stars Jensen Ackles, Jared Padalecki, Misha Collins, Alexander Calvert and executive producers Robert Singer, Andrew Dabb, Eugenie Ross-Leming and Brad Buckner in Hall H to answer questions about the shocking events in last season's intense finale, as well as what's in store for the 14th season of this exciting series, when the show will reach the rare milestone of 300 episodes! Fans will also be treated to an exclusive video presentation featuring series highlights! Moderated by Rob Benedict and Richard Speight, Jr.
Comics Studies at MSU (1PM, Shiley Special Events Suite at the San Diego Central Library).
Cultivating a Comic Book Culture in Academic Librarianship (2PM, Shiley Special Events Suite at the San Diego Central Library).
[NEW] MARVEL COMICS: X-Men (11:15AM-12:15PM, Room 5AB). Editor-in-Chief C.B. Cebulski, Sina Grace (Iceman), Seanan Maguire (X-Men Gold Annual), Matthew Rosenberg (Astonishing X-Men), and Tom Taylor (X-Men Red) take you through the full spectrum of current X-Men madness! The Red, Blue, and Gold teams confront Atlanteans, uncertainty, and Extermination, and the secrets of a NEW X-team are revealed! Deadpool and X-23 both rediscover their roots, and the Astonishing team faces ever stranger challenges! PLUS- Stay for the whole panel for an exclusive giveaway variant comic!
Breaking into Careers in Geek-Culture. Do you want to build a career in the "nerdy" industry you love, but you're not sure where to begin? This all-star panel of professional "Nerds for a Living" will share insights into a variety of careers within comics, literature, podcasting, animation, film, fashion and more during this discussion. Learn how our guests got their start, and get advice on what it takes to create a path to the career you want. Join moderator Wendy Buske (Nerd For A Living podcast) for this fun and informative discussion that'll leave you ready to conquer your post-SDCC goals. Expected to Appear: Travis McElroy, Susan Eisenberg, Tomi Adeyemi, Ben Blacker, Jaimie Cordero, Jazzlyn Stone.
Cartoon Voices (12PM, Room 6A). Expected to Appear: Vanessa Marshall, Kiff VandenHeuvel, and Elle Newlands. Moderated by Mark Evanier.
GeekEd: Civility vs. Anger (10AM, Shiley Special Events Suite at the San Diego Central Library).
GeekEd: Civility vs. AngerGeekEd: Caring for the Nerd Mind (11AM, Shiley Special Events Suite at the San Diego Central Library).
GeekEd: University of Wakanda (12PM, Shiley Special Events Suite at the San Diego Central Library).
GeekEd: Career Advice for College Geeks (3PM, Shiley Special Events Suite at the San Diego Central Library).
Why Geek is the New Cool (3PM-4PM, Marriott Marquis San Diego Marina Grand Rooms 1 & 2). American Mensa members and partners from entertainment to gaming to animation will discuss the rise in new pop culture characters, storylines, and themes that are positively promoting intelligence and how the mainstream is catching onto the awesomeness of geek culture. Expected to Appear: Steven L. Sears (writer, producer, Mensa member), Leif Gantvoort (actor and Mensa member), Christopher Lastrapes (former Director at DC Entertainment), Trevor Mitchell (Executive Director of American Mensa), LaRae Bakerink (Chairman, American Mensa Board), representatives from Educational Insights.
Warner Bros.: Aquaman (Hall H). Expected to Appear: James Wan.
A Discovery of Witches. Expected to Appear: Teresa Palmer, Matthew Goode, Alex Kingston, and Owen Teale, along with author Deborah Harkness and producer Jane Tranter, on the panel.
Doctor Who. Expected to Appear: Jodie Whittaker, and fellow cast members Tosin Cole and Mandip Gill, showrunner Chris Chibnall, and executive producer Matt Strevens.
The Goldbergs (Announced, Not Confirmed). Expected to Appear: Wendi McLendon-Covey.
My Hero Academia. Kohei Horikoshi will make his first-ever North American professional appearance at San Diego Comic-Con. The panel will also feature several notable voice actors, including Christopher R. Sabat (voice of All Might) and Justin Briner (voice of Deku) from the anime adaptation of the popular series. Expected to Appear: Kohei Horikoshi, Christopher R. Sabat, Justin Briner.
Sid & Marty Krofft (Room 23ABC). After producing 73 episodes of Mutt & Stuff for Nickelodeon, they have produced two 1-hour Mutt & Stuff specials, and are preparing for a Mutt & Stuff Live Tour. They'll also be making a pitstop at Comic-Con, wherethey'll be holding a panel where attendees will be treated to "details on a brand new project for grownups that uses all of their iconic characters from all of their shows, as well as behind-the-scenes stories of their storied careers. Expected to Appear: Sid Krofft, Marty Krofft. Moderator: Carolyn Hennesy.
Comics Are For Everyone… Aren't They? Expected to Appear: Rosie Olivia Knight.
Creating the Future at the MIT Media Lab: How Comics Inspire Students' Work (and Vice-Versa).
Moms and Motherhood in Comics. Expected to Appear: Andrea Ayres.
Transformation Magic: Transgender Life in Comics from Street Level to the Stratosphere.
VIZ Media's Weekly Shonen Jump. Expected to Appear: Kohei Horikoshi.
Avatar Legacy Fan Panel. Expected to Appear: Giancarlo Volpe, Aaron Ehasz, Jack DeSena, Dante Basco, Cabbage Merchant.
Black & Queer Culture Panel. Expected to Appear: Viktor Kerney.
Bridging Anime & Hip-Hop. As an extension of our podcast, Victoria and Marcus co-host the Nerds On Hip-Hop: Bridging Anime & Hip-Hop panel which discusses the intersection between anime and hip-hop including Samurai Champloo, Tephlon Funk, and more. Expected to Appear: Victoria Johnson and Marcus Wolfe.
Causeplay: A Hobby in Service to Others. Members of the Avengers Initiative – West Coast Avengers, other volunteer cosutumers and pediatric institutions like CHOC Children's along with HealthBridge Children's Hospital – Orange will discuss how costume and prop enthusiasts serve their communities through their love of pop-culture. Hear about their experiences, learn how to join organized costume groups, and find out how to get involved in service efforts.
Fantasy Literature Panel. Expected to Appear: Maggie Stiefvater, Livia Blackburne, Kevin Hearne, V.E. Schwab, Laini Taylor, Henry Herz.
Fantastic Fans & Where to Find Them. The panel will include panelists from Fansplaining, FictionAlley, Great Wizarding War Podcast, Harry Potter Minute, Hermione Granger & the Quarter-Life Crisis, Hogwarts Running Club, MuggleNet.com, Puffs: Or Seven Increasingly Eventful Years at a Certain School of Magic & Magic, US Quidditch, WandsUp San Diego Expected to Appear: Heidi Tandy, Elizabeth Minkel, Alexa Donne, Gary Roby Jr., Dawn Biggs, Eliyannah Amirah Yisrael, Mick Ignis, Matt Cox.
Fictional Games IRL. A panel about adapting a sport or game from a fictional universe, including Qudditch. Expected to Appear: Tessa Netting.
From Reader to Author: Making the Leap! Expected to Appear: Holly West, Danika Stone, Tiffany Pitcock, L.E. Delano, Lydia Albano, Nikik Katz, Shannon Klare.
The Genius of Animation – Problem Solving in Character and Story. Did you know The Flintstones started out as a show about hillbillies? Frozen's Anna and Elsa didn't start out as sisters? So many of the cartoon characters and storylines we love went through lots of changes to become the versions we know. We examine some of your favorite movies and cartoon shorts with the artists responsible for creating/developing them, learn about fascinating bumps in the road, and how they got past them. Join a lively discussion with Floyd Norman (Disney Legend, animator and story artist: Sleeping Beauty, Jungle Book) Jane Baer (animator, Sleeping Beauty, Who Framed Roger Rabbit) Nik Ranieri (character animator: Who Framed Roger Rabbit, Beauty and the Beast) Ricardo Delgato (production designer: Atlantis, Visual Development Artist: The Incredibles, Wall-E) Kathy Zielinski (lead animator, The Little Mermaid, Frozen), Willie Ito (Ink Pot Award Winner, layout/character animator: Lady & the Tramp, The Flintstones) Randy Haycock (character animator: The Lion King, Moana) Shadi Petosky (co-creator Danger & Eggs, executive producer Twelve Forever) and Mindy Johnson (animation historian, author: Ink and Paint: The Women of Disney Animation). Moderated by Leslie Combemale (CinemaSiren.com, ASIFA: Hollywood)
Hollywood Location Scouts Panel.
John Carpenter's Tales of Science Fiction. Expected to Appear: Sandy King, Janice Chiang, Tim Bradstreet, David J. Schow.
Let's Get Real About Fantasy. Expected to Appear: Maggie Stiefvater, V.E. Schwab, Tomi Adeyemi.
Moonbase and Beyond: The New Push to Deep Space.
Queer Fear. Expected to Appear: Michael Varrati.
Romance in SFF&H. Expected to Appear: Mark O'Bannon, Gigi Edgley, Marc Zicree, Jimmy Diggs, Claudia McKinney, and Liam McIntyre.
Unnecessary Debates. Expected to Appear: Kathryn Mudgway, Tyler McPhai
Women on the Dark Side. Expected to Appear: Susan Lee.