Are you ready for a San Diego Comic-Con exclusive that will give you a new groove?
Artist Patrick Ballesteros is all about celebrating your inner child – with kid-ified takes on everything from retro classics like Indiana Jones and 16 Candles, to more modern favorites like Game of Thrones and Guardians of the Galaxy — and you'll have the opposite of llama face when you see his fourth San Diego Comic-Con exclusive.
"Jump Around" celebrates The Emperor's New Groove, and features Yzma and Kronk jumping rope with Pacha's children, Chaca and Tipo. Meanwhile, Pacha and Emperor Kuzco watch over the scene — which also includes enough of Kuzco's Poison to wipe out more than a few llamas.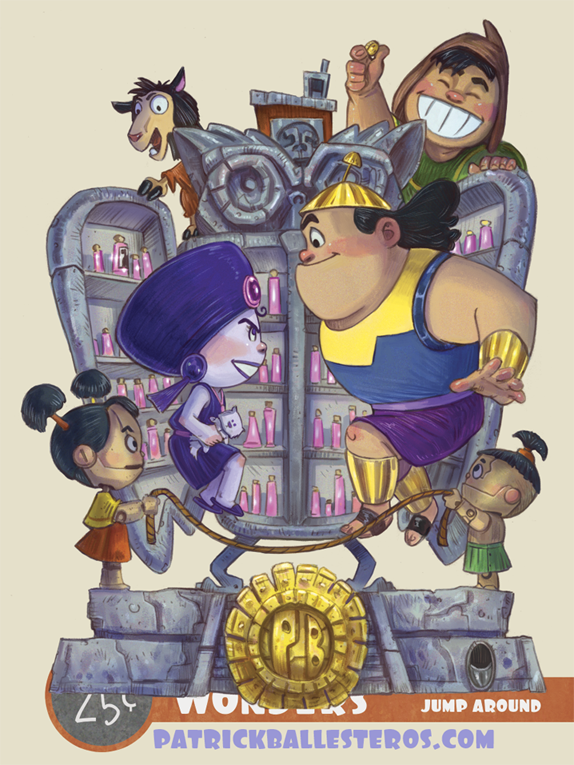 The 6″x8″ print on pearl linen fine art paper is limited to just 100 pieces for San Diego Comic-Con, and will be released on an unspecified day during the con (along with Coco's "Do You Remember" and Aladdin's "Princess Lea", and Alice in Wonderland's "Better Late Than Never"). Ballesteros will have at least one different print exclusive per day — as well as one SDCC exclusive Can You Hear Me Now? set (including The Incredibles) — so be sure to stop by Artist Alley DD-08 to snap up this print for just $15.