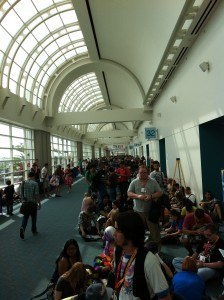 We didn't have a special guest on this week's show (believe us, we tried), but instead we were surprised by the appearance of a travelling Shawn and welcomed our new member, Kerry Dixon, to the SDConCast crew. She's a natural!
We're in full Comic-Con swing with tons of news, panel reveals and tips from the pros. The truth is definitely out there!
Show Notes:
CONFIRMED: X-Files 20th Anniversary Panel at SDCC [UPDATE 2]
'Hunger Games', 'I, Frankenstein' Panels on Saturday July 20
AMC SDCC 2013 Panels Announced: The Walking Dead, Breaking Bad
MTV Announces SDCC 2013 Panels and Events [UPDATE]
CBS TV Studios Announces 2013 SDCC Panels
Nickelodeon Bringing Korra, Turtles to SDCC
Harrison Ford in Hall H for Ender's Game Panel, Plus Offsite 'Experience'

Steampowered Giraffe with special guest Professor Elemental
SDCCBlog / OutsideComicCon Fan-Meetup – July 17 8PM
October Toys Announces SDCC Exclusives And Panel With Four Horsemen
Gentle Giant SDCC 2013 Exclusives [UPDATE June 27]
The Con Fluence Answers Your Questions on SDCC Exclusives
SuperShuttle Offers Discount Code for SDCC Travelers!
Music:
Intro: "Omg I <3 Livejournal (And My Livejournal <3s Me)", Talkshow Boy
Outro: "Joss Whedon", lo-fi is sci-fi

Podcast Links:
Download: 48MB, 1 hour 10 minutes [Direct Link]
Subscribe: [RSS] [iTunes]

The Hosts:
Jeremy Rutz
Twitter:@spotanime
Website: About Me
James Riley
Website: geekshotphoto.com
Kim Twombly
Twitter: @OutsideComicCon
Website: OutsideComicCon.com
Shawn Marshall
Twitter: @The_Con_Fluence
Website: TheConFluenceCovers.com
Kerry Dixon
Twitter: @kerrydixon