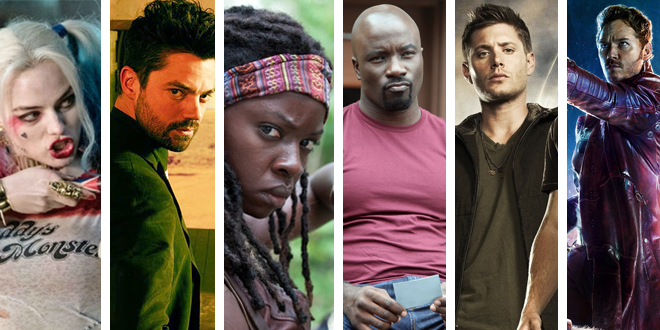 The official San Diego Comic-Con schedule is normally released exactly two weeks before the convention (which would put this year's release dates on July 7-10), but many properties reveal long before then that they'll be attending the convention. This is where you can find all of our compiled announcements in one handy master post.
We'll be updating this post all the way until the schedules are officially announced – and it's important to note that the schedule is never finalized until Comic-Con International or the various studios/entities reveal it. All schedules are subject to change.
You can find the official Wednesday – Friday schedule here.
1. Saturday – Movies, Television, Comics, or Other Panels
2. Sunday – Movies, Television, Comics, or Other Panels
3. No Date Announced Yet – Movies, Television, Comics, or Other Panels
The Adventures of Backroo Banzai Across the 8th Dimension Reunion (5:30PM, Room 8). Expected to Appear: Lewis Smith, Billy Vera.
Aliens 30th Anniversary Panel (Hall H). Expected to Appear: James Cameron, Sigourney Weaver, Gale Anne Hurd, Bill Paxton, Lance Henriksen, Paul Reiser, Michael Bien, Carrie Henn.
American Dad (1:45PM, Ballroom 20). Join cast Scott Grimes, Dee Bradley Baker, Rachael MacFarlane, Wendy Schaal and executive producers Matt Weitzman and Brian Boyle fresh off their epic 200th episode on TBS! See a sneak preview of the new season and enjoy a live table read from our favorite All-American family.
Arrow (5:45PM-6:30PM, Ballroom 20). In the face of worldwide nuclear destruction at the hands of the maniacal mystic known as Damien Darhk, Oliver Queen (aka Green Arrow) united Star City with a message of hope that allowed him to vanquish the season four Big Bad once and for all. However, our heroes' triumph came at a cost, and the future of Team Arrow was left hanging in the balance. Now, as the show takes aim on season five, Oliver will set out to save his city from a new threat — one which he personally created — as both the newly appointed Mayor of Star City and as the Green Arrow. Returning to San Diego Comic-Con for the fifth consecutive year, the cast and creators of the hit CW series will be on-hand for a lively conversation surrounding the upcoming season. Expected to Appear: Echo Kellum, Stephen Amell.
Ash vs Evil Dead (6:45PM-7:45PM, Room 6A). Expected to Appear: Bruce Campbell, Lucy Lawless, Rob Tapert, Dana DeLorenzo, Ray Santiago, Lee Majors, Ted Raimi, Sam  Raimi
Ash vs Evil Dead (Screening) (10PM, Room 6DE).
Back to the '90s: Nickelodeon's All That Reunion and Legends of the Hidden Temple! (11:15AM-12:15PM, Room 6A).  Join Nickelodeon's throwback programming block, The Splat, for a reunion of the trailblazing sketch comedy series' major players, Josh Server, Danny Tamberelli, Lori Beth Denberg and Kel Mitchell, discussing all things All That, with a few added surprises. Plus, get the first look at Nick's new TV movie based on Legends of the Hidden Temple and hear about it from returning cast members Kirk Fogg and Dee Bradley Baker, along with Isabela Moner (Transformers 5).
Blindspot (12PM-12:45PM, Indigo Ballroom). Following the shocking first season finale, join Blindspot as the # 1 new series on broadcast TV from the 2015–16 season returns to San Diego for its second appearance at Comic-Con! Sullivan Stapleton and Jaimie Alexander star in this one-hour action thriller from Berlanti Productions and Quinn's House, Inc. in association with Warner Bros. Television. Stapleton stars as hardened FBI agent Kurt Weller, who is drawn into a complex conspiracy when a mysterious woman, with no memories of her past, is found in Times Square, her body completely covered in intricate cryptic tattoos. As Weller and his teammates at the FBI — Edgar Reade (Rob Brown), Tasha Zapata (Audrey Esparza) and the tech-savvy Patterson (Ashley Johnson) — begin to investigate the veritable road map of Jane Doe's tattoos, they are drawn into a high-stakes underworld that twists and turns through a labyrinth of secrets and revelations — with the information exposing a larger conspiracy of crime, while bringing her closer to discovering the truth about her identity. Join us for a special video presentation followed by a Q&A with series stars Sullivan Stapleton, Jaimie Alexander, Rob Brown, Audrey Esparza, Ashley Johnson and writer/executive producer Martin Gero.
DC's Legends of Tomorrow (4:15PM-5PM, Ballroom 20). After saving the world — and all of time — from the immortal madman Vandal Savage, then bidding farewell to two of their fellow comrades, Hawkman and Hawkgirl, the Legends received an unexpected visit from a mysterious new ally, Rex Tyler, who tasked the team with a brand new mission. What that mission is, how the Justice Society of America will factor in and who will be aboard the Waverider when The CW's Super Hero team-up series returns for its second season are questions that the cast and creative team will seek to answer when they descend upon San Diego for their second visit to Comic-Con. Expected to Appear: Brandon Routh, Arthur Darvill.
Dirk Gently's Holistic Detective Agency (4PM, Room 6BCF). Join stars Elijah Wood (Wilfred), Samuel Barnett (Penny Dreadful), Hannah Marks (The Amazing Spiderman), Jade Eshete (Dead Beat), lead writer and executive producer Max Landis (Chronicle, American Ultra) and showrunner Robert Cooper (Stargate Atlantis, Stargate Universe) for a first look at BBC AMERICA's Dirk Gently's Holistic Detective Agency, a new original series from the producers of The Walking Dead, premiering October 22.
Dressing the Characters (11AM-12PM). The Costume Designers Guild Local 892 is thrilled to bring the designers of some of our favorite television characters to Comic Con. Terry Dresbach (Outlander), Ann Foley (Agents of Shield), Giovanna Melton (Agent Carter), Kiersten Ronning (Supergirl) and Luis Sequeira (Strain) will discuss the process of designing costumes for television characters no matter what world the characters live in. The panel will be moderated by Joe Kucharski Editor of TyrannyOfStyle.com.
The Expanse (3PM-4PM, Indigo Ballroom).  Get a sneak peek of the new season of Syfy's critically acclaimed series from the writers of "Children of Men" and "Iron Man," based on the New York Times bestselling book series. Moderator Adam Savage("MythBusters,"Tested.com), along with cast members Thomas Jane, Steven Strait, Shohreh Aghdashloo, Dominique Tipper, Wes Chatham, Cas Anvar, Frankie Adams and executive producers Naren Shankar and Mark Fergus, preview the aftermath of season one's explosive finale.
Falling Water (1:45PM-2:45PM, Room 6A). Be the first to see USA Network's highly anticipated new drama series, FALLING WATER, presented by creators Gale Anne Hurd ("The Walking Dead") and Blake Masters("Brotherhood").Ever wondered what would happen if someone could control our dreams? This mind-bending new thriller, starring David Ajala, Will Yun Lee and Lizzie Brochere, explores this question through the lives of three unrelated people who slowly realize they are dreaming separate parts of a single common dream… a dream that just might hold the key to the fate of humanity.
Family Guy (1PM, Ballroom 20). Join the cast (Alex Borstein, Mike Henry) and executive producers (Rich Appel, Alec Sulkin, Steve Callaghan) for a special preview of next season's hilarity and hi-jinx from Fox's hit animated comedy.
The Flash (5PM-5:45PM, Ballroom 20). Parallel universes…and doppelgangers…and man-sharks, oh my! The second season of The CW's highest-rated series had more than its fair share of twists and turns, but none compared to Barry Allen's jaw-dropping decision to go back in time and save his mother from his arch-nemesis, Reverse-Flash, a decision that called the entire timeline into question. But fear not, fans, you won't have to wait until the fall to start getting answers to some of your most pressing questions, as the cast and creative team behind the show make their annual appearance at Comic-Con to begin giving fans insight into the show's highly anticipated third season. Expected to Appear: Danielle Panabaker, Keiynan Lonsdale, Grant Gustin.
Frequency (7:25PM-8:15PM, Room 6BCF).  Based on the New Line feature film, Frequency is the story of a father and daughter who are supernaturally reunited two decades after his suspicious and untimely death. New York detective Raimy Sullivan was only 7 when her father, Frank Sullivan, an undercover cop, abandoned his family in pursuit of a case that led not only to his family's breakup, but also his eventual death undercover. Always believing her dad died in disgrace as a corrupt cop, Raimy set forth to surpass him in law enforcement, rising through the ranks to detective. But everything she knows changes when somehow Raimy and Frank connect — across two decades — over Frank's vintage ham radio in the garage. Frequency makes its Comic-Con debut with a screening of the complete pilot episode, followed by a Q&A with series stars Peyton List (The Tomorrow People, The Flash), Riley Smith (Nashville, The Messengers) and Mekhi Phifer (Torchwood, ER), along with executive producers Jeremy Carver (Supernatural, U.S. version of Being Human) and Jennifer Gwartz (Lethal Weapon, Veronica Mars).
Geeking Out (7PM, Hall H). Expected to Appear: Kevin Smith.
Gotham (2:10PM-3:00PM, Indigo Ballroom). Gotham's origin story continues to unfold, and as the show enters its third season, the stakes will be higher than ever! Super Villains are continuing to push Gotham City toward the brink, and while Jim Gordon remains at the forefront of the fight against crime in this dangerously corrupt city, how far will he go to save Gotham? Be among the first to see what's in store for season three as Gotham returns to Comic-Con with a special video presentation, followed by a Q&A with series stars and producers. Expected to Appear: Drew Powell.
[UPDATED] Grimm (2:30pM-3:15PM, Ballroom 20). Panel will include a sneak peek of Emerald City. Expected to appear: Sasha Roiz.
Incorporated (7PM-8PM, Indigo Ballroom). Be the first to see the pilot of Syfy's newest thriller! Set in a near-future when corporations have unlimited power, INCORPORATEDfollows a young executive who conceals his true identity to infiltrate a ruthless mega-corporation and save the woman he loves.
The Last Man on Earth (6PM, Indigo Ballroom). You won't want to miss the stars from Fox's Emmy-nominated hit comedy "The Last Man on Earth," Will Forte, Kristen Schaal, January Jones, Mel Rodriguez, Mary Steenburgen and Cleopatra Coleman as they discuss the evolution and surprising twist and turns from the first two shocking seasons as well as tease the upcoming third season.
Lucifer (1:30PM-2:05PM, Indigo Ballroom). All Hell will break loose when Lucifer returns to heat things up in San Diego. Indulge your deepest desires and be among the first to get the scoop on what's sure to be a devilishly fun second season! Join us for a sizzling sneak peek at season two, followed by a Q&A with series stars as well as executive producers Joe Henderson (White Collar) and Ildy Modrovich (CSI: Miami). From Jerry Bruckheimer Television in association with Warner Bros. Television and based upon characters created by Neal Gaiman, Sam Kieth and Mike Dringenberg for Vertigo from DC Entertainment, Lucifer returns September 19, airing Mondays 9/8c on FOX.
The Magicians (4PM-5PM, Indigo Ballroom). The acclaimed breakout hit makes its San Diego Comic-Con debut! Join cast members Jason Ralph, Stella Maeve, Olivia Taylor Dudley, Arjun Gupta, Hale Appleman, Summer Bishil, Jade Tailor and Rick Worthy, along with executive producers John McNamara and Sera Gamble, as they tease the anticipated second season of the Syfy series based on Lev Grossman's bestselling fantasy trilogy.
Marvel Animation Presents (12:30PM-1:30PM, Room 6A). Go behind-the-scenes into the world of Marvel Animation!
M.A.S.K. Voice Cast 31st Anniversary Reunion Panel. Expected to Appear: Doug Stone, Brendan McKane, Sharon Noble, and Mark Halloran.
Mystery Science Theater 3000 is Back (8:30PM, Room 24ABC). Joel Hodgson (creator, MST3K), Felicia Day (Geek & Sundry) and others discuss the show's record-breaking crowdfunding campaign, and reveal behind-the-scenes info on Season 11.
Once Upon a Time (10AM, Ballroom 20). Expected to Appear: Jennifer Morrison, Robert Carlyle, Lana Parrilla, Josh Dallas, Emilie de Ravin, Colin O'Donoghue, Rebecca Mader and Jared Gilmore. Moderated By: Yvette Nicole Brown.
Outcast (5:15PM, Room 6BCF). Moderated by Scott Aukerman. Panelists include: creator and executive producer Robert Kirkman, showrunner and executive producer Chris Black and cast members Patrick Fugit (Kyle Barnes), Philip Glenister (Reverend Anderson), Wrenn Schmidt (Megan Holter), Reg E. Cathey (Chief Giles) and Brent Spiner (Sidney).
The Originals (12:50PM-1:25PM, Indigo Ballroom). The Originals returns for a fourth season with more supernatural intrigue, romance and bloodshed in The Big Easy. Join executive producers and series stars for a special video presentation followed by a Q&A. From Bonanza Productions Inc. in association with My So-Called Company, Alloy Entertainment, Warner Bros. Television and CBS Television Studios, The Originals will air midseason on The CW.
[UPDATED] The Powerpuff Girls (11AM-12PM, Indigo Ballroom). Soar into San Diego with The Powerpuff Girls! Join Blossom, Bubbles and Buttercup for their first Comic-Con appearance as cast and crew discuss the new series, premiere exclusive clips and take your questions. Panelists include Kristen Li (Voice of Bubbles), Amanda Leighton (Voice of Blossom), Natalie Palamides (Voice of Buttercup), Tom Kenny (Voice of the Mayor and The Narrator), Nick Jennings (Executive Producer), Bob Boyle (Co-Executive Producer), Haley Mancini (Writer, Voice of Princess Morbucks) and Jake Goldman (Writer). Part of the back-to-back panel extravaganza preceded by We Bare Bears at 10:00 a.m.
Riverdale (6:30PM-7:20PM, Room 6BCF). Things aren't always what you expect in Riverdale. Based on the iconic characters from Archie Comics and produced by Berlanti Productions (The Flash, Supergirl, Blindspot, Everwood), this one-hour drama is a bold, subversive take on the surreality of small-town life. As a new school year begins, the town of Riverdale is reeling from the recent, tragic death of high school golden boy Jason Blossom — and nothing feels the same. Archie Andrews (KJ Apa) is still the all-American teen, but the summer's events made him realize that he wants to pursue a career in music — and not follow in his dad's footsteps — despite the sudden end of his forbidden relationship with Riverdale's young music teacher, Ms. Grundy (Sarah Habel). Which means Archie doesn't have anyone who will mentor him — certainly not singer Josie McCoy (Ashleigh Murray), who is only focused on her band, the soon-to-be-world-famous Pussycats. It's all weighing heavily on Archie's mind — as is his fractured friendship with budding writer and fellow classmate Jughead Jones (Cole Sprouse). Meanwhile, girl-next-door Betty Cooper (Lili Reinhart) is anxious to see her crush Archie after being away all summer, but she's not quite ready to reveal her true feelings to him. And Betty's nerves — which are hardly soothed by her overbearing mother, Alice (Mädchen Amick) — aren't the only thing holding her back. When a new student, Veronica Lodge (Camila Mendes), arrives in town from New York with her mother Hermione (Marisol Nichols), there's an undeniable spark between she and Archie, even though Veronica doesn't want to risk her new friendship with Betty by making a play for Archie. And then there's Cheryl Blossom (Madelaine Petsch)… Riverdale's Queen Bee is happy to stir up trouble amongst Archie, Betty, and Veronica, but Cheryl is keeping secrets of her own. What, exactly, is she hiding about the mysterious death of her twin brother, Jason? Riverdale may look like a quiet, sleepy town, but there are dangers in the shadows. Riverdale makes its Comic-Con debut with a screening of the complete pilot episode, followed by a Q&A with series stars and executive producers. Expected to Appear: Madelaine Petsch
The Simpsons (12PM, Ballroom 20).Heading into its 600th episode Fox's "The Simpsons" was around when Comic Con was still about comics. Join creator Matt Groening, executive producers Al Jean and Matt Selman, supervising director Mike B. Anderson, Oscar nominated director of The Simpsons Movie David Silverman and voice of Bart Simpson, Nancy Cartwright for juicy tidbits on the 28th season and beyond!
Son of Zorn (5PM, Indigo Ballroom). Be one of the first to see Fox's highly anticipated new hybrid live-action/animated family comedy, "Son of Zorn." Featuring the voice of Jason Sudeikis, the series follows an animated warrior from a faraway island in the Pacific Ocean, who returns to Orange County to win back his live-action ex-wife and teenage son. The talented cast and crew including Cheryl Hines, Tim Meadows, Johnny Pemberton, executive producer Sally Bradford McKenna and executive producer/director Eric Appel will entertain as they discuss this ground-breaking series coming to Fox this fall.
Star Trek: Celebrating 50 Years (2PM-3PM, Hall H). In the centerpiece of the weekend, Star Trek: Celebrating 50 Years will take over Hall H on Saturday, July 23 (2p.m. – 3p.m.), when the legendary William Shatner (Star Trek) and Star Trek alumni Scott Bakula (Star Trek: Enterprise), Michael Dorn (Star Trek: The Next Generation, Star Trek: Deep Space Nine), Jeri Ryan (Star Trek: Voyager) and Brent Spiner (Star Trek: The Next Generation) take the stage to reflect on 50 years of Star Trek and its indelible mark on our world, as well as what's to come as the franchise gets ready to boldly return to the small screen.  The conversation will be moderated by Bryan Fuller, executive producer of the new Star Trek television series coming to CBS All Access, following its network premiere in January 2017.
Supergirl (3:30PM-4:15PM, Ballroom 20). Supergirl will be returning for more supercharged adventures in the show's new home on The CW this fall! Wondering who's in that pod, or what will be bringing Superman to National City? Join the series' cast and creative team for a special video presentation, followed by a Q&A where they'll discuss these season two hot topics and more! Expected to Appear: David Harewood
Time After Time (8:20PM-9:15PM, Room 6BCF). Using the 1979 novel and movie as a launching point, Time After Time chronicles the epic adventures of a young H.G. Wells. At the age of 28, the 19th century scholar has yet to publish any of his landmark science fiction novels, but his idealistic thinking and radical ideas have led him to actually create a time machine. Time After Time makes its Comic-Con debut with a screening of the complete pilot episode, followed by a Q&A with executive producers Kevin Williamson (The Vampire Diaries, Dawson's Creek, The Following, Scream movies) and Marcos Siega (Blindspot, The Following, The Vampire Diaries, Dexter, Cold Case, Veronica Mars) and series stars Freddie Stroma (Harry Potter films, Pitch Perfect, Game of Thrones, 13 Hours, UnREAL) and Genesis Rodriguez (Identity Thief, Man on a Ledge, Entourage, Big Hero 6).
Timeless (4:15PM-5:15PM, Rom 6A). Co-creators Eric Kripke and Shawn Ryan join cast members Abigail Spencer, Matt Lanter, Malcolm Barrett and Goran Višnjić to preview the new drama.
The Vampire Diaries (11AM-11:4AM, Ballroom 20). The cast and creative team behind The Vampire Diaries return to San Diego, for an exciting eighth appearance at Comic-Con! Series stars will join executive producers on stage for a video screening and Q&A session. From Bonanza Productions Inc., Outerbanks Entertainment and Alloy Entertainment in association with Warner Bros. Television and CBS Television Studios, The Vampire Diaries returns Friday, October 21, at 8/7c on The CW, and The Vampire Diaries: The Complete Seventh Season will be released on Blu-ray™ combo pack, DVD and DIGITAL HD on August 16.
Vice Principals (2:30PM, Horton Grand Theater). Moderated by the Nerdist Podcast's Matt Mira. Panelists include: creators and executive producers Danny McBride and Jody Hill, and cast member Walton Goggins (Lee Russell), who co-stars with McBride (Neal Gamby.)
[UPDATED] We Bare Bears (10AM-11AM, Indigo Ballroom). Join the cast and crew of We Bare Bears as they make their Comic-Con debut, discussing the hilarious new series, celebrating the fans, previewing exclusive clips and taking your questions. Hang in until the end to catch a sneak peek at the upcoming series Mighty Magiswords. Panelists include Daniel Chong (Series Creator), Eric Edelstein (Voice of Grizzly), Bobby Moynihan (Voice of Panda), Demetri Martin (Voice of Ice Bear), and Lauren Sassen (Storyboard Artist), moderated by Mikey Heller (Series Writer).
Wynonna Earp (2:30PM). Expected to Appear: Melanie Scrofano, Tim Rozon, Dominique Provost-Chalkley, Kat Barrell, and Shamier Anderson.
Skybound Panel (4:15PM-5:15PM, Room 6DE). Join prolific comic creator and Skybound Entertainment Chairman Robert Kirkman (The Walking Dead franchise, Outcast) and fellow Skybound Entertainment CEO David Alpert (The Walking Dead franchise, Outcast) as they discuss what it means to run a multiplatform entertainment company. They'll explore projects such as The Walking Dead television franchise, their newest series Outcast, and what's in store for the company's bustling comics, film, gaming, and interactive divisions. Dan Murray, Skybound Interactive President, and Rachel Skidmore, Skybound's Director of Media Development, will also join the panel. Special guest writer Max Landis (Dirk Gently, American Ultra) will also join the panel to discuss his new Skybound comic series Green Valley. Panel will be moderated by Yvette Nicole Brown (Community, The Odd Couple).
Top Cow Panel (11AM). Expected to Appear: September Mourning.
Torchwood Titan Comics Panel (3:30PM, Room 5AB). Expected to Appear: John Barrowman, Carole Barrowman.
Captured Aural Phantasy Theatre panel (4:30PM-5:30PM, Room 26AB). Expected to Appear: Craig Yoe, Kristen Koerner Simon, Adriana Yugovich
Children of Tendu Live: Episode Two: Tendu with a Vengeance (2PM, Neil Morgan Auditorium).
Documentary Filmmaking How To (6PM, Room 2). Expected to Appear: Jessica Hernandez, Mike J Nichols, and Amanda Spain. Moderated By: Edward Doty.
The Kaiju Kingdom Podcast: Discuss Monsters (1PM, Neil Morgan Auditorium).
The Loikamania Podcast: One More Time (11AM, Neil Morgan Auditorium).
Lost Fans Unite with Jay and Jack (3PM, Neil Morgan Auditorium).
Mattel Presents: Monster High 2016 (11:30AM-12:30PM, Room 5AB). Welcome to Monster High! This is a panel for Monster High fans of all ages. Be the first to experience exclusive scenes from upcoming movies with new character introductions and real-time commentary from the creators! The panel is hosted by "Draculaura" (voice actress Debi Derryberry) and also allows for fan Q&A with our toy and packaging designers, and content creators. There will also be fan costume contest with fantastic prizes for the winners!
Nerdibles: The Best Podcast You're Not Listening To (12PM, Neil Morgan Auditorium).
A Song of Ice and Fire: Game of Thrones Fan Discussion. Expected to Appear: Amin Javadi, Kyle Maddock, Tara Lynne, Ashley Clegane.
Star Trek The Official Starships Collection: Designing and Filming Starships (3PM-4PM, Room 28DE). Star Trek concept designer Rick Sternbach and Visual Effects Producer Dan Curry discuss exactly what it takes to take a Starship from the page to the screen and how the process has changed since Star Trek: The Next Generation debuted in 1987 with the introduction of CG. The panel will be moderated by Eaglemoss's Ben Robinson and everyone who attends will receive a free model Starship from Eaglemoss's collection.
Star Trek: The Roddenberry Vault (12:30PM-1:30PM, Room 5AB). On September 8, 1966, a new television series premiered with a basic mission: to explore strange new worlds, to seek out new life and civilizations, to boldly go where no one has gone before. Little did anyone expect Star Trek would become one of the most adored and influential entertainment icons of the last half century. Star Trek documentarian Roger Lay, Jr.; Rod Roddenberry, CEO of Roddenberry Entertainment and son of Star Trek creator Gene Roddenberry; CBS's Phil Bishop; and Star Trek alumni Mike and Denise Okuda will reveal never-before-seen clips and photos from some of Star Trek's most beloved episodes.
Terrordactyl (1PM). When ancient flying reptiles attack Los Angeles, it's up to two working-class friends to save the day.
Trek Talks: Star Trek & NASA Boldly Go (6PM-7PM, Room 5AB). Star Trek has influenced many of us to fall in love with the infinite possibilities of space exploration. The various television series and films have also made an indelible impact to NASA. NASA scientists, engineers and astronauts often cite Star Trek as inspiring them to pursue careers in their fields.  (Nichelle Nichols even helped NASA recruit astronauts in the 1980s.)   How does NASA's vision of the future mimic the world of Star Trek and where does it differ?  What technologies in the Star Trek world have paved the way for real technologies being developed by NASA?   Robert Picardo, who portrayed The Doctor on Star Trek: Voyager, will moderate a panel which includes Astronaut Kjell Lindgren, NASA Johnson Space Center; Amber Staughn, Astrophysicist, NASA Goddard Space Flight Center; Bobak Ferdowsi, Flight Systems Engineer, NASA Jet Propulsion Laboratory; and Jay Falker, Early Stage Portfolio Executive, Space Technology Mission Directorate, NASA Headquarters.
Troma. Expected to Appear: Lloyd Kaufman.
World Building Panel (2PM-3PM, Room 9). Discussing the world of Wolf's Empire: Gladiator. Expected to Appear: Morgan Buchanan, Claudia Christian.
Writer's Workshop (2PM, Room 30CDE). Q&A based writer's workshop covering movies, TV, and comics. Expected to Appear: J. Michael Straczynski.
Batman Unlimited: Mech vs. Mutants. World premiere.
Crackle Presents Dead Rising: Endgame (12:30PM-1:30PM, Room 8).  Join us as we celebrate the 10th Anniversary of Capcom's beloved Dead Rising franchise with a discussion about the recent release of, DEAD RISING: ENDGAME from Crackle and Legendary Digital Media.  The film's stars Jesse Metcalfe ("Desperate Housewives," "Dallas"), Marie Avgeropoulos ("The 100″), Jessica Harmon ("iZombie," "The 100") and Keegan Connor Tracy ("Once Upon a Time," "Bates Motel") will join in a panel discussion, along with director Pat Williams ("Continuum"), co-writer and producer Tim Carter and executive producer Tomas Harlan (DEAD RISING: WATCHTOWER, MORTAL KOMBAT: LEGACY).  Got Zombrex?
The Final Girls (4PM, The Grand Horton). Expected to Appear: Director Todd Strauss-Schulson, Writers Joshua John Miller and M.A. Fortin, Thomas Middleditch, Angela Trimbur, and a surprise slate of actual final girls from horror history.
Animaniacs Live! (3PM-4:15PM, Room 6DE).  It's time for Animaniacs…LIVE! Join the voice cast of the iconic animated series Animaniacs — Rob Paulsen, Tress MacNeille and Jess Harnell — along with series songwriter Randy Rogel for a zany, animany and totally insaney afternoon as they perform songs from the beloved cartoon.
Buffy Interactive Musical: Once More With Feeling (3:15PM, Room 6BCF). Expected to Appear: Juliet Landau.
Fox's Action Showcase: Prison Break and 24: Legacy (12:30PM, Hall H). 24: Legacy. The legacy continues with Corey Hawkins("Straight Outta Compton"), Miranda Otto ("Homeland," "Lord of the Rings") and Jimmy Smits ("Sons of Anarchy," "Star Wars: Episodes II&III") who join the creators/producers of the original 24 – Howard Gordon, Manny Coto and Evan Katz – for a special fan presentation of the highly anticipated new series. Prison Break. Wentworth Miller, Dominic Purcell, Sarah Wayne Callies, Robert Knepper, and producer Vaun Wilmott greet fans fresh out of production to share their behind-the-scenes experiences from set and show a special sneak peek of all new footage!
Supernatural (11:15AM-12:15PM, Hall H). Join series stars Jared Padalecki (Friday the 13th [2009]), Jensen Ackles (My Bloody Valentine 3D), Misha Collins (Ringer) and Mark A. Sheppard (Battlestar Galactica), along with executive producers Robert Singer (Lois & Clark: The New Adventures of Superman) and Andrew Dabb (Supernatural) in Hall H to answer questions from the audience about what's in store for the 12th season of this exciting series! Fans will also be treated to an exclusive video presentation featuring series highlights, as well as a portion of the special features from the upcoming Supernatural: The Complete Eleventh Season DVD and Blu-ray™ release on September 6. Moderated By: Rob Benedict, Richard Speight.
Comics on Comics (4PM). Expected to Appear: Clayton Thom, Dani Fernadez, Scott Joseph, Georffrey Golden, Jacqueline Lopez.
Skybound Comics (12PM-1PM, Room 7AB). Skybound Comics –Skybound editor Jon Moisan will be joined by Skybound creators and artists including Juan Gedeon (Horizon), Brandon Thomas (Horizon), Charlie Adlard (The Walking Dead), and Chris Dingess (Manifest Destiny) as they discuss their work, and the comics industry as a whole.
Conan & Frazetta: Celebrating 50 Years (11AM-12PM, Room 29AB). Expected to Appear: Holly Frazetta, J. David Spurlock, Jeffrey Shanks, more.
Geektastic Careers in Video Game Media (4PM-5PM, Room 29AB). Expected to Appear: Genese Davis, Kiri Callagan, Aaron Carter.
Kidlit Agent Panel. Expected to Appear: Jennifer Azantian, Jill Corcoran, Taylor Martindale Kean, Kelly Sonnack, Deborah Warren.
R2 Builders (12PM-1PM, Room 30CDE). Expected to Appear: Mike Senna, Michael McMaster, Victor Franco, William Miyamoto, Chris Romines.
No Date Announced (Some of Which May Have Already Been Announced)
Movies
Doctor Strange (Announced, Unconfirmed). Expected to Appear: Scott Derrickson.
Fantastic Beasts and Where to Find Them (Hall H – Announced, Unconfirmed). Part of the WB Presentation. Expected to Appear: David Yates.
Guardians of the Galaxy. Expected to Appear: Chris Pratt, James Gunn, Karen Gillan.
Kong: Skull Island (Hall H). Part of the WB Presentation. Expected to Appear: Tom Hiddleston.
The LEGO Batman Movie (Hall H – Announced, Unconfirmed). Part of the WB Presentation. Expected to Appear: Will Arnett.
Power Rangers. Expected to Appear: Dacre Montgomery, Becky G.
Suicide Squad (Hall H). Part of the WB Presentation. Expected to Appear: Will Smith, Margot Robbie..
BOOM! Studios Mighty Morphin Power Rangers Panel.
The Business of Comics. Expected to Appear: Paul Levitz, Rob Salkowitz.
CAC: Teaching Comics as Literature in the University Classroom. Expected to Appear: Adam B. Golub.
CDC Presents: An HIV/STD Focused Motion Comic for Young People. Expected to Appear: Leigh Willis.
Europe vs USA: European and American Creators Meet. During the panel, Roger and Gabriel Hernández Walta will meet with special guests Jason Latour (Southern Bastards) and Andrew C Robinson (The 5th Beatle) to discuss their experiences as comics creators working on two different continents. Expected to Appear: Roger, Gabriel Hernández Walta, Jason Latour, Andrew C. Robinson. Moderated By: Calvin Reed.
Revengeance. Expected to Appear: Jim Lujan, Bill Plympton.
Webcomics Advocates. Expected to Appear: Brendan Creecy.
Weird Love: Vintage Romance Comics Come Alive. Expected to Appear: Nicole Ortega.
Wonder Woman 75th Anniversary.
The World of Mouse Guard. Expected to Appear: David Petersen.
Adult Coloring Books. Expected to Appear: Jamie Loftus.
All About Live Action Role Playing: Where It Is, Where It Is Going. Expected to Appear: Mark Mensch, Cheyenne Rain, Kristin Brumley, Ford Ivey, Charles Conley, Dave Barrett, Aaron Vanek.
Cartoons and S.T.E.A.M. Expected to Appear: Marie Zhivago
Causeplay – Fans Helping Their Communities. The Avengers Initiative will host along with other costumers and a member of UC Irvine Health a discussion on how cosplayers give back to their communities through their art. Hear what they have experienced, learn how to become a member of such respective groups, and find out how to get involved in events like fundraisers, hospital visits and volunteering. Simply by using skills one already has and sharing them with others, volunteers can help others have a better day.
Creating Musical Worlds. Expected to Appear: Bear McCreary.
Famous Monsters of Filmland. Expected to Appear: Robert Fleischman.
Full Time Creative on a Part Time Schedule. Expected to Appear: Stephen Burns.
geekEd VI: College and the Nerd Brain. Come learn how to take your fandom with you to college, and how to find your tribe once you're there. And find out if "Quirk Theory" gives us insight into why someone who has been marginalized in high school, thrives once they reach college. A panel of educators from across the country show you how they make geek communities on college campuses. Brian MacDonald (UCLA), Alfred Day (UC Berkeley), Kamil Oshundara (UCLA), Rod Santos (UC Berkeley), Geralyn Williams (University of San Diego), and Emily Sandoval (USC) will show you how to enhance the geek college experience.
Fantastic Fans & Where to Find Them: The Harry Potter Fandom Panel. Expected to Appear: Elizabeth Minnkel, Kat Miller, Dr. Ebony Elizabeth Thmas, Adrienne Alwag-Aipia, Alexa Degenaro, Stephanie Pressman, Rachel Vaughn, Justin Zagri, Elizabeth Barcelos, Heidi Tandy.
How to Build a Geek Brand. Expected to Appear: Sam Maggs, Andre Meadows, Tony B. Kim.
How Old is Young Adult? Bringing together Mathieu Reynés and the critically-acclaimed American novelist Matthew J. Kirby (Last Descendants –Assassin's Creed series), where the two will discuss and compare their work, experience and readership, as seen from the two sides of the Atlantic. Expected to Appear: Mathieu Reynés, Matthew J. Kirby. Moderated By: Brigid Alverson.
Kids Crafts: Steampunk Panel. Starr Wilde (owner Steampunk Fortress and artist) will be holding another kids craft panel this year, this time to teach kids how to craft steampunk hats. Expected to Appear: Starr Wilde.
Mars Panel. Expected to Appear: Steve Brobeck.
Masquerade 101. Expected to Appear: Cheryll Del Rosario.
My Little Pony: Friendship is Magic Fandom Panel. The first ever My Little Pony: Friendship is Magic fandom panel will occur this year at San Diego Comic-Con International! The exact time and place of this panel will be announced around two weeks before the convention by San Diego Comic-Con International. We look forward to meeting many bronies whom we have never met before. Hosted by Order of the Friendship, join representatives from BABSCon, Bronies Tijuana, BronyCAN, Equestria Daily, Horse News, and Pacific PonyCon as they talk about their experiences within the fandom.
Rogues, Half-Elves, and Magic Missile: A Beginner's Guide to Dungeons & Dragons. Expected to Appear: Jeff Burns.
Spotlight on G. Willow Wilson. Expected to Appear: G. Willow Wilson.
Spotlight on Marissa Meyer (10AM). Expected to Appear: Marissa Meyer.
Star Wars Paper Toys. Participants will make a paper toy from Star Wars: The Force Awakens. Expected to Appear: Renee Jablow.
State of the Holodeck. Expected to Appear: Steve Brobeck.
Super Geeked Up Live. Expected to Appear: Jeff Burns.